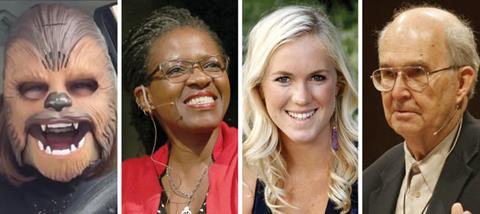 100 Voices of Gospel choir reach Britain's Got Talent final
International choir 100 Voices Of Gospel reached the Britain's Got Talent grand final last month after getting the most votes from the public. Finishing eighth, they lost out to overall winner magician Richard Jones.
The choir received glowing comments from all of the judges after each of their three performances on the show. Speaking after the choir's semi-final performance, Amanda Holden said: 'You have come together because of your faith, and I think that's how faith should be celebrated, in a joyful, uplifting, amazing way.'
Writing on the Premier Christianity magazine blog, Joseph Wood from Nazarene Theological College, Manchester said, 'In hearing [the judges'] responses to a choir who are unapologetically worshipping God, I wonder, could it be that…the desire for transcendence…was for a brief moment being fulfilled? Could it be that for at least a few minutes, on national television, BGT experienced the fulfilment of a God-given desire: the desire to worship?'
>
Christians told to 'disagree well' during EU debates
As the EU referendum draws closer, Christians in Politics has launched a new initiative encouraging believers to learn how to disagree well.
The video campaign, titled '#DisagreeWell', was produced in response to concerns over clashes in the run-up to the EU referendum.
The group said they would be 'providing spaces' for people to 'dialogue with one another' about the referendum with the aim of helping people to 'listen with respect'. For two Christian views on the Brexit/Bremain debate, see page 28.
>
PEOPLE IN THE NEWS
TUTU'S DAUGHTER STANDS DOWN
Desmond Tutu's daughter will give up ministry after entering a gay marriage. Mpho Tutu-Van Firth said she was forced to leave because the Anglican Church does not recognise same-sex marriages.
KENNETH E. BAILEY DIES
Tributes have been paid to a scholar credited with explaining the New Testament's Middle Eastern culture to evangelicals. Kenneth E Bailey was the author of Jesus Through Middle Eastern Eyes.
SOUL SURFER'S CAREER BEST
Christian surfer Bethany Hamilton, 26, who famously lost her left arm in a shark attack, has finished a career-best third in the World Surf League's Fiji Women's Pro.
CHEWBACCA VIDEO GOES VIRAL
An American mother and worship leader has become an Internet sensation after laughing at a Chewbacca mask she bought. The video of Candace Payne has been viewed over 150 million times.