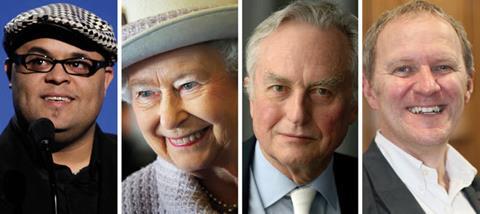 ISRAEL DIVORCES
Worship leader Israel Houghton and his wife of more than 20 years, Meleasa, have divorced. Israel said, 'Several years ago I failed and sinned in my marriage…The challenges in our relationship have proven too much to overcome.'
>
THE QUEEN THANKS CHRISTIANS
In the foreword to an upcoming book about her faith, Queen Elizabeth II has written, 'I have been – and remain – very grateful to you for your prayers and to God for his steadfast love.'
#PRAYFORDAWKINS
Richard Dawkins is recovering from a minor stroke. The Church of England defended their tweet which was sent soon after the news broke. It read 'Prayers for Prof Dawkins and his family'. Critics had labelled it 'provocative' and 'insensitive'.
NEW ELIM LEADER ANNOUNCED
Chris Cartwright has been named the new leader of the Elim group of churches. The pastor will take on the role of general superintendent at the Elim Leaders' Summit in May.
The Pope questions Donald Trump's faith
The Pope has questioned the Christian beliefs of Donald Trump. Pope Francis said, 'A person who thinks only about building walls, wherever they may be, and not building bridges, is not Christian.'
Trump, who identifies as a Presbyterian, responded by saying it was 'disgraceful' for a religious leader to question a person's faith. Trump wants to build a wall on the USA-Mexico border and make the Mexican authorities pay for it. He is currently leading the Republican Presidential primaries.
>
Britain's largest Christian broadcaster launches 'Premier Praise'
A new Christian radio station, playing classic and contemporary Christian music 24 hours a day, will be launched on the new national DAB network on Easter Sunday.
Premier Praise will be Premier's third radio station – a sister station to Britain's largest Christian broadcaster, Premier Christian Radio, which moves to the new national network on February 29th. Premier Gospel, which broadcasts on DAB to London, will remain unchanged. The new station will be aimed at those in their 30s and 40s. Its strapline will be 'Light up your life'. The first song on Premier Praise will be an exclusive radio play of a new composition by Grammy award-winning Christian singer-songwriter Matt Redman.
Peter Kerridge, Premier's CEO said, 'The aim of Premier Praise is to help people develop their natural spiritual lives by delivering uplifting, inspiring, popular Christian music with warmth and understanding.'