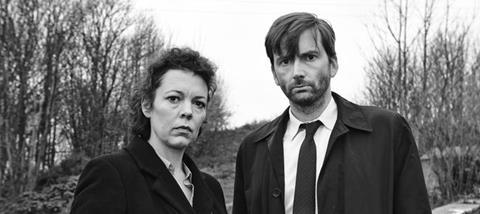 What kind of an experience do you look for in a good television drama? Perhaps, like me, you enjoy a twisting, turning narrative with a happy, redemptive ending, where good and evil duel it out, and eventually, the light shines in the darkness? If so, you're in good, broad company; both big and small screens have been dominated by this kind of story structure for decades. Yet there are other kinds of stories too; stories where the darkness proves overwhelming. And in Britain's 2013 TV schedules, these stories have become a lot more common ? and a lot more popular. Our appetite for a happy ending appears to be on the wane; instead, millions of people are choosing to watch dramas that depress, rather than uplift.
Take for example this year's biggest critical hit, ITV1's Broadchurch. David Tennant and Olivia Colman play a pair of broken and soon-to-be-broken detectives, pulling a seemingly idyllic seaside town to pieces in the hunt for a child's murderer. Each resident in turn becomes a suspect as we learn their various dark secrets, and when the killer is eventually unmasked, the resulting sense of horror makes for a hollow sense of victory.
The same is true of BBC1's What Remains, in which retired detective Len Harper (played by David Threlfall) carries out a similar set of investigations and discoveries. This time the venue is a single block of converted flats, and the victim an obese, lonely woman whose disappearance no one seemed to notice. Over the course of four episodes, viewers go on the same journey ? the seemingly pleasant characters turn out to be anything but, and the apparently nasty ones are shown to be pure evil. The show's bloody finale makes for another mixed emotional response; the case has been closed, but at what cost?
DARKER STILL
In both cases, there is at least some sense of redemption as justice is served, and evil ? while taking casualties ? is defeated. There was no such flickering light to be found in Channel 4's pair of summer dramas, Southcliffe and Run. The former was declared by The Guardian to be 'the most harrowing drama on TV', telling as it does the story of a Derrick Bird-style shooting rampage in another apparently sleepy town. This time we are in no doubt of the perpetrator's identity; but that doesn't stop the show from having an even dimmer view of humanity. As the twisted, nefarious menfolk of the town are forced to face life without their executed wives, girlfriends and daughters, the view of a visiting TV reporter ? and by extension the writer himself ? is that this localised apocalypse is no more than they deserve.
Run, meanwhile, takes four separate bleak plotlines and interweaves them (gently) over four episodes. A mother discovers her loutish sons are killers; an illegal immigrant can't flee her hellish existence as a slave. These stories of life in London's underbelly are the antithesis to the glossy, aspirational tales of a Richard Curtis film. The fact that this isn't simply one intricately told story actually makes the prevailing sense of doom even darker ? everywhere you look in Run's brutal landscape lies another tale of despair. Just as in Southcliffe, redemption neither arrives, nor even seems possible.
Sin and repentance have become unpopular ideas in modern culture, and in modern Christianity too.
I could go on. I haven't even mentioned The Fall, Luther, Hunted or The Shadow Line. And even if I had, we wouldn't have moved beyond the realm of terrestrial British TV. So why is dark, gritty drama now at the centre of our TV schedules?
MISERYVISION
Programming is led by viewer demand, especially on the commercial channels. So this change in dramatic style isn't down to a bunch of depressed TV executives; an appetite for bleaker drama (termed 'Miseryvision' by critic Stuart Jeffries) has been identified and targeted. The dominant shows on a nation's TV screens at any one time are often indicative of the mood and state of its people. The 1980s, for instance, is remembered for noisy, rebellious programming of launch era Channel 4 and the satire of The Comic Strip Presents… Britain has been ? along with the most of the West ? on a recession-inspired downer, and its culture reflects the prevailing gloom. A glut of shows about communities breaking down and being exposed for all their inner hideousness is only a mirror to how we've been feeling about ourselves (many of these shows were written or shot last year, when we were in the depths of recession).
We've also been influenced from overseas; American drama has long been interested in downfall stories (The Sopranos, Mad Men), and explored its high murder rate through shows such as Criminal Minds and CSI. Further inspiration has come from a more unlikely source: Scandinavia. If you want to sound cool and interesting at parties, talk about how much you love Danish dramas such as The Killing and The Bridge. These shows, which debuted on the 'arthouse' channel BBC4, have found an unexpected mainstream audience, and the latest wave of British dramas owes them a debt for blazing a grim trail. It's not just the British who've been feeling depressed.
ON OUR OWN?
All of this poses a challenge to the culturally aware preacher. For the last few years we've been able to structure sermon illustrations around The Shawshank Redemption (never give up hope!), The Matrix (there is a world beyond this one, and a saviour who links the two!) and even Doctor Who (one man places his life on the line to save us all!) There was a simple link to be made between the redemption narratives of culture and the Grand Redemption Narrative of Scripture. Now the biggest stories of our day subvert and even reject redemption; they revel in chaos and despair. With little place for God or faith, they pick at the dreadful idea that we're on our own, left to face the inadequacy of human morality.
Of this year's crop of bleak dramas, only one touches in any way on faith. In Broadchurch, Arthur Darvill plays the town's vicar who, as crisis sets in, becomes a beacon of hope and direction to a community with little of either. Unsurprisingly, his church is soon fuller than it has been in years. But here's the interesting thing: he is not popular because he talks about hope, but because he tells the community to face up to their sin. Just like the TV reporter in the town of Southcliffe, he's the one man unafraid to tell them that it's partly their fault.
Sin and repentance have become unpopular ideas in modern culture, and in modern Christianity too. Yet the characters in our biggest TV dramas are only too aware of their evil, and are given no hope of turning things around. If the mood of a nation is reflected in its TV shows, then perhaps we're all feeling a little guilty; perhaps we need to hear a Christian message not only about love, but also sin and judgement. Programmes like this reveal that we are all broken people. Maybe, strangely, they also make us a little more ready to hear the full gospel, including the hard parts.
TRUE GRIT
It's not just British TV shows that are embracing the darkness. The current wave of hit American dramas share a similarly bleak view of the human condition.
Breaking Bad The definitive moral decline story follows Walter White (Bryan Cranston) in his journey from law-abiding chemistry teacher to crystal meth-manufacturing drug kingpin.
Game of Thrones Writer George RR Martin loves to create compelling characters with questionable morality…and then he loves to slaughter them.
Mad Men So stylish and aspirational that we can forget its outrageous period prejudice, this 1960s ad agency drama revolves around soulless sociopath Don Draper (Jon Hamm).
Boardwalk Empire Steve Buscemi is a man who will stop at nothing to control 1920s Atlantic City in this Martin Scorcese-produced prohibition drama; loaded with sex and violence.