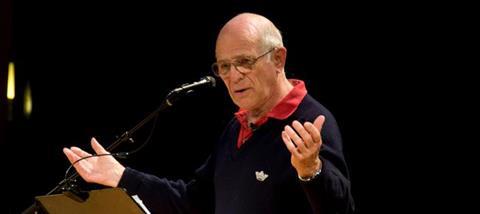 "Share the good news of Jesus at every turn", thrummed in the heart of every student touched by Michael Green, who died yesterday at the age of 88. Michael was a theologian, Anglican priest, Christian apologist and author of over 50 books.
Although initially a reluctant writer, the volume of Michael's written works was evidence of indefatigable evangelistic energy that was present right until the day before he went to the John Radcliffe Hospital in Oxford for multiple surgeries. Typically for Michael, when not being operated on, he spent the time witnessing to the hospital staff and dispensing a selection of his books, which were never far from hand when a soul needed shepherding to the Lord.
Sensing that his time here was coming to an end, he said to Rosemary, his wife of 61 years, that he was now "on the threshold of heaven." It wasn't the first time he had felt such a calling from an Oxford hospital bed. Three years ago, many of his students, present and former, arrived at his bedside fearing the worst.
Carrie Boren Headington, a former student of Michael's at Wycliffe Hall, recalled how one of the nurses told her back then that, "after a long day, when all visitors have left, [Michael] gets out of bed and goes from room to room. I think he is preaching and praying with people. Frankly, we cannot keep him in bed at night. We say, 'Mr. Green, you must rest and get back into bed.' He did just have a heart attack you know. He politely agrees but in no more than five minutes he is back up with the IV machine in tow going from room to room. We cannot keep him down."
An unconventional approach to evangelism was entirely in keeping with a man who was fond of saying that "the job of an evangelist is to electrocute the fence that someone is sitting on." Michael's maverick streak meant he was always prepared to shun convention when God came calling, a streak that saw him up sticks in 2005 to become co-rector of a church plant in Raleigh, North Carolina.
A rare gift
Michael's gift of distilling the complex into the memorable made him one of the most exceptional and accessible evangelists of the last 60 years. His sense of humour, his infectious joy allowed him to get away with more than most, found deep expression in You Must Be Joking: Popular Excuses for Avoiding Jesus Christ (1976). While in books including Man Alive (1967), and Who is this Jesus? (1998), his lightness of theological touch and intimacy with Christ saw him reach an audience far beyond the Christian community, as well as equipping lay Christian believers in their grasp of the Gospel.
Rare for many theologians, Michael comfortably straddled the practical world of spreading the Gospel and the academic world of understanding it. Away from perfecting a popular approach to theology, in his book-length studies Evangelism in the Early Church (1970) and Evangelism Through the Local Church (1990), he engaged with the praxis and theory of evangelism with two seminal texts that shaped two generations' thinking about evangelism.
Early life
Edward Michael Bankes Green was born in 1930 in rural Oxfordshire to a country clergyman father of two rural parishes and an Australian mother. Green, a studious only child, won a scholarship to Clifton College, Bristol, where he was brought to Christ after a talk by head boy Richard Gorrie and was greatly influenced by the ministry camps run by the famous "Bash", Reverend E. J. H. Nash.
Michael then went up to Exeter College, Oxford and, when not fencing and playing cricket, found time to be President of the Oxford University Christian Union. He followed his First Class degree in 'Greats' with a First Class degree in the Theology Tripos at Cambridge, where he won the University Carus Prize for New Testament scholarship. In 1957, he married Rosemary Storr, who became his lifelong partner in bringing non-believers to Christ and in nurturing Christian leaders and those exploring and struggling with their faith.
After being awarded a Bachelor of Divinity from Queen's College, Cambridge, Michael taught as a New Testament tutor at the London College of Divinity, where he eventually became Principal and, in 1968, oversaw the move to St. John's, Nottingham. In 1975, Michael served as Rector of St. Aldate's Church in Oxford, which became known as being a lively flagship evangelical church filled with students. After over a decade in Oxford, he moved to be the Professor of Evangelism and New Testament at Regent College in Vancouver, Canada.
More alive than ever
He returned to his homeland in 1992 to serve with Archbishop of Canterbury George Carey's Decade of Evangelism Springboard Initiative alongside Bishop Michael Marshall. He also served as a member of the Doctrinal Commission for the Church of England, as a Consultant at Lambeth Conference and as an honorary canon of Coventry Cathedral. In 1996, despite reaching retirement age, he joined Wycliffe Hall to teach evangelism and apologetics. Since leaving this post, Michael continued to be highly active in many forms of ministry, including leading many missions in universities in the UK and abroad.
Michael did not fear death, a subject he turned to with the closing lines from his 2001 autobiography, Adventure of Faith, "One of the best insights about life after death came my way quite recently. For many years I was friends with Terry Winter, the Canadian evangelist who had a remarkable television ministry. I did three programmes with him shortly before he died suddenly and unexpectedly. His last programme was on resurrection and in it he said, 'You will hear one day that Terry Winter is dead. Don't you believe it. He will be more alive than ever'. That programme was aired, in its regular scheduling, two days after he died. I could not have expressed it as well as he did, but I share his confidence as I look to the 'tomorrow' of my own life."
Michael is survived by his wife Rosemary, four children – Tim, Sarah, Jenny, Jonathan – and many grandchildren.
Matthew Fearon works for Ravi Zacharias International Ministries (RZIM), an organisation which regularly partnered with Dr Michael Green on university missions
Click here to read Premier Christianity's Profile interview with Michael Green
Enjoyed that? Get more articles covering news, culture, faith and apologetics in every print issue of Premier Christianity magazine. Subscribe now