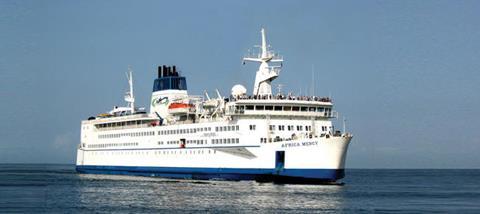 The Christian organisation accepted an invitation from the country's president, Hery Rajaonarimampianina, to travel to the African island and has agreed to remain there until summer 2015.
The Africa Mercy will sail from the Canary Islands with a stopover in Cape Town, South Africa, for refuelling and crewing. The ship is expected to arrive in Tamatave, Madagascar, at the end of October.
'We are honoured to be able to come alongside the island nation of Madagascar and their government's effort to strengthen their health care infrastructure through the training and capacity building Mercy Ships offers, free of charge,' said Mercy Ships' president and founder, Don Stephens.
'Thousands of patients are suffering from pathologies which the specialists on the Mercy Ship are equipped to assist through the surgical expertise of our dedicated professionals.'
Judy Polkinhorn, executive director of Mercy Ships UK, said: 'Madagascar remains one of the most impoverished areas in the world and millions of Malagasy do not have any access to health care.
'We believe that Mercy Ships can make a huge difference to people's lives in this part of the world and we aim to do what we do best, providing free surgery and health care, and creating training opportunities for medical professionals.'
The Africa Mercy is equipped with five operating rooms and specialises in maxillofacial, reconstructive, plastics, orthopaedic, ophthalmic, dental and obstetric fistula surgeries. All surgery and health care will be provided free of charge.
Click here to receive your free copy of Premier Christianity magazine.