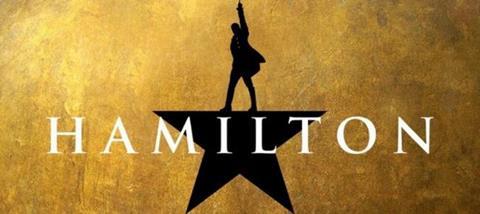 Since its 2015 debut, the hip-hop Broadway show, Hamilton: An American Musical, has exploded into a cultural phenomenon unlike any musical before it. It has won every theatrical prize, broken all box office records and been heralded as a ground-breaking and innovative show that you simply must see. Audiences have raved about the show, even describing it as a life changing experience.
After dominating America for the past two and a half years, Hamilton arrived in London in December 2017, receiving rave reviews and standing ovations.
Why does this new musical connect with audiences so deeply? I believe Hamilton serves as a modern day parable, offering audiences a potentially transformative, spiritual experience.
The History
The show is based on the life of Alexander Hamilton (1757-1804) and the remarkable events of the early American Republic. He grew up in poverty on the island of Nevis in the West Indies but managed to scrape together enough money to attend university in America, where he arrived during the birth of the American Revolution.
For the next several years, he displayed an uncanny ability to find himself at the centre of major events. He caught the attention of George Washington and served on his staff throughout the war. His command of the decisive battle against the British at Yorktown earned him a hero's reputation after the war. As the new American government took shape, Washington invited Hamilton onto his cabinet as the secretary of Treasury, giving him a unique opportunity to shape the new nation.
In his personal life, Hamilton experienced both remarkable accomplishments and heartbreaking failure. He grew from a poor, orphan kid from the Caribbean to one of the most powerful men in the new nation.
Hamilton was a Christian who wrote hymns in his early life and married Eliza Schuyler, an extraordinary woman from a wealthy and prominent family. But a decade later, Hamilton had an affair, paying the cheated husband blackmail money in order to keep him quiet. It didn't work, and America's first government sex scandal came to pass.
Not all of the tragedy that Hamilton experienced was selfinflicted. His son, Philip, was shot and killed in a duel defending his father's honour, resulting in Hamilton's daughter suffering a mental breakdown. Hamilton himself died at the age of 47, also in a duel with political enemy and sitting Vice President Aaron Burr.
Hamilton serves as a modern-day parable
Alexander Hamilton spent over two centuries as a forgotten Founding Father, a mere footnote in American history. But that changed after the composer and playwright Lin-Manuel Miranda picked up a copy of a biography of Hamilton in 2008 and was immediately inspired to bring this historical figure to life on the stage.
Moments of Transcendence
It's unprecedented for a Broadway musical to include hip-hop in the way that Hamilton does. Jeremy McCarter, who co-authored Hamilton, describes it as "the music of ambition, the soundtrack of defiance", suggesting it is the perfect genre for a musical about the American Revolution and the life of Hamilton.
The lyrics and music are indeed genius. "You have no idea how lyrically amazing this show is from a rap perspective," gushes performance artist Lemon Anderson. The songs resonate with audiences long after the curtain closes. The original recording became the first Broadway cast album to reach number one on the Rap Album chart. It was also awarded 'Best Musical Theatre Album' at the 2016 Grammys.
Hamilton's story uniquely intersects with a number of important social issues of our time, including race and gender equality, immigration and diversity. Black and minority ethnic actors play the roles of the Founding Fathers, a casting decision that turns audience expectations upside down as soon as the musical starts.
After seeing Hamilton more than 15 times, the actress Rosie O'Donnell described it as "a religious experience, a spiritual cleansing…Hamilton is medicine that I need for my soul. It is vital to me; it feels like going to church". I have to agree.
Finding God
The night I saw the show in New York I found myself unexpectedly drawn into the presence of God. This musical teems with moments of transcendence – where a powerful scene occurs on stage, and the atmosphere in the theatre changes. The audience collectively feels a weight, a tension, a presence – perhaps even the presence of God.
Deeply spiritual themes saturate the musical. Hamilton's story begins with an act of grace. The businessmen in the Caribbean generously give him money to travel to America and get his education. Hamilton's character sings about this experience, reflecting on how this grace changed the direction of his life. Everything that Hamilton became, every opportunity afforded to him in America, was made possible by this generous gift. Hamilton built his life on the foundation of grace. What is true of Hamilton is true of all of us. Where would any of us be without the grace of God? The foundation of each of our lives is built squarely on God's grace alone.
The second act highlights one of Hamilton's greatest personal failures – his affair with Maria Reynolds. Hamilton's wife, Eliza, was obviously devastated. In an act that revealed her hurt and anger, she burned the letters that she had written to Alexander over the years. The letters must have been one of Alexander's most treasured possessions, and this act displays the intense level of betrayal that Eliza felt.
But as the story moves on, the Hamiltons slowly try to restore their marriage. They move uptown into a new house that Hamilton builds for his family. In one of the most powerful songs in the entire musical, 'It's quiet uptown', Hamilton sings to his wife, imploring her to give him another chance.
Hamilton's hymns
Whether it was wartime letters while on George Washington's staff, government and financial papers while serving as America's first secretary of Treasury, or love letters to his wife Eliza, Hamilton's life is marked by a huge amount of writing.
During his teen years, Hamilton wrote various hymns, including 'The soul ascending into bliss':
Hark! Hark! A voice from yonder sky, Methinks I hear my Saviour cry, Come gentle spirit come away, Come to thy Lord without delay; For thee the gates of bliss unbar'd Thy constant virtue to reward.
I come oh Lord! I mount, I fly, On rapid wings I cleave the sky; Stretch out thine arm and aid my flight; For oh! I long to gain that height, Where all celestial beings sing Eternal praises to their king.
O Lamb of God! Thrice gracious Lord Now, now I feel how true thy word; Translated to this happy place, This blessed vision of thy face; My soul shall all thy steps attend In songs of triumph without end.
As Hamilton sings to Eliza, her body language is still cold and distant. She flinches when he reaches out to touch her. But as the song continues, Eliza softens. Finally, she takes her husband's hand and sings with him again. She has found it in her heart to forgive. The entire chorus, in a spine-tingling moment of transcendence for everyone in the theatre, sings out, "Forgiveness, can you imagine?"
This moment continues to inspire and challenge me today. Will I offer forgiveness to those who hurt me? When I feel betrayed, do I hold a grudge, seek revenge or punish my offender? Or do I allow Eliza's example to resonate deeply, asking God to transform my life and lead me into a life of forgiveness?
The final scene of Hamilton offers one of the most moving moments of the production. Hamilton has been shot and killed in his duel with Aaron Burr. Eliza, devastated and heartbroken, must figure out how to live the rest of her life without her beloved husband. After a season of intense and overwhelming grief, she receives a call from God to establish an orphanage in New York City.
Alexander had been an orphan since the age of eleven. His father had abandoned their family and his mother died when he was young. Hamilton's orphan status surely was one of his greatest sources of pain and sorrow. It was a pain that any loving spouse would have shared and carried with their partner.
I found myself unexpectedly drawn into the presence of God
But Eliza takes that greatest source of brokenness from Alexander's life, and makes it beautiful. She gives herself to the taxing and overwhelming work of this orphanage, and in the process, brings hope to children. In the musical, she sings about how she sees her husband in each of these orphans that she cares for. To this day, the organisation Eliza created continues to serve the people of New York, now under the name of Graham Windham (see box, p21). They are changing the entire trajectory of families' lives through their sacrificial work.
Eliza gives the rest of her life to partner with God in his project of redeeming the world. God looks down at this creation, and wherever he sees hurt, pain or suffering, he longs to bring healing and redemption. In the book of Revelation, Jesus, who sits on the throne, declares, "See, I am making all things new" (NRSV). Eliza's orphanage confronts my life and forces me to ask how I am partnering with God in his redemptive purposes. Am I giving my life to bring hope and healing to the places where I see brokenness? Am I serving the poor, the needy, the vulnerable?
Prayer
Stories matter. They have the power to fundamentally change the way that we see the world and live our lives.
They can inspire us to be the people God created us to be. Members of the Hamilton cast perform the show with this belief in the transformative power of the story they tell. Before each performance, Chris Jackson, who played George Washington in the original Broadway cast, led the Hamilton team in a prayer circle. He viewed each performance as a deeply spiritual, and potentially transformative, experience.
Jackson says: "Theatre has an inherent spirituality to it. To so many people, theatre is their church. It's an opportunity to feel something with other folks…I can't think of many things that facilitate that kind of gathering and communal experience. There's a lot of mention of God… That's why I don't take it lightly."
McCarter describes Jackson's hopes as he leads the cast in prayer: "He closes with the hope that everybody – in the audience, on the stage, and in the orchestra pit – will leave the theatre a better person than they walked in." This, without question, describes my experience, and the experience of countless others. This is why the show connects so deeply with us. Such is the power of Hamilton.
Kevin Cloud is a pastor, church planter and author living in Kansas City. His book, God and Hamilton: Spiritual Themes from the Life of Alexander Hamilton and the Broadway Musical He Inspired will be released later this year. For more information visit godandhamilton.com
Hamilton: an American musical is playing at The Victoria Palace Theatre, London. For tickets visit hamiltonmusical.com/London
Click here for a free sample copy of Premier Christianity magazine