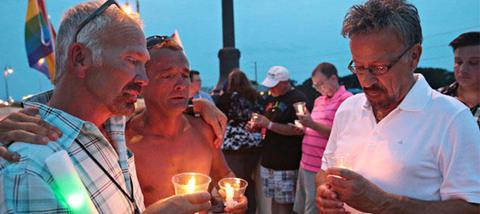 The world has responded in horror to the news that a gunman killed 50 and injured 53 others in a gay nightclub in Orlando on Sunday. The attack is the deadliest shooting in US history. Omar Matten called the emergency services pledging allegiance to ISIS as he committed the massacre. It is unclear whether this is terrorist attack is against gay people or the American lifestyle.
The massacre happened just a few miles from the site of the execution of Christina Grimme, a top contestant from The Voice. She had just left the stage and was signing autographs, when she was fatally shot.
On Saturday evening, England drew with Russia in the Euro 2016 championships. But alcohol fueled fans clashed with police long before kick off. At the game, a section of Russian supporters released a flare, climbed the separating fence and attacked the English supporters. The heightened stadium security was notably slow to respond to the vicious fighting and injuries. Both teams are now threatened with expulsion from the tournament if there is any repetition of such violent behaviour.
You don't expect violence when you go out to a nightclub, concert or football game. The motives for these horrible attacks could be personal, terrorist-related or homophobic, but the common thread is hatred.
1 John 3:15 says, 'Everyone who hates his brother or sister is a murderer and you know no murderer has eternal life abiding in him'. John follows the teaching of Jesus. How we act and behave shows what kind of person we are. We choose to hate or we choose to love. If hatred is in our heart, we are no better than killers and rioters.
If hatred is in our heart, we are no better than killers and rioters
Acts of terror and the kind of violence we have seen this weekend show what kind of people we are.
We must choose a different way. No one who hunts or keeps guns for protection needs assault weapons. Just because someone supports the opposite soccer team or lives a gay lifestyle, this is no reason to attack or kill them. There will be calls for stricter gun control and improved security at public events. Careful awareness of doubtful behavior needs to be reported to the authorities. They need the information and the facility to act quickly and decisively to protect us all. Prevention is far better than picking up the pieces afterwards.
It is easy to complain about the terrorists, football hooligans and assassins. Hatred of the West, of gay, lesbian, transsexual people and even pop stars is frightening. The truth is that loving and hating is not just about feelings. It is about a willing, conscious attitude towards those with whom we disagree. Hatred kills not just individuals and crowds, but destroys our humanity and what makes us people. We are far better than killers in our hearts and lives. Love is better than hate.
Click here to request a free copy of Premier Christianity magazine