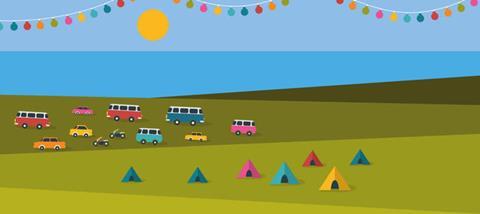 It's getting to that time of year again where Christians up and down the country pack a bag or two and visit a Christian festival. Some things are guaranteed: the weather will be the opposite of the majority of the clothes you've packed; you'll be reminded of how the Christian world is both big and really, really small; and you will be tempted to buy more books than you could ever read over the next twelve months. But you will love it.
Queuing for the showers, intense schedules and the long walks back to your accommodation – it's all worth it because, somehow, these days are a time of spiritual refuelling. Proverbs says that "iron sharpens iron" (27:17) and nowhere is that more true than at a summer festival. It's heartening to experience that we are not alone, and it's encouraging to hear the stories of what God is doing in our nation and beyond.
The question is, which festival are you going to this year? Here's a selection of just some of the Christian festivals taking place in the UK this summer.
Big Church Day Out
27-28 May (West Sussex) 2-3 June (Cheshire)
Go just for: Bethel Music – worshipping with these guys and thousands of Christians is unforgettable.
Music notes: This event is all about the music, there will everything from UK rap artist Faith Child to American CCM giants Casting Crowns.
Remember to pack: Wellies and sunglasses – you never know what the British weather will do.
Don't miss this: The campfire. With acoustic worship led by a surprise main stage artist round a roaring campfire, it's an unmissable part of the BCDO experience.
Eats: Tearfund Tea Tent will provide you with coffee and tunes as you potter around the market stalls.
Vibe in three words: Family-friendly, United, Celebration.
Budget: Adult weekend is £54 if booked before 25th May, £59 at the gate.
United 2017 (New Wine)
22-28 July and 30 July-5 August (Royal Bath & West Showground, Shepton Mallet)
Go just for: RT Kendall, the former pastor of Westminster Chapel, is always a compelling preacher.
Music notes: Sound of Wales, a collaborative group of talented Welsh musicians set on declaring God's glory.
Remember to pack: A torch to find your way back to your tent after the evening events.
Don't miss this: Laura Gallacher – part of the leadership at All Saints Worcester.
Eats: A selection of cafés run by Tearfund, Compassion, Cinnamon Network and more.
Vibe in three words: Thousands Worshipping One.
Budget: £158 per adult if booked before 31st May (£169 thereafter).
ONE event
25th-29th August (Lincolnshire Showground)
Go just for: Glyn and Sophia Barrett, senior pastors of !Audacious Church, Manchester.
Music notes: The Welsh rock band Written In Kings will be owning the stage.
Remember to pack: Sun cream!
Don't miss this: Rachel Hickson, the author and director of Heartcry for Change.
Eats: Tatie Tent hosted by Christians Against Poverty providing hot potatoes with scrummy fillings, and an amazing American breakfast at the Betel charity café.
Vibe in three words: Authentic, Belonging, Encountering.
Budget: £115 adult camper, £90 non-camper, £29 adult day ticket.
Greenbelt
25-28 August (Boughton House)
Go just for: Rachel Mann, Anglican priest, poet and broadcaster.
Music notes: A diverse portfolio ranging well beyond overtly Christian acts, including Newton Faulkner and Kate Rusby.
Remember to pack: A sleeping bag, unless you've booked a fabulous glamping tent!
Don't miss this: Chibundu Onuzo, an accomplished Nigerian writer.
Eats: Everything from Japanese street food to the ultimate bacon sandwich!
Vibe in three words: Inspirational, Quirky, Fun.
Budget: £165-£185.
Keswick Convention
15-21 July, 22-28 July, 29 July-4 August (Keswick Convention Centre)
Go just for: Don Carson, research professor of New Testament at Trinity Evangelical Divinity School in Illinois.
Music notes: The congregational hymn writer, Colin Webster, will be leading worship.
Remember to pack: Your hiking boots!
Don't miss this: The spectacular Lake District views and walking routes around Keswick.
Eats: You will love all Cumbrian food – but nothing beats true Cumberland sausages! You will also love their fabulous Fairtrade café.
Vibe in three words: Family, Scripture, Refreshment.
Budget: Free.
Revive!
29 July-4 August (Ashburnham Place East Sussex)
Go just for: Roger and Faith Forster, the founders and leaders of Ichthus.
Music notes: Jake Isaac, the team leader of the iEC Band is leading worship with his smooth tones.
Remember to pack: Running shoes for the (optional) Lake Race!
Don't miss this: A dynamic Sunday afternoon interview with Steve Clifford of the Evangelical Alliance.
Eats: Sunday Cream Tea at Café Ash. Vibe in three words: Holy Spirit Flow.
Budget: A full week as a camper costs £121 for adults.
Bangor Worldwide Missionary Convention
18-26 August (Bangor) Hamilton Road Presbyterian
Go just for: The former Archbishop of Uganda, Henry Orombi.
Music notes: New Irish Arts will play with their network of volunteer musicians.
Remember to pack: A world map to reference when the speakers share about their work abroad.
Don't miss this: Alexander Tsutserov, a former KGB agent who is now president of Moscow Seminary, Russia.
Eats: There are loads of local eateries including The Salty Dog and Papa Joes.
Vibe in three words: Global, Uplighting, Encouraging.
Budget: Most of this event is free.
Naturally Supernatural
22-27 July (Stafford Showground)
Go just for: The classic combination of Mike Pilavachi, Ali Martin and Andy Croft.
Music notes: At this worship-focused event, Beth Croft and Tom Smith will be leading from the front.
Remember to pack: Your friends and family – this is a Soul Survivor event for the whole family!
Don't miss this: Their village devotions, family films each evening, and Coffee For Six where you can meet new friends.
Eats: There will be a wide range of quality food venues ready waiting for you!
Vibe in three words: Equipping, Spirit-led, Community.
Budget: £142 or £147 on arrival.