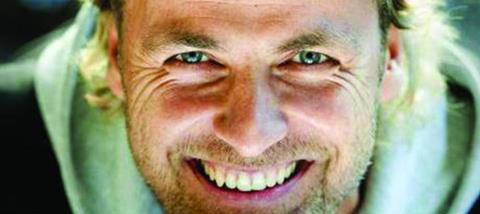 'The King's Song' was composed to celebrate Willem-Alexander's ascent to the Dutch throne but triggered a storm of criticism in Holland after its release.
The supposed similarity to Redman's tune was just one of many criticisms levelled at composer John Ewbank and it was reported that 38,000 people signed an online petition denouncing the song's lyrics.
'The King's Song' was written using lines submitted by members of the public and is described as 'dovetailing into a cresting rap song halfway through'
But on Twitter it has been described as 'horribly pretentious' and 'a good reason for Willem-Alexander to move to Argentina'
'10,000 Reasons' won Redman two Grammy awards earlier this year. His management company declined to comment on the row.
Here's the music video, and below that we've put a rough English translation of the lyrics. Enjoy...
There you are,
You've seen this moment often in your dreams
And here it is, the day you knew was coming is finally here
Are you ready? Can one ever truly be?
There you are
Everyone has a calling in this life
You've done everything to prepare yourself
And here it is, you promise you'll give it your all
Every step you took was leading to this
And look around you, we're walking with you
Through the wind and rain, I'll be standing next to you
I'll protect you from whatever is coming I will be there when you sleep, I'll keep you safe from the storm
Keep you safe, as long as I live
(Rap)
One battle! Two lives! We have each other's back! Unbreakable! One flag! Two lions! Together, come rain or shine! Side by side! Standing tall! Proud as a peacock! This is our sound! It doesn't matter we're small! Our actions speak loud! We won't fall in an awkward manner! For you, my child! For my dad, for my mom! For you, I'll weather wind and rain! And I'll have your back! I'll wear a banner with your name! I'll believe in you, as long as we exist! I'll build a dyke with my bare hands! And keep the water away from you!
Let me know what you're dreaming of
What your heart desires
I won't rest until it's become a reality
And if you ever lose your way I'll be your beacon in the night
I'll lead you through darkness, to a safe port
I will fight like a lion until you lack nothing
I'll keep you safe as long as I live
(Rap)
W for William, Three fingers in the air, come on, come on
The W for William is the W for We
The whole of Orange is standing side by side
W for Water, which we face without relenting
We make the water dry, and build dykes
W for Welcome, it doesn't matter which god you worship
W for William
W for Waking up, eating stew
Millions of football coaches who think they can do better
W for always wanting to Win, whatever it is we do
W for We are one, standing shoulder to shoulder
That's why we call:
Through the wind and rain I'll be standing next to you
I'll protect you from whatever is coming
I will be there when you sleep, I'll keep you safe from the storm
Keep you safe, as long as I'm alive