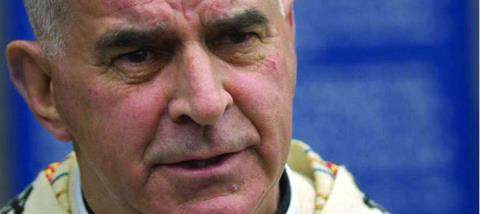 The head of the Roman Catholic Church in Scotland has stepped down after claims of 'improper behaviour' were reported.
Cardinal Keith O'Brien is now expected to face a Vatican inquiry into his sexual behaviour.
He resigned in February after three priests and a former priest from the diocese of St Andrews and Edinburgh made allegations dating back to the 1980s.
At first Cardinal O'Brien denied the claims, insisting he had contested them because of their 'anonymous and non-specific nature'. He later admitted in a statement that his sexual conduct had at times 'fallen beneath the standards expected of me'
O'Brien said, 'To those I have offended, I apologise and ask forgiveness. To the Catholic Church and people of Scotland, I also apologise. I will now spend the rest of my life in retirement. I will play no further part in the public life of the Catholic Church in Scotland.'
Catherine Deveney, the journalist who first broke the story in The Observer, said she had spoken to the four who made the allegations and they were relieved they had been vindicated.
'These are not men who are trying to bring down the Church, they have given their lives to the Church. Forgiveness and redemption are their kind of language,' she said.
Cardinal O'Brien was due to retire later this month when he turned 75.
He had been an outspoken opponent of plans to legalise same-sex marriage in Scotland and was named Bigot of the Year by gay rights charity Stonewall last year.
His resignation meant Britain was not represented when cardinals gathered to elect Pope Francis last month.
---
The Archbishop of Canterbury, Justin Welby, has apologised to a woman after her complaint of abusive behaviour by a churchwarden was not taken seriously by clergy in Jersey. The Dean of Jersey, the Very Rev Robert Key, was suspended last month after an independent report on the 2008 complaint was released.
The Archbishop said in a statement, 'We cannot place a high enough importance on safeguarding issues and it is vital that lessons are learned from this case…throughout the whole of the Church of England. Every day, the vulnerable come to us for shelter, for support and for comfort. Their trust cannot be taken for granted.'
// @christianitymag