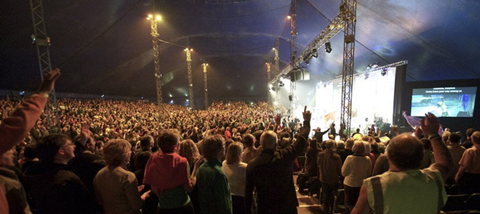 We know that life is difficult for all of us right now. Being separated from those we love and unable to be together as families is painful. It is therefore with sensitivity, that we need to share with you about some of the challenges faced by Christian events.
Whether under a canvas roof, a big top or an open sky, it was always under an open heaven where God revealed Himself to us and our lives were never the same again; that moment where a glimpse of His glory brought salvation, healing, restoration, and the beginning of a new adventure of faith for you, or your family, or your church.
Christian events in the UK have a legacy that has impacted millions, and that legacy is refreshed year on year as more come to faith and respond to God's work in their lives. Christian events create space for us to come away from the day-to-day routine and for God to impact us. This has birthed new ministries, charities, and dreams in us which have gone on to bring cultural transformation and support the mission of the church.
But now, the Covid-Pandemic has had a profound impact on us all both practically and financially.
As we contemplate two years without gathering in the normal way, we have had to rapidly learn to meet in new ways – either online or in smaller hybrid events. We have all seen a change in this time – 'free' is becoming increasingly expected, but 'free' comes at a high cost for us. So, from us all in the UK that run a Christian event, we need you to know that most of us just can't do it.
Standing together as Christian event leaders, we're asking for your help this year.
No organisation is the same – we have different funding models for our events and festivals. Although it may be tempting to compare us and our different approaches, this really doesn't help you, or us.
In terms of our responses – some of us have postponed, some of us have moved to free digital alternatives, some to chargeable digital or hybrid events. We have all had to take the decision that is best for us in our unique situation now and for running our events in future. Some of us are underwritten, some have reserves, some have other areas of 'business' that can subsidise events. Many of us have none of those things and rely hugely on ticket sales from our events to keep afloat.
If you want to see Christian gatherings survive, then now is the time we need your prayerful and practical support. We need people like you to stand with us financially, and to support?us in any way you can – so that we are all here to gather again in 2022. ?
If you want to see Christian gatherings survive, then now is the time we need your prayerful and practical support
We're standing together now and ask you not to compare us, or even worse – to use the approach of one of us to publicly criticise another. Behind the scenes we all stand together, support and cheer each other on. It is Kingdom we serve, not competition.
The gospel brings freedom and is free to share. However, putting on a gathering where that truth is celebrated is not free. Gathering thousands together takes infrastructure and so much more and we simply cannot do these things for free. The very many elements that are needed to keep organisations running so that they can put on the spring and summer gatherings you love, need financing.
We don't mind who you support, we're all part of His kingdom. We come to you as one, because we prefer one another, and we want to see Jesus glorified. We don't watch and wait to see who will survive; we stand together as we know we will need more gatherings in the future, to accommodate those who have searched for hope during this pandemic and have found that hope has a name, and His name is Jesus.
We come to you as one, because we prefer one another, and we want to see Jesus glorified
We look forward to welcoming new believers, new seekers, and YOU at an event when this utterly cruel season has passed, and when the biggest tent, the biggest arena, will not be large enough to celebrate all He has done.
But to get to that place, we do, humbly, ask for your help. Here's how you can help.
1. Pray for us.
We all need the wisdom of the Lord currently. Please pray regularly for us as we lead our organisations, listen to His leading and do all we can to serve Him and you.
2. Join us if you can!
Some events are running digital or hybrid alternatives in 2021. The best support you can give is to join those events and buy tickets. If you decide that you would prefer to wait until 2022 please consider buying a ticket in 2021 to ensure that your preferred event/festival is able to be there in 2022. We hear 'Oh I'll just wait and go in 2022 instead' but the harsh reality is that without support for us in 2021 you may not have that choice!
3. Consider a donation even if you can't go.
If you would normally plan to attend an event or festival this year and consider yourself 'a regular' please consider donating – even if there is no event in 2021/a free alternative, or you can't go this year.
4. Sow into our future
If you are blessed financially please consider a one-off gift if you are able. A gift in 2021 – this is the make-or-break year for some of us and your gift could make the difference.
We stand together. Thank you.
Signed by UK events,
Spring Harvest, New Wine, Festival of Life, Fusion, Youthscape, CreationFest, Kingdom Worship Movement, Festival of Praise