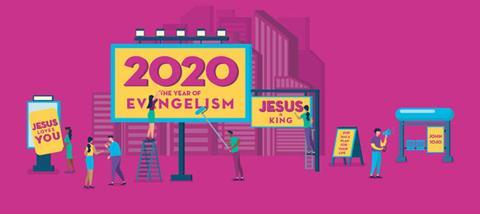 Jesus is going to headline London's O2 Arena this year. At the same time, hundreds of thousands of Christians, from every denomination, will tell their friends and neighbours about their faith. Some will take to the streets to tell strangers that God loves them, while others will go into their schools and offices, freshly equipped for evangelism. The whole endeavour will be covered by prayer in faithful, monthly prayer groups – in homes and churches – and supported by ever-expanding Alpha courses. Does this sound too good to be true? Welcome to 2020, as dreamed of and planned for by many influential Christian leaders. Few of the people I spoke to would say "revival" out loud– many of the veteran evangelists have seen this before, most recently during the Church of England's 'Decade of Evangelism' in the 1990s. And it should be noted that some remain sceptical about that campaign. Author Cole Moreton points out: "When the Decade of Evangelism ended in 2000,there were a million fewer people going to church in England than when the big push started."
Nevertheless, it does seem that across churches and denominations, age groups and genders, there's a fresh sense that 2020 could be a year when God acts, powerfully.
"I think 2020 could be catalytic," says Gavin Calver, the recently appointed chief executive of the Evangelical Alliance (EA). "More than ever, people are witnessing and evangelising to their friends, and I think the date – 2020 – is a great excuse to do more than normal." Rev John McGinley, who is helping to lead the Archbishops' College of Evangelists, a Church of England initiative founded during the Decade of Evangelism and relaunched in late 2019, agrees; he gave up his job as a vicar to move into full-time, unsalaried evangelism and training ahead of 2020. "All these initiatives started to come together independently," he explains. "I said: 'Lord, I think you're up to something.' I had a real conviction. So here I am, living by faith, to see what happens." Andy Hawthorne, of The Message Trust, which is behind Advance 2020, one of the biggest training initiatives, believes it's not too optimistic to speak about revival. "I honestly do believe the Lord is up to something," he told me. "Literally millions of people will hear the good news relevantly preached in 2020. It seems to be on a scale that I've never experienced in more than 40 years of being a Christian. It's unprecedented."
Key moments and movements
Broadly speaking, the 2020 initiatives are split across three categories: large-scale, one-off events and preaching tours, domestic missionary work and local church projects. Franklin Graham's enormous national tour comprises mostly of the first category. The renowned preacher, controversial both for his unapologetic backing of US President Donald Trump and for his preaching on LGBT issues, is due to hold an eight-city tour in the summer, including stops at the Birmingham Arena and Glasgow's SSE. It will culminate in one night at London's O2 Arena – which has a capacity of 20,000 – in October.
Millions of people will hear the good news relevantly preached in 2020
The Billy Graham Evangelistic Association's tour director, Scott Lenning, said that it is an "unpredictable time in British history" when more than ever people need to hear the "hope-giving message of the cross of Jesus Christ". He sees the tour's role as strengthening and expanding what UK churches are already doing. But not everyone is pleased about the arrival of the Americans. Rt Rev Dr Pete Wilcox, Bishop of Sheffield, recently put out a statement saying he would not be encouraging parishes in the diocese to support the Graham tour. "Mr Graham's rhetoric is repeatedly and unnecessarily inflammatory and in my opinion represents a risk to the social cohesion of our city," he said. "I gladly took part in Billy Graham's Mission England in 1984 as a candidate for ordained ministry, and in his LiveLink Mission in 1989 as a curate. But to my sadness I detect a tailing off of humility and generosity in the Graham organisation since those days."
Another American evangelist, Michael Youssef, is planning a high-profile tour for 2020 – called Uncompromising Truth. Like Franklin, Youssef is controversial in some quarters, known for his uncompromising views on Islam, and that may upset some ahead of his own visit.
In the second category is Advance2020, which has partnered with the Church of England, the Evangelical Alliance, Hope Together, The Message and others, to start almost 80 evangelism training groups across the United Kingdom. It aims to train hundreds of evangelists, who will train hundreds more; 700 people have already signed up. The Archbishops' College for Evangelism has already recruited 80 evangelists to its training scheme, with a goal of 200, who will go on to train more evangelists. The Turning, an evangelism project that involves approaching strangers on the street and leading them through a prayer of faith, launched a major project in London in 2019. Their 69 "hubs" span 23 boroughs, with a view to training and sending out evangelists onto the streets of the capital in 2020.
Meanwhile, local churches are poised to cover these initiatives in prayer and provide much-needed follow-up for new believers. A spokesman for Holy Trinity Brompton(HTB) said it has seen such an enormous surge in interest in Alpha courses that they have issued 100,000 free invitations for churches to use. Hope Together has launched a project to encourage people to pray for 20 minutes on the 20th day of each month, and is launching Hope Spaces – prayer rooms across the country.
Meanwhile, Motivating the Million, a Church of England initiative launched at last February's General Synod, is gathering pace, and aims to equip the Church's million regular worshipers to talk to their friends about the gospel. No doubt many other projects are underway, but, as with any large-scale event, logistics is key. "We have to make sure we don't get in each other's way," explains Calver. "At the Evangelical Alliance, we're trying to get everyone talking, to make sure we don't all turn up in Ipswich on the same Wednesday afternoon, for example. But I'm a big fan of the mixed menu: people come to God in different ways – just look at the ministry of Jesus. We have to make sure we don't get stuck on one formula."
Reimagining evangelism
Evangelism, perhaps more than any other area of Church life, has often been perceived as being stuck on one formula for a very long time: big-name evangelists who preach the gospel from huge stages. There's no doubt this approach has yielded results in past years. Billy Graham reignited the faith of thousands of Christians in the UK over the course of his crusades; three months in 1954 sparked a taste for his preaching that lasted all the way to his final UK tour, in the 1990s. Billy Graham wasn't welcomed by all, though, and his son Franklin has also caused consternation in some quarters. Blackpool Tower was lit up with rainbow colours last year to protest Franklin's views on LGBT people.
It's not just about being a platform evangelist
Quite apart from the controversy, Britain's faith make-up has changed dramatically since the 1950s. There are now fewer Christians with a grounding in Sunday school Christianity whose faith can be fanned into flame by a well-honed altar call, and there are more people whose only experience of Christianity is coloured by beliefs – true or untrue– about homophobia and social conservatism. Is it time to ditch the arena evangelist model? "Actually, things like the Franklin Graham tour have a really important role," says McGinley. "They are a way of saying to Christians that people still respond to the good news of the gospel. It's away of sharing our faith and letting people respond." The problem, he says, is that headliner evangelists – like Billy Graham, Franklin Graham, and J.John are so well-known they have created a very robust image in people's minds of what an evangelist looks like and that can discourage some Christians from sharing the good news themselves.
"A key part of what we are trying to do is to recommunicate – to give a better and a fuller picture of what an evangelist can be," explains McGinley, who is involved in Advance 2020 and New Wine's Overflow evangelism initiative as well as the Archbishops' College. "It's not just about being a platform evangelist: an evangelist can be in their 70s, or 16 years old. The evangelistic gift is a gift from God to communicate the good news, to stimulate the Church to say Jesus is real, he loves people, he will change their lives. It comes in all shapes and sizes: and yet we are still underrepresented by ethnic minorities, by people from the Catholic tradition, and women."
This underrepresentation, says Rachel Jordan-Wolf, assistant director of mission organisation Hope Together, is particularly galling because women are in many ways natural evangelists. "They're the ones talking about their faith at toddler groups, bringing their friends to church. But we have this image of 'big personality evangelists' who get upon stage, make a load of noise, and say: 'We're going to reach everyone tomorrow.' That means women count themselves out. They think: 'I don't look like Billy Graham, I don't look like J.John, I don't have the right qualities." This is an image problem that has become systemic. Church networking, Jordan-Wolf explains, is often gender-biased. "Men network with men, and women with women. And that means that when a man is asked to recommend someone for an event, he's going to recommend that guy he met at the networking event." Jordan-Wolf has started a group for women evangelists under the banner of Advance 2020. "This is something that's really on my heart," she tells me. "Often at these evangelism meetings I'm the only woman in the room, and it's hard.
"We need to do something. This is one of those really strange places in the Church where it still seems to all be men." What would Jordan-Wolf say to women who count themselves out as evangelists? "If you are the kind of person who wants people to meet Jesus, if you're always the one at church thinking about 'the others', then you've got the heart of an evangelist, and I want to work with you."
Everyday evangelists
For the EA's Calver, everyday evangelism is where the Church will see the most impact. "I think there are more evangelists in the UK than we think," he says. "There are people out there who are desperate to share their faith, and the office of the evangelist just isn't as affirmed as it could be. Indigenous mission – when someone from one culture witnesses to someone else in that culture – is the most effective, and we need to make sure we're releasing people to evangelise every day." Part of that involves reimagining what being an evangelist looks like. "Most people will share their faith on a one-to-one basis, not from the pulpit, and the most helpful thing is to be interested in people. Ask questions, share your story. We're people meeting people, and we have an incredible message of hope." Follow-up is essential, he says, and the local church has to be "plan A and plan B".
The growing realisation that this is a kind of evangelism just as potent as a Billy Graham tour is one reason Alpha is so popular. "It's such an easy ask," says Mark Elsdon-Dew, head of communications at HTB, the home of the course. "Nicky Gumbel [founder of Alpha] always says he's not a natural evangelist. He finds things like standing on the top of a bus telling people they need Jesus uncomfortable! I think a lot of people do, and that's why we promote Alpha. We feel it suits people. All you have to say is: 'Come along, have a meal, see what you think.' One of the best things about Alpha is that people can belong before they believe." Elsdon-Dew says that Alpha, too, had sensed "that something could be taking off next year: we've had a lot of requests for more materials, a sense that there's more demand than ever." Alpha's role, he said, was to provide new believers and seekers with – perhaps – their first experience of church family. "In our experience [of evangelism], you need a sort of call to action, that ends up with a local church."
There's definitely still a place for street preaching
Perhaps surprisingly, old-fashioned street evangelism has proved to be particularly effective among Millennials. Jordan-Wolf, who stands outside her church every Sunday with a box of chocolates to handout to passers-by, remembers a man who stopped recently for a chocolate and a chat, and admitted he hadn't been to church since childhood. He said he was on the way to the pub across the road. She watched him stop at the threshold, turn around, and come back to church. He went for Communion and prayer, stayed for supper and is now part of the congregation. "And all that came from a box of chocolates," she laughs. "So there's definitely still a place for street preaching. It's particularly appealing to Millennials, who maybe don't have the same negative experience of church as their parents. Millennials don't screw their faces up when you talk to them about faith on the street: Gen X and above do, but Millennials and down are interested."
Whether it's proclaimed from the stage of the O2 or awkwardly blurted out at the school gates, the central message for 2020's new wave of evangelists is timeless: Jesus. The only way churches can make sure itis him they are communicating, and not their own cultural context, is by being dependent on prayer. "We need to get serious about prayer," says Calver. "We need to be praying for five to ten people we know to come to faith, every day." Hope Together's initiative will see churches across the country unite to pray; something that will dovetail with the very popular Thy Kingdom Come season of prayer. When prayer is the priority, it cuts through and overrides everything else – whether evangelists look like Billy Graham or a mum in a foodbank, whether they approach you on the street or over the dinner table, whether revival happens in 2020, 2021 or 2031. Otherwise, as Calver puts it: "We are in danger of overestimating our activity and underestimating our prayer. God is the one moving in 2020 – it's our job to keep up."
Enjoyed that? Get more articles covering news, culture, faith and apologetics in every print issue of Premier Christianity magazine. Subscribe now