Seventeen years ago, God gave Richard Gamble an audacious vision: to build a national landmark that celebrated a million answered prayers. Turning that vision into reality has been a long, and often arduous, journey, and it isn't over yet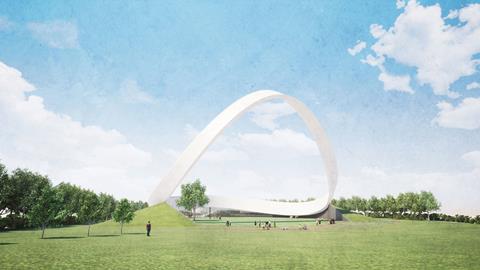 It's 6pm and I've just finished my last Zoom meeting of the day. It has been brutal – every phone call has delivered bad news, setbacks and complications. I've just found out that my right-hand man is in A&E with a suspected stroke. I put my head in my hands and begin to sob: "Jesus, I just can't do this any more." Everything in me wants to walk away.
THE BIRTH OF A VISION
Seventeen years ago, I was walking along a road in Leicestershire. I was carrying a six-foot cross, designed to provoke people to think about Jesus during Easter. As I walked, God interrupted my thoughts. In that moment, the vision to build a national landmark that celebrated a million answered prayers was born.
A lot has happened since that day. Social media was invented, the concept of crowdfunding birthed and a bald patch has developed on the back of my head (I rate all of these as equally important). The vision for the 'Eternal Wall of Answered Prayer' remains unchanged, however: to build a colossal architectural sculpture made up of a million bricks – each one representing an answered prayer – so that the nation will know that Jesus is alive, that he listens and that he answers prayer. In short, the aim is to "make hope visible".
Embarking on this dream, I have learned that God is often far more interested in the journey than in the final destination; more interested in what we learn about him through the process, than in the actual building of the Eternal Wall itself.
One of the lessons that God has taught me is the power of remembrance. Grasping the forgotten tradition of remembering the deeds of God, recalling his wonderful acts and meditating on the works of his hands is fuel for my soul and spirit. Deuteronomy 4:9 has become my go-to scripture: "Only be careful, and watch yourselves closely so that you do not forget the things your eyes have seen or let them fade from your heart as long as you live. Teach them to your children and to their children after them."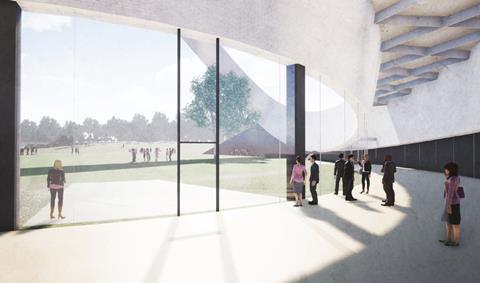 FACTS AND FAITH
Building the tradition of remembrance in my life not only refreshes me but recalibrates my mind to focus on his truth. Anxiety flourishes when facts cause truth to retreat. Right now, the facts before me are these:
I'm trying to raise money for a national landmark in the midst of a global pandemic that has caused an economic crisis.
The architectural sculpture is so complex that some of the world's best engineers are struggling to know the best way to build it, never mind keep the cost down.
The technology required to enable visitors to read stories of answered prayer by pointing their phones at a brick is groundbreaking and unique on this scale.
Most trust funds are rightly concentrating on Covid relief, and so will not entertain new projects, let alone one as ambitious and unusual as this.
My right-hand man is lying in a hospital ward having tests for a suspected stroke.
I'm mentally and emotionally exhausted and I have never felt more alone. "It has to be impossible, for God to be glorified through it" is a phrase I use over and over, and this project feels impossible right now!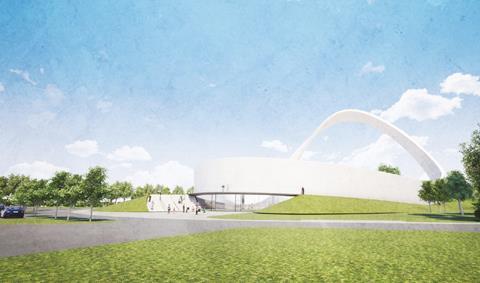 So, there are the facts. Now for the truth. I discipline my mind to recall the scriptures: "I can do all things through Christ who strengthens me" (Philippians 4:13, NKJV). "Greater is he who is in you, than he who is in the world" (1 John 4:4, KJV). "Be strong and courageous" (Joshua 1:6).

Then I do what I always do when confronted with the impossible: I remember what God has done.
IT HAS TO BE IMPOSSIBLE FOR GOD TO BE GLORIFIED THROUGH IT
THE STORY SO FAR
In 2014, I launched a crowdfunding campaign with the aim of raising £45,000. We wanted to run a global architectural competition to design this national landmark. Raising money for a piece of public art – when I didn't yet know what it would look like, where it would be, or if it was even achievable – was fundraising on thin air. With four days and £22,500 to go, I was a mess. Feeling like we were on the brink of failure, I stood on a hill in the dark of night and prayed. I feared the whole project would crash and burn before it even got started. Then, something strange happened. The cloudless sky behind me lit up. For just an instant, a bright white light covered the whole landscape and I felt God say: "I'm behind you. Your job is to lead in peace." For two days, I wrestled with God, desperately trying to find that peace. Finally, I realised that this was not my project but his, and I handed it over; I felt his peace flood through me. The following day, the money started to pour in – from Spain, Croatia, Hong Kong, Brazil – all over the world. We reached our target with a day to spare. It was one of the most significant moments of my life. The elation of knowing God was with me, that this crazy idea wasn't the result of an over-fertile imagination or eating too much pizza before bed, was immense.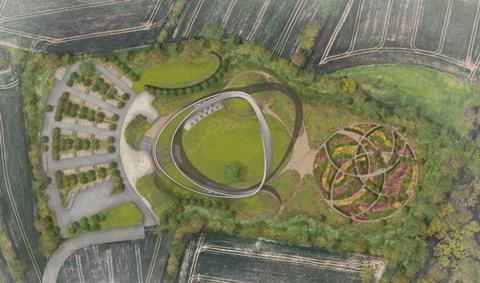 IMPOSTER SYNDROME
Shortly after, I stood in front of a parliamentary reception and announced the competition finalists. MPs and members of the House of Lords fired questions at me. I told them we had a big investor backing the project. I didn't tell them that his name was Jesus, but I was happy to let them draw their own conclusions. I've always believed that the money was out there – my job was to find the people with willing hearts who God wanted to use. Then, as one MP asked me a question, a voice in my head whispered: You've got no money, no land, no clue – this is just pure fantasy. Imposter syndrome kicked in. How was I going to get a piece of land with no money? How could this fantasy become reality?
My wife and I travelled to California for a conference. There, a lady told us that she had a prophetic word for us. She said: "God wants you to know that he has a piece of heavenly land already prepared for you." Once again, confirmation that the God of the impossible was on the case.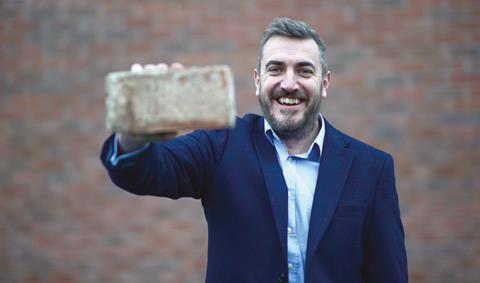 If I were to choose one word to describe my approach to this project over the last 17 years, it would be 'naivety'. I thought that the right piece of land would cost £20,000 – it turned out to be closer to £2m. When I shared that lady's word with my team of intercessors, one of them, Sue, said: "If God said he's got the land, I'm going to find out where it is!" A few days later, Sue sent me a Google Maps screen grab with a piece of land circled in red. When I saw it, a shiver went down my spine – only two weeks previously, the person who owned that piece of land had asked to meet me. We met and I shared my vision. When I was finished, he told me that he, too, had dreamed of building a national landmark for Jesus and, six months earlier, had set up a trust to fund it.

At our second meeting, he offered me ten acres of land. For the next two years, various plots of his land were surveyed, but all were ultimately deemed to be unsuitable. Eventually, he employed an architect to look at his portfolio and identify the best location. I clearly remember the moment he showed me the piece of land that the architect had selected – the very same one that Sue had circled two years earlier! I sat in my car after that meeting and sang praises to God, meditating on the amazing way he brought it all together.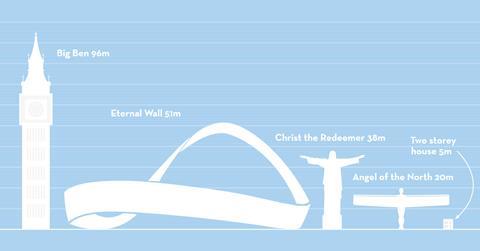 RECALIBRATED FAITH
There are so many stories of the impossible situations we've encountered and God's miraculous intervention: the positioning of Christians in critical positions of influence to help us along the way, the amazing financial provision at just the right time. Remembering those stories causes my faith to rise again. Recalibration takes place as God's truth takes hold.
As I sit at my desk in tears, I remember an incredible answer to prayer only a few weeks ago. I was told that we needed a construction expert in our core team. I agreed but knew we did not have the money. We started discussing where we might find a volunteer with the right experience and knowledge who was also a Christian. My advisor chirped up: "You're already looking for a needle in a haystack, if you want a Christian one, it's like looking for a yellow needle in a haystack!" Nonetheless, I started to pray: "Please God, help me find this person." Thirty minutes later, a man listening to his car radio heard a report about the Eternal Wall and felt the Holy Spirit prompt him to get involved. He emailed his directors who, surprisingly, agreed that he and his assistant could volunteer some time each week to the project. I phoned the advisor a few days later to tell him the good news: we had found our yellow needle in a haystack! The expert had worked on large-scale construction projects such as the Commonwealth Games Stadium in Birmingham and was just what we needed a few weeks later when a major issue arose. Where would I have been without that advisor's suggestion, without God answering my prayer and without that project manager's obedience in responding to the Holy Spirit's prompting?
When I remember all that God has done so far in this project, I am able to push away the facts that confront me, the impossibilities that surround me and focus on the truth of who God is, and what he has already done in my life. As a close friend once said to me: "Either God is in this, Rich, or you are the luckiest man on earth." It is definitely the former. I find my strength again to push on to the next phase: construction of the Eternal Wall of Answered Prayer will begin in September 2021 at Coleshill, near Birmingham, in between the M6 and the M42. It will take approximately a year to complete. We will declare to the world the things that God has done. We will proclaim his miracles to the hundreds of thousands of visitors who will come to the site each year. We will tell a million stories of the God of the impossible, to our children and to their children's children. We will remember.

Richard Gamble is the founder of The Eternal Wall of Answered Prayer, which opens in 2026. He is the former chaplain of Leicester City and is the author of Remember: Revealing the eternal power of answered prayer (SPCK). For more information about the wall, and to share your own story of answered prayer, visit eternalwall.org.uk
View full Profile