The Global Mercy will offer lifesaving surgery to some of the world's poorest communities and state of the art training for underprivileged doctors. And it's doing it in the name of Jesus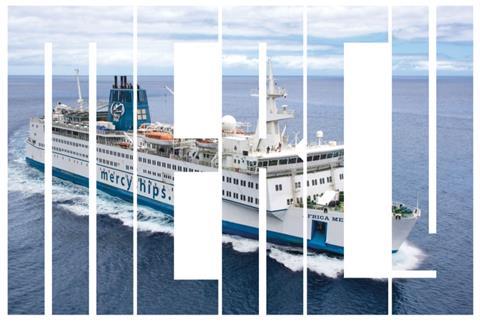 The numbers are mind boggling. A 174 metre, 37,000 tonne-ship facilitated by 600 volunteers is about to be launched. At its heart will sit a two-deck hospital spanning 7,000 square metres. The six operating rooms are being kitted out right now, where life changing surgeries will soon be delivered, free of charge, to the peoples of West Africa. State-of-the art training spaces will also enable underprivileged medics to receive first-class training. In a matter of weeks, the ship will leave Europe and begin its 2,700-mile journey to Senegal.
This huge undertaking has been 14 years in the making. Experts estimate that Global Mercy will deliver potentially lifesaving medical procedures to 150,000 people over the next five decades. But this impressive humanitarian effort – and the world's largest civilian hospital ship – is not the brainchild of Bill Gates, Elon Musk or the United Nations. The vision for this floating hospital is unashamedly Christian.
"People ask us why we do what we do. And we're very quick to tell them," says Glasgow-born Jim Paterson, the former senior vice president, now executive consultant at Mercy Ships. "We do it because we believe at the centre of the universe is a God of love, who cares for them."
Mercy Ships has operated four vessels over their 43-year history, but Global Mercy is by far the largest. While other ships were converted and repurposed for their missions, Global Mercy has been designed from the bottom up to offer the best medical care, training and mentoring to local health professionals as well as looking to improve indigenous infrastructure. Like Mercy's other vessels, Global Mercy will only travel where invited, but the demand for free healthcare and training from many of the world's developing nations is enormously high.
Speaking to me over Zoom from Rotterdam, Netherlands, Paterson points out that some of the most serious problems affecting our world today often don't receive much media attention. Earthquakes, tsunamis and pandemics get headlines. But what about the fact that millions die every year from unsafe surgeries? Recalling a past conversation with Congo's health minister ("He was begging us to come and help them") Paterson says: "At the time, the average healthcare spend per person was $4 per year. He showed us pictures of these clinics in the villages, where it's literally four posts and a roof, with an operating table underneath."
With 44 per cent of the world's population living within 100 miles of the coast, the floating hospitals run by Mercy Ships can have a big impact. The cost of building the ship, plus fitting it with a functioning hospital and sailing it to West Africa, is an eye-watering $200m. That figure has been raised entirely from generous donations, often from Christians in the West. But Paterson assures me it's "a very good price", given what Global Mercy will be able to do. "It's actually very efficient, if you consider the training output and how many people are impacted," he says. "One of our students comes to mind in Togo. He's an ophthalmologist and was shown how to do cataract removals on lens implants and reduce the time per surgery from one and a half hours to nine minutes. He's now training other surgeons in West Africa, and that's the goal; we're trying to work ourselves out of a job."
PEOPLE ASK US WHY WE DO WHAT WE DO. AND WE'RE VERY QUICK TO TELL THEM
One might assume that with free healthcare on offer, there would be a rush onboard. But Paterson says many prospective patients are "terrified" at the thought of going to hospital "because they think they won't come out again".
"I remember when we were in Mexico, one of the surgeries we do is cleft lip and palate repair. And the local shoeshine guy would never really look up when he was shining shoes because he had a cleft palate that had never been repaired. It took our team some weeks to befriend this guy and convince him to come onboard and have the surgery, which was a success. The surgeon got a letter from this chap five years later, saying that, at the age of 50, he'd just had his first kiss."
Keen to emphasise the spiritual nature of their work, Paterson says the team will hold regular prayer meetings on the ship, and the vast majority of volunteers will have a strong Christian faith (though there have been occasions in the past when individuals with no faith have volunteered and found God onboard). Employing the famous adage, Paterson says: "We have to remind ourselves, probably not enough, but almost daily, that we work as if it all depends on us and pray as if it all depends on God."
The story of how a Christian charity is delivering both surgery and training in places where it's desperately needed is an enormously positive one. Mercy Ships don't do it for the positive PR, but next time someone wonders aloud: What has Christianity ever done for us?, you might want to tell them about the world's largest floating hospital ship. After all, you don't have to be a believer to appreciate their work. After the Global Mercy was built in China, it had to pass through the Suez Canal in order to reach Europe. In a unique gesture, the governments of Senegal and Egypt (both Muslim majority nations) allowed the ship through free of charge. The port of Antwerp also offered free berth and support.
At the time of writing, hundreds of volunteers are busy making final preparations and adjustments to the ship. All being well, Global Mercy will set sail in spring 2022. When that happens, Paterson will no doubt be celebrating the completion of the charity's most ambitious project to date.
Giving sight to the blind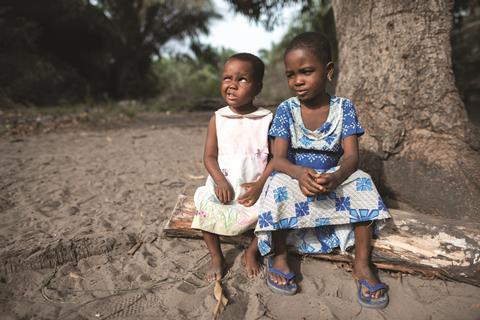 "When I gave birth to Dorkas, she was a healthy baby," recalls Nicole. But the problems started soon after. As she watched her firstborn constantly squinting, she became concerned. "I started to wonder what this could be," she says.
Her fears multiplied when, three years later, her second child, Anna, was born. "I couldn't believe it," says Nicole. "Her vision was even worse than her sister's."
To have not one, but two, children who could not see? This unbelievable situation weighed heavily on Nicole, who was raising her children (pictured, above) alone: "Was this because of some sin I have committed? Is it a curse?"
But in reality, the little girls' condition was genetic. Dorkas and Anna are just two of the approximately 300,000 blind children in sub-Saharan Africa.
Most of these children would be able to see if they had access to modern medicine.
Nicole didn't know that her children's condition could be cured, but she sought help anyway. "The moment I realised that both of my daughters could not see, I began to hope that one day they would get surgery," she says. Nicole followed her mother's advice to go to the national hospital in Togo. An ophthalmologist examined the girls and quickly diagnosed their condition as cataracts. But there was no surgeon to help them.
"We waited and waited and waited," says Nicole.
Then Nicole heard that Mercy Ships was close by, and they could treat children's cataracts. "I went hopefully to them," she says, making the trip from Togo to neighbouring Benin. It was worth all the effort. Nicole left the patient screening site with yellow cards – the signal that her daughters were scheduled for free surgeries. "It was then that I started to believe," says Nicole. "But I was still praying and wondering if they would really be able to see after the operation. I was not yet confident."
Dorkas and Anna were operated on in the same morning. Six-year-old Dorkas came through fine, but Nicole was far more worried about her younger daughter, two-year-old Anna, because her vision had been much worse.
After Anna's surgery, volunteer eye surgeon Bob Burlingame went to the wards looking for Nicole, who had stepped out. "I asked the translator to tell her that everything went very well and that I expected Anna to see much, much better," he says.
The translator left the room, and only seconds later Dr Bob heard Nicole shout from the other end of the hall: "Praise God! Praise God! Mercy has saved my baby's sight!" And she came running down the hall, shouting and praising God.
For more information on how you can get involved by volunteering or giving, visit mercyships.org.uk

Sam Hailes is the editor of Premier Christianity, the UK's leading Christian magazine. He also serves as editorial director for the Premier media group. Sam is husband to Stacey and Dad to Evelyn and Ezra.
View full Profile