As the brotherly brawl between William and Harry dominates headlines, Carrie Lloyd considers what a Christian response should look like
Somewhere between Earl Spencer's eulogy and the sounds of Tavener's 'Song for Athene' filling Westminster Abbey, I looked across to princes William and Harry, just eight rows in front of me. Their heads bowed as Princess Diana's coffin was carried out, I held the hand of my grieving father and thought to myself: At least they have each other.
The brotherly brawl between the Duke of Sussex and the Prince of Wales is hardly Cain and Abel, but it doesn't take a royal aide to see that the youngest sibling is in pain, and has been for some time.
Prince Harry's memoir Spare (Bantam) follows hard on his Netflix documentary series, and contains a slew of accusations towards his family. From tabloid headlines of 'Princess Pushy' to accusations of 'Royal Racists', exposés of private punches have been monetised, breaking trust between the brothers.
The royal fratricide is losing much hope of reconciliation. Only the gunnery of the gospel could save them now.
Peace and privacy
It is pertinent to state that I am no close friend of Harry or William. I've been present at the same palace soirees on more than a few occasions, but I spent more time with their mother, Diana, the late Princess of Wales. My childhood conversations with Harry were about what level we had reached in Sega's Marble Madness. But no matter the crowd, he could never keep his eyes off his mother.
None of us could.
My late father was Diana's charity advisor and director of The Leprosy Mission, one of the six charities that she held patronage to until her death. Rumour has it that she continued in the role because she trusted the confidentiality of my father's friendship.
After many a long-haul flight, you discover that high altitudes are the safest place to air matters of the heart. Especially when the suits from special branch visit your three-bed semi and tell your father: "No more phone calls to the palace from here, the paparazzi are listening."
Knowing our home phone was bugged, I (naturally) plunged into an entirely selfish fear that the British press had overheard me serenading my boyfriend with a dreadful rendition of 'Wonderwall' down the blower.
We all need privacy, don't we, Harry?
After taking part in Martin Bashir's Panorama interview (a choice Diana later told my father she deeply regretted), even the Princess of Wales learned there are repercussions to each of our choices. The offended are still accountable for their reactions to the offence, no matter how righteous their cause.
Harry was twelve when his mother died, and her secret chats with my father were taken to his grave. Dad rejected the book deals and requests for interviews that came his way in the coming years, focusing only on the causes and needs of others. It was just how the peace ambassadors of the monarchy needed it to be.
For peace is the most violent weapon in the kingdom, although it seems that at present, some have forgotten the power it can wield.
I'll review this brotherly brawl from two angles: one in grief for Diana, knowing she would be heartbroken at the division between her boys. According to her biographer, Andrew Norton, she hoped Harry would be William's "wing-man" (there was no 'spare' in her version). She knew the priceless gift of brotherly love, and felt the weight of the crown. A monarch needed allies; confidantes to the death.
The second angle is written as an impatient pastor. I have, unfortunately, observed the disintegration of many relationships – initiated by hurt, embellished by rejection and fuelled by ego, assumptions and paranoia – until they explode with a pain that radiates more unnecessary pain and launches, finally, into a self-imposed death of bitterness.
If we strip this debacle of the silver platters and palaces, the real narrative is no different to any other hurting family.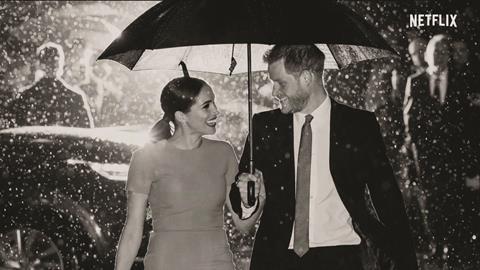 Justice and pain
This cautionary tale is characteristic of our current status quo. Discourse says that when we're hurt, having our voice heard is of paramount importance. But this rhetoric, played out in cancel culture and public vilification, is missing some vital (Christian) components.
It is right to seek justice, but not vengeance. Bullish methods do not often bring peace, progression or solutions. Instead, division, tribalism and segregation grow.
Harry admits that he sought relief from the pain he felt after his mother died in mind-numbing pleasures such as sex and drugs. Broadcaster Esther Krakue recently called him a "narcissist brat" on ITV's Good Morning Britain – and she isn't the only journalist to have levied that charge at the duke and his wife – but we can all be a little narcissistic when we are in pain.
Empathy vanishes and integrity pivots on its heels; the very people you deem to be vipers (in Harry's case, the press) become the weaponry you hurl at your own family. We cry out for accountability, but bitterness removes us of our own.
The royal fratricide is losing much hope of reconciliation. Only the gunnery of the gospel could save them now
Without taking responsibility for their own reactions to the pain inflicted upon them, Harry and Meghan's (perhaps rightful) concerns are losing credibility. There seems little awareness of the damage their revelations are causing. As with any relational conflict, it's as if someone forgot that in the heat of the battle, both hearts still bleed.
In last year's Oprah interview, Harry said that his "biggest concern was history repeating itself", apparently referring to his mother's death and the way the British press hounded her. But history is repeating itself, and it is Harry who is pressing replay: stripping himself of his HRH title (Diana didn't want to lose hers), he lost his royal protection (as did Diana – and we all know how that ended).
Sensationally public revelations that may cost him his relationship with his family and the crown (Diana's book and television contracts led to divorce and the removal of her title). Wishing for privacy, but inviting the press (and now Taliban spokespeople) into the narrative.
And with Harry admitting to Anderson Cooper on 60 Minutes that he hadn't spoken to his dad or brother "for quite a while", it seems he is increasingly isolated; anyone who may have been able to stop the repetition of his mother's mistakes has been removed, or fired.
What is a generational curse?
In episode six of Netflix documentary series, Harry & Meghan singer Beyoncé texts Meghan to tell her that she believes she has been "selected to break generational curses that need to be healed".
Just what those curses were, or whether Beyoncé mentioned Exodus 20:5 (in which God tells the Israelites he will punish "the children for the sin of the parents to the third and fourth generation of those who hate me") is unclear.
While we are all made new in Christ Jesus, common wisdom (and research) tells us that sinful behaviour is often passed down through families. Be it racism, elitism, infidelity, addiction, pride or bitterness, we are all susceptible to malison. Anywhere offences or hurts occur, the enemy can sneak in; modelling poor responses to unhealed pain is easy to pass on.
Many people held high hopes of Meghan breathing new life into the stifling stonework of Buckingham Palace. But just because we represent something (be it gender, diversity, a break with tradition or a political mindset), it doesn't mean we make or break a generational curse by purely existing.
Identifying the curses are one thing, but only repentance and renouncing can break them. Even as the victims of foul play, we must reflect on our own actions, recognising that our own acerbity not only continues the momentum of a curse, but increases it.
It's how warfare starts. It's why racism continues and patterns of familial bad behaviour persist. Without new solutions to these historic injustices, we are stuck in a scratched vinyl groove.
Bitterness or hurt?
The allegations made by the Sussexes in their Oprah interview probably held some truths (the institution can be cold; they probably did try to prevent Meghan being too political; trust may well have been breached with palace staff).
Add into that mix childhood trauma, a sense of inadequacy, co-dependency and a reluctance to listen to others and bitterness is sure to set in.
How do you distinguish hurt from bitterness? Firstly, there's no room for discussion (hence the cancel culture). Secondly, there are contradictions in the argument – especially when it involves one's integrity (critiquing the Royal Family in the press could be perceived as close to treason). Thirdly, we use blanket statements ("everyone feels this way") which invite a sense of gang warfare. If I can't be heard alone, I'll bring everyone – including the vipers in the press – against them. The end always justifies the means. Fourthly, sabotage begins to play out, hurting the very ones we are trying to protect. Finally, honour is removed as we refuse to look clearly at our own actions towards another.
Both princes have displayed some unethical and unchristian behaviour – although most could be deemed to be within the realms of usual sibling rivalry – be it slander, jealousy, competitiveness or physical altercations. One of them did, at least, apologise for smashing his brother into a dog bowl; the other still published the story.
Harry and Meghan's revelations have led some to criticise the Royal Family for following traditions that date back almost 1,000 years – but let's not forget the late Queen spent her reign slowly modernising it. If it hadn't been for her changes, we'd have no Commonwealth or decolonisation; Harry would not have been able to marry his 'divorcee' Meghan nor William his 'common' Kate.
Hurt acknowledges progress where it has been made; bitterness will still gun for the other's demise, regardless.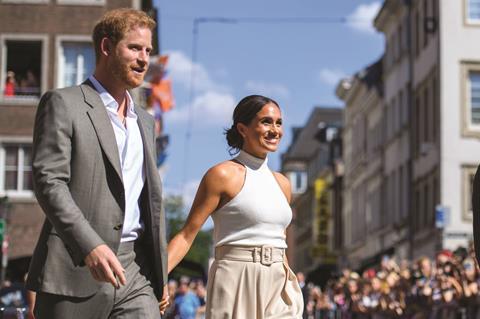 Gospel justice
Amends always begin with gestures, like the kneeling of Martin Luther King Jr on Selma Bridge. It was taught by Joseph, "a just man" (Matthew 1:19, ESV), when Mary was found to be pregnant. Given the option to stone her, he decided instead on a "quiet divorce" (before an angel instructed him otherwise). The Bible commands us to walk in integrity, in spite of sin. There is no eye for an eye, but a turning of the cheek in the gospel's definition of justice (Matthew 5:38-40).
Despite the heartache caused, the sin of another never excuses our own sin. Instead, the honour with which we act points to the one we follow, the "perfecter of our faith" (Hebrews 12:2, ESV).
In short, to seek justice, we must first seek wisdom asking: "Will what I'm about to do bring unity and resolution, or greater harm and division?" Sin leads to its own death, but kindness leads to repentance, says Romans 2:4. It might be ancient wisdom, but it still breathes an avant garde advice.
Forgiving the unforgivable is where the noble earn their name. But keeping a public silence doesn't have to allow "the abuser to abuse" as Harry suggested to Tom Bradby in his ITV interview. Matthew 18:15 says: "If your brother or sister sins, go and point out their fault, just between the two of you."
Only those who can affect change should be brought into the conversation, if needed. The Royal Family's private disputes are now in the public domain. By involving the press, Prince Harry has simply generated more gossip, and invited millions of people to act as judge and jury on a situation they have no personal knowledge of.
A vision for reconciliation
Palace sources say that King Charles III does want reconciliation but, understandably, there's little trust that any conversations will not be publicly exposed. Some have suggested that Most Rev Justin Welby, Archbishop of Canterbury, may step in to act as mediator. My own (pastoral) advice would be for all involved to sign Non-Disclosure Agreements (NDAs) before meeting; that way people can speak freely.
Prince Harry needs to feel heard, which may involve some patience on the part of the Royal Family, as they listen to a man who does not recognise the pain he's caused them. They'll need to apologise, too, and seek to better understand what he needs to move forwards.
The offended are still accountable for their reactions, no matter how righteous their cause
But Harry will also have to listen; and face the contradictions and consequences of his choices, just as his mother did.
Then, a vision for the future is needed, in order that unity does not perish (to paraphrase Proverbs 29:18); one that reminds the brothers how their differences are a beautiful thing: William is wired for pragmatic resolve and steadfastness, much needed for stability and in times of national crisis. Harry is a revolutionist, wild and tender at heart, who thrives on a mission; in Africa or, dare I say it, in war.
There is a room in Westminster Palace called the robing room. Two thrones sit opposite a series of paintings by William Dyce which each depict a virtue required of the royal court: hospitality, generosity, mercy, religion and courtesy. Over the years, the monarchy has alternately displayed and fought against these virtues, but they are worthy reminders for a king whose family is fighting.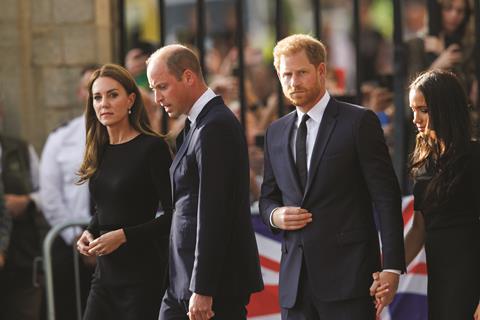 Sacrificial service
If there is anything that might lift the bowed heads of the boys once more and herald this new vision, perhaps it will be their father's Coronation.
When Queen Elizabeth II was crowned in 1953, the Duke of Edinburgh struggled with kneeling in submission before his own wife. But despite the personal tensions, he made peace with it, recognising it as the sacrifice of service, not to a person but to an institution in which he believed, and to a greater good.
It is a theme we see echoed in the life of Jesus. There was nothing fair about the crucifixion of Jesus, but from the ashes of his death rose a great atonement: the ultimate victory was found in the laying down of self, in the sacrifice of the harder choice.
Speculation has mounted over whether Harry would kneel before his father at his Coronation – and whether Charles would want him to. Now, the king has announced that the five royal dukes will no longer be required to pledge allegiance to the crown, only the heir to the throne, Prince William. Would it have been restorative for Harry to bow to his father after all that has passed, or would it have caused further discord? Was changing the protocol an act of kindness, avoiding the embarrassment of singling Harry out for omission or forcing him to comply?
Diana hoped Harry would be William's "wing-man". There was no 'spare' in her version
My prayer, after the fisticuffs cease, is that the boys seek the brutal wisdom of the gospel; that they are reminded of the virtues in those William Dyce paintings; and that amid the drudge and trickery of this world, they focus on the real injustices to be found in our nation and around the globe.
The true atrocities faced by society could be tackled far more effectively by two princes, both blessed with different talents and temperaments, working together.
As they turn towards the crowd – the same people that their grandmother asked them to serve – may we turn to face them with a renewed hope and vision; one that whispers: "At least they have each other."

Carrie Lloyd is the host of 'The Carrie On…podcast', journalist, Patreon writer, author and life guide. She resides between her homes in California and Lincolnshire, England. Her latest book, The Legacy Letters (Malcolm Down Publishing) is available now.
View full Profile