In a world filled with war, conflict and increasing anxiety, the Church can offer a better story, says Chine McDonald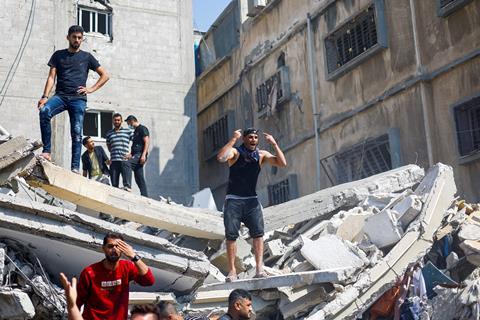 Within minutes of my first child being born in 2017, overwhelmed and delirious, I wept as I whispered to him: "I'm so sorry about Donald Trump."
I was relieved we had both survived the birth, yet in the aftermath of the political turbulence of Brexit and the societal polarisation following the US election, I felt an overwhelming sense of guilt that I had delivered him into a world that was less safe and certain than the one I inhabited as a child.
I do worry about our children's futures. I even find myself questioning whether having children is a good idea. This is from someone who has always dreamed of having children and who grew up in churches in which being a parent was the clearest sign of God's favour on your life – although I question why Jesus was not married with 2.4 kids if that were the case!
There are signs that our young people are even more anxious than we are. In China, some wear T-shirts with the words: "We are the last generation." Research by the London School of Economics showed that between 60 and 80 per cent of under-35s living in France, Germany, Italy, Spain and the UK were either postponing or abandoning the idea of becoming parents. These young people have lived their lives from global crisis to global crisis; coming of age during the 2008 financial crash, and then experiencing a pandemic in their 20s. 'Permacrisis' – a portmanteau of "permanent" and "crisis" – was the Collins Dictionary word of the year in 2022. Right now, they are watching as unimaginable horror unfolds in the Middle East.
It's thought by some that life stages such as the birth or the death of a loved one provide pause for existential reflection. We ask who we are, what we believe about ourselves and God. These life-changing events bring into sharp focus the finitude of our earthly existence, in which settling on big ideas or values feels more urgent than before.
Parents and teachers are ministers of hope
This is where the Church can step in, not to provide opportunistic answers but to help people navigate these overwhelming feelings. I've seen it among my own friends – lifelong atheists who feel an urge to have their children christened, who find a place of welcome in church-based parent and toddler groups.
I recently found myself weeping at the words of Father Timothy Radcliffe from the Catholic Church's synodal retreat. I read them in the early hours of a fitful night in which our baby had woken up several times, and the world felt particularly dark. "Many parents refuse to bring children into a world that appears doomed", he said. "But what more marvellous priestly ministry than to raise children and seek to open their minds and hearts to the promise of life. Parents and teachers are ministers of hope." Although the world feels hopeless at times, perhaps those of us who can and choose to have babies are committing to investing in a better future, for the sake of us all.
Over the next 20 years, Christians will need to better understand the culture and step out of our comfort zones to show people how 'doing God' might just change their community or country for the better.
And who knows? It may even change their lives.

Chine McDonald is a writer, speaker and broadcaster. She is director of Theos, the religion and society thinktank, and previously headed up public engagement at Christian Aid. She is the former communications director for the Evangelical Alliance. Her latest book is God Is Not a White Man (Hodder & Stoughton). She studied theology and religious studies at the University of Cambridge and is a trustee of Greenbelt Festival and Christians in Media
View full Profile