As Lent begins, Lucy Peppiatt looks at what scripture teaches about fasting, and why it's a practice Christians can benefit from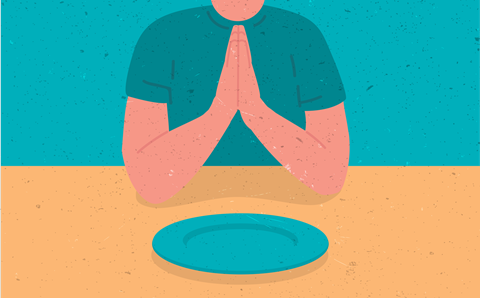 Most religions link fasting to spiritual formation and prayer, but, recently, the idea of exercising restraint has entered into the mainstream. Fasting is having a moment. Many people swear by intermittent fasting for its multiple benefits: losing weight, staying healthy, being alert etc. It's also increasingly common for people to cut back on alcohol, meat and sugar. An estimated 9 million people in the UK took part in Dry January, according to Alcohol Change.
As a beneficial practice for mind and body, clearly, fasting is not just a Christian practice. But Lent is the time in the Church calendar that is specifically set aside for some form of self-denial.
Lent is when Christians remember the 40 days Jesus spent alone in the wilderness, fasting and praying. Beginning on Ash Wednesday and normally ending at twilight on Holy Saturday, it is a time of repentance, mourning and, traditionally, sacrifice. People often give something up for Lent, opting to live a simpler life for a few weeks.
What is fasting?
In scripture, fasting is always linked to prayer, so when we fast, we are making time and space to pray. I like to think of it as praying with our bodies as well as our minds and spirits.
In the Bible, fasting refers to giving up food in some way. Today, people also fast from other things – screen time, social media etc – which can also help us make space and time for God and break unhealthy patterns – but here I'll focus on giving up food. This comes with a caution. Some people, for physical or emotional health reasons, or because they need to be alert and responsible, really should not cut down on their food intake. Or, if they do, it should just look like eating more simply rather than not eating at all. With that caution in mind, and if that doesn't apply to you, why might we fast today?
Jesus teaches that when we fast it should be a private affair, and that our outward appearance should be as it always is in everyday life. We don't fast to impress others or gain attention. There is no doubt that fasting is a sacrifice but interestingly, Jesus also speaks of the "rewards" of fasting. What might those be?
Why fast?
The main reward of fasting is that it focuses our time on God's presence. If we're not eating our regular meals, or are eating much simpler meals, it releases time in our day that we can spend in prayer, Bible study and worship, feasting on God. By giving up the time we would normally spend preparing, eating and washing up, we put aside this to focus on that. (Obviously, this does not apply if we still have to spend time cooking for others, but even then, fasting reminds us to pray.) If we are fasting, it's good to schedule prayer times throughout the day, and maybe even schedule time to pray with others.
Secondly, a physical detox or cleansing can accompany a spiritual one. Fasting in the Bible is sometimes linked to penitence or repentance (Joel 2:12-13). When we fast, it is a good practice to begin the day with a time of confession, saying sorry to God and receiving his forgiveness.
The main reward of fasting is that it focuses our time on God's presence
Thirdly, we are denying ourselves some of the comforts of life, which has spiritual and emotional benefits. We are all tempted to meet certain needs with 'things', some of which are healthy and some of which are not. Fasting helps to break our dependence on physical comforts and that, ultimately, is a freeing process.
Exercising self-control in one area of life helps us in others, whether that is in relation to anger, video games, drinking, sexual temptation or any other struggle. Fasting from food will help us to be more self-controlled generally, to practise restraint and not be governed by our desires.
Fourthly, it often helps us de-clutter our minds, find a focus and hear more clearly from God. This is not always true as sometimes when we're hungry we just think about when we're next going to eat! However, part of the discipline of fasting is turning to prayer instead of food. So when we feel those pangs of hunger, we remember again the things we are bringing before God.
David Parker, leader of Desert Vineyard in California, says fasting is a "disciplined expression of mourning". It is an expression of our longing for God's kingdom to come and his will to be done in our own lives and in the lives of others.
The rule for fasting is the same as the rule for praying: "Fast as you can, and not as you can't." If skipping food gives you a headache, makes you tired or lightheaded, begin very gently and don't fast for long periods. Try just cutting out a few things. Plan it ahead of time and drink lots of water. Clear your diary so that it can also be a time of prayer, reading the Bible and seeking God. If you feel you need support, share the fact that you're fasting with a few others so you can fast together or have others pray for you. Remember: don't fast if it will endanger you or others. Fasting is not an obligation or a competition; it is simply another way of praying which, on occasion, I've found very helpful.
Be blessed this Lent.

Dr Lucy Peppiatt is a systematic theologian and the principal of WTC (wtctheology.org.uk) where she teaches classes in Christian Doctrine and Spiritual Formation. She has authored books on discipleship, women in the Bible, and humanity made in the image of God. She lives in Bristol where she and her husband, Nick Crawley, are pastors at Crossnet Church
View full Profile