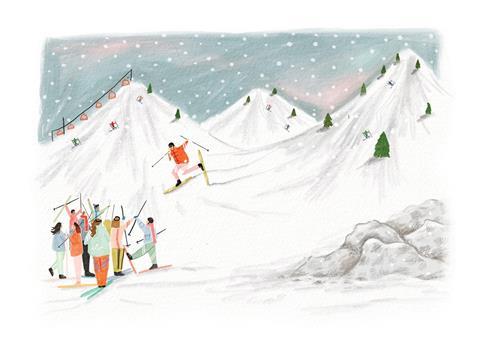 A few years ago, I went on a skiing trip. Everyone in the group was much more experienced than me. After a few days, it became apparent that I was holding the group back. One afternoon, I encouraged them to head off to more testing slopes while I ventured out alone. It was time to conquer my fears.
I climbed to the top of the mountain and, after a few deep breaths, started my descent. It wasn't long before my speed overwhelmed my skill and I was out of control. As I flew around a corner, a ski school of children appeared in front of me. At that moment, I realised two things: firstly, a collision was unavoidable, so pain was heading my way. Secondly – and more importantly – I had the power to pick my pain. To veer left meant I would take out a number of children, but experience a softer landing in a pile of snow. To veer right meant encountering rocks, ice and a heap of personal pain.
Persecution and hardship are part of the terrain when we follow Jesus; in John 16:33, he tells us: "In this world you will have trouble." We often forget, however, the principle of choice in these moments of panic. One of the vital decisions we must make as leaders is: which pain to pick? Pain we endure personally, or pain that creates collateral damage.
When Jesus was arrested in the garden of Gethsemane, Peter caused collateral damage by cutting off a guard's ear. In that moment, Jesus demonstrated the kind of leadership we are called to imitate. In restoring the ear, he rewrote a narrative of pain that held no gain. He had an awareness that the pain set before him wouldn't be made any easier by unnecessary casualties.
It takes great strength and discernment to resist redistributing the pain we encounter. Yet when we choose the right pain, it enhances our leadership like few other things can. In The Message version of 2 Corinthians 7:10-13, Paul says: "Distress that drives us to God…turns us around. It gets us back in the way of salvation. We never regret that kind of pain…isn't it wonderful all the ways in which this distress has goaded you closer to God? You're more alive, more concerned, more sensitive, more reverent, more human, more passionate, more responsible. Looked at from any angle, you've come out of this with purity of heart." What a beautiful reminder that when we choose the right route, God can use our pain for a much greater gain.
In my instance, I chose to steer right and, as I woke the next day aching and bruised, a friend noticed I was hurting and offered to carry my skis while I healed. I have found when we choose our pain well, God assigns ski carriers to us. Those who don't need the whole story but who simply want to help us shoulder the result of choosing right. If you are facing betrayal, hurt or offence today, I pray you would have the strength to avoid creating collateral damage and instead trust God as you choose the right path.

Charlotte Gambill is an international speaker, teacher and author who has been in church leadership for 28 years. She mentors leaders across the world through her course 'The Collective', and is the teaching pastor at Church of the Highlands, USA.
View full Profile