As visitors descend on the small town of Windsor, church leaders there are providing a space for people to grieve and remember the life of Her Majesty Queen Elizabeth II. Estlyn Davies says there's a sense of reverence and gratitude inside St John the Baptist, as hundreds queue to light candles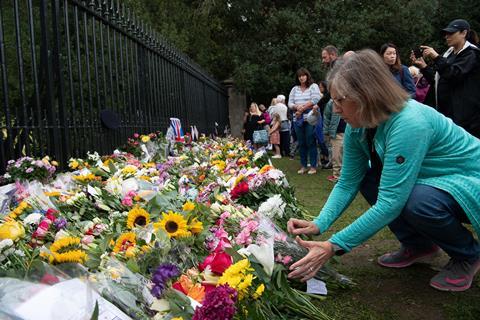 We were just closing our building on Thursday evening when the news came through that Her Majesty the Queen had died.
Suddenly a crowd of people came. That night, 600 people went through our building and 400 candles were lit in her memory.
There has been a continuous stream of people coming through the church ever since. They were queuing all the way down the aisle to light candles. We had four books of condolence on display for people to sign, and we kept running out of paper.
All of our visitors have been very reverent, and extremely pleased to be at the church. Reading the words they've written is extremely touching because people are so grateful for all the years that The Queen served us, and with such dedication.
Two days ago, our rector Canon Sally Lodge conducted a beautiful service for a quarter of an hour, which we wouldn't normally have. We were amazed to count 60 sitting in the pews. And there were loads of other people around and coming in. Everyone was very reverent and quiet. There hasn't been a lot of noise.
A lot of children have come in, and we've been able to say to them, "we're glad you're here, because in the future when you're studying history, you'll be able to say 'I was there.'"
We've just celebrated 200 years of this building, but this church has been here since 1200. I think us being here just allows people to express the thoughts they have. They may not go to church these days, but they still have a knowledge that there is a great being.
On Saturday, four ladies came in, and a couple of children with roses. I was explaining how to get to The Long Walk. I said, "Where have you come from?" And they said, "Oh, we came from Nottingham. It took four hours to get here." Later on I spoke to people from Birmingham. People are really making the effort to get their flowers and to come, and they come into the church. It's almost like a pilgrimage.
We've all been exhausted from what we've been doing here. We've had four people moving candles, and my daughter actually went to IKEA to buy some more, because we'd been getting through them so rapidly! We had to borrow some from other churches too. But it's been good to have a space for people to reflect and think, we're really lucky to have had the Queen, and to thank God for her.
Estlyn Davies is Deputy Church Warden at Windsor Parish Church in Windsor. She was speaking to Premier's Justin Brierley