The marking of Jesus' ascent into heaven is a profound celebration of his triumph over death, says Rev Dr K Augustine Tanner-Ihm. Here's why we celebrate it, and what it means for Christians of all denominations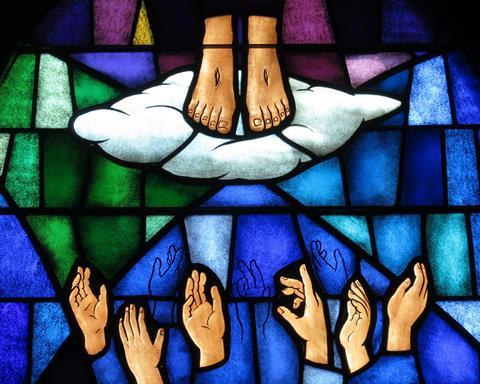 For most of my Christian journey, I did not have much experience with the celebration of the Ascension. Growing up in a charismatic church, the only observant we held was Christmas and Holy Week - mostly because it was expected by culture to have these services in a church and, to be honest, it was a clear way of sharing the gospel, because people came to us at those times.
But Ascension Day is something altogether different.
Ascension Day holds a significant place in the hearts of many Christians worldwide. It is an important feast within the Christian calendar – and one that I have only recently began to understand the significance of; especially for those who long for the Holy Spirit to descend upon them for spiritual power to walk the Christian life.
Ascension Day serves as a reminder of our faith in Jesus' victory and the hope we have in him
Biblical foundations
Ascension Day finds its roots in the biblical accounts recorded in the Gospel of Luke (Luke 24:50-53) and the Acts of the Apostles (Acts 1:6-11). These passages recount the momentous event when Jesus, after his resurrection, ascended into heaven in the presence of his disciples. Through this act, Jesus demonstrated his victory over sin and death, fulfilling his earthly mission.
Ascension Day has been celebrated by Christians since the early centuries of the Church. Throughout history, Christians have marked this day with special liturgical services, processions, and prayers, emphasising its importance in our faith. The commemoration provides an opportunity for believers to reflect on the incredible journey from Christ's birth to his exalted position in heaven.
The significance of this can be understood through four key aspects:
1. Completion of Jesus' earthly mission
Ascension Day marks the culmination of Jesus' redemptive work on earth. By ascending into heaven, he triumphed over the powers of darkness, offering eternal hope and salvation to all believers. Ascension Day reminds us of the fulfilment of God's plan for our redemption through Jesus.
2. Exaltation and intercession
Jesus' ascent to the right hand of God signifies his exalted position of authority and honour. He now serves as our advocate, interceding on our behalf before the Father. On Ascension Day, we celebrate the ongoing presence of Jesus as our advocate, comforting and guiding us through life's challenges.
3. The promise of the Holy Spirit
Before ascending, Jesus promised his disciples the gift of the Holy Spirit, who empowers and leads us in our Christian journey. Ten days after the Ascension, the Holy Spirit descended on the believers, igniting the early Church's powerful ministry on the Day of Pentecost. Ascension Day reminds us of the transformative presence of the Holy Spirit in our lives, equipping us for service and empowering us to share the good news.
4. Hope and future glory
The Ascension reminds Christians of their hope in Christ's return. It serves as a reminder that Jesus has gone to prepare a place for believers and will one day come back to establish his eternal kingdom. Celebrating the Ascension encourages Christians to live in anticipation of Christ's return and to align their lives with the values of the Kingdom of God.
A profound hope
Ascension Day holds a profound and joyful significance for Christians across denominations. This special day commemorates the completion of Jesus' earthly mission, his ongoing intercession for us, and the empowering presence of the Holy Spirit in our lives. It serves as a reminder of our faith in Jesus' victory and the hope we have in him.
As we celebrate Ascension Day, let us embrace the theological richness of this holy day and renew our commitment to live as witnesses of Jesus' transformative love in the world. And pray that God would pour out his Holy Spirit on us all once again, because we are leaky vessels that need a continuous re-filling.

Rev. Dr K. Augustine Tanner-Ihm is an Anglican priest, lecturer and missionary. He is EDI facilitator assistant curate and director of outreach and small groups at St. James and Emmanuel Church in Didsbury
View full Profile