Dez Johnston has trod an unlikely path to becoming president of the Boys' Brigade. The self-described "tattooed freak" was addicted to cocaine and working as a nightclub bouncer when God kept putting Christians in his path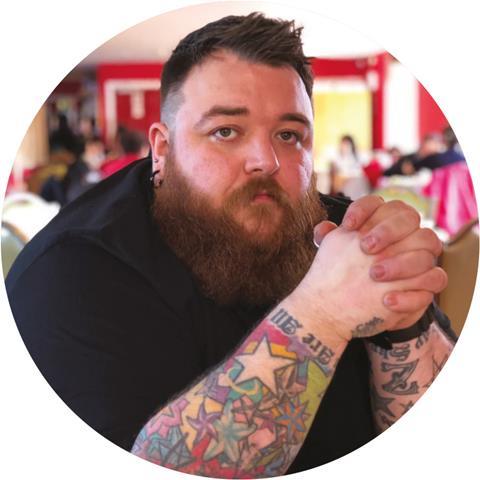 From an early age, I wanted to be a superstar DJ. I grew up in the north-east of Scotland, in a tiny little village called Lossiemouth. I did my first gig when I was twelve. That whole culture centred around drink, drugs, partying.
I started using drugs and, before I knew it, it was seven days a week. Cocaine was my weapon of choice. I couldn't really DJ anymore, because my habit was so bad, so I was working as a doorman. It just escalated my addiction. I was committing more and more violent acts, which made me feel bad, so I wanted to hide from the person I was becoming.
One night, I took an overdose. I wasn't trying to end it; I was just greedy. My heart was jumping out of my chest, so I prayed a crisis prayer. I had never been to church before, but I woke up the next day and I never touched cocaine again. I thought: That's a bit weird, but I just put it down to: I'm a big tough guy. I've hit my rock bottom and I've moved on. But then the weirdest thing happened. Over the next three years, I kept meeting Christians. And working as a bouncer, that's quite strange. We'd often meet Street Pastors but people openly coming up and having Christian conversations or trying to talk to me about God… it was just bizarre.
As far as I was concerned, Christianity was a bit like karaoke: you went into a room and sang to a wall
LOOKING FOR ANSWERS
At this time, I was also working as a store manager of a surf and skate shop. We needed to employ a new member of staff. One of the people that came said she was a Christian. This girl, Fiona, got the job. And I was like: This is good because now I've got a pet Christian, and I can find out a little bit more. I gave her a hard time. She bought me a Bible – I never touched it, I used it for rolling joints. I asked her out, and she said no. I couldn't believe that. But the reason shocked me even more: I wasn't a Christian. I thought What are you talking about? You can't believe this stuff? As far as I was concerned, Christianity was a bit like karaoke: you went into a room and sang to a wall, and that was kind of it. So I decided to prove her wrong. I started reading the Bible to see if there was a line in it that said: "You should go out with Dez." I'd heard that it's a big book of answers, so I decided I'd find my answer.
I started at page one. Genesis, Leviticus, Exodus and all that stuff – burning bushes, talking donkeys, guys getting stabbed and their bellies swallowing swords…I've been stabbed. That's not what happens. So I was like: What is going on here? I got to Ecclesiastes 3 – that's how attractive she was, I was willing to read that far into the Old Testament! – and it says: "For everything there is a season, a time for every activity under heaven. A time to be born and a time to die" (v1-2). It's this beautiful example of Hebraic poetry. I had this moment where I could see my life – all the drugs, parties and fights – all that stuff had led me to that point. And there just had to be more. So I rang Fiona and said: "Would you take me to church?"
We went to a church in Glasgow called Vineyard, and God really showed up. I got talking to the pastor, who was an ex-bouncer, which blew my mind. He invited me on Alpha. I said I didn't want to go to his brainwashing course, but they offered me free dinner, so I went. On the Holy Spirit weekend, I had a really powerful encounter with Jesus and gave my life to God.
A NEW START
I gave up my job and did a discipleship year. I started doing some youth work in Whiteinch, Glasgow, which is an area of mass deprivation. The first day, a guy came to buy a Mars bar from the tuck shop and he didn't have enough money, so he went out and tried to mug somebody at the bus stop. I went outside, all set to slap this guy for his behaviour, but what came out of my mouth was: "Do you not realise that God's got a plan for your life? There's so much more in your life than this." My heart literally broke for this young person – and young people in general.
I started working in schools as a volunteer youth worker. I got engaged, and later married, to Fiona and ended up at the Scottish Baptist College. I thought I was going to become an RE teacher, but then I went on a placement as part of my course at a local church, and they offered me a job as a youth outreach worker. I became a reverend and started to work for Alpha. I became the Alpha Scotland director and then, in January 2020, the youth director for Europe, the Middle East and North Africa as well. In September, I got asked to be the president of the Boys' Brigade. The past 13 years have been a wild ride. I can't wait to see what God's going to do next.
Rev Dez Johnston was speaking to Emma Fowle.
On 24 February Premier Christian Radio will devote its output to reflecting what God is doing in Scotland, through testimonies, interviews and stories. For more information visit: premierchristianradio.com/Across-the-UK/Scotland