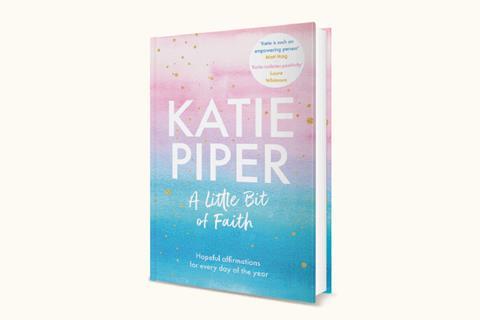 After a difficult couple of years, we could all use a little positivity. That's what Katie Piper's new book seeks to bring, with 365 affirmations to get you through.
Each affirmation – essentially an empowering statement – provides an encouragement through which Piper weaves her faith subtly but inescapably. On some days the quote is taken directly from the Bible, like Psalm 118:8: "It is better to take refuge in the Lord than to trust in humans." But there are also quotes from a wide variety of authors and public figures, such as Maya Angelou, Bear Grylls and Julie Birchill, as well as many written by Piper herself. There's something here for everyone, not just Christians.
Piper's intention, in her own words, is "to have the truth written down, so when you don't feel it, you can look at the words to remind yourself". When we think the worst of ourselves, when those nagging voices in our heads won't subside, it is helpful to have a visual aid that argues back. Something that says: "You are worthy, you are important."
This is a great book for those who are new to faith or testing the waters, as it reveals a little of how God sees us, in an accessible and engaging way. Many of the affirmations can be used as prayers too. For those of us who could use an injection of daily hope, this book will help you get off to the right start.