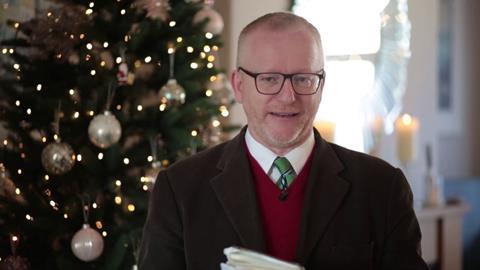 I'm one of those people who listens to Christmas music all year round.
Why wait until it's cold and dark when you can sing along with Santa no matter the weather?
Christmas songs convey such extraordinary truths: God's goodness, faithfulness, and the beautiful strangeness of this Christian journey that didn't start with us but with a child lying in a manger "wrapped in swaddling clothes".
So if you need a little pick-me-up this Christmas season, I can recommend these songs, which convey God's love so beautifully.
'Once in royal David's city' by Choir of King's College, Cambridge
If you've ever been to a midnight service, waiting nervously for the young person to sing the opening verse, then this carol is for you. But really this is one of the great summaries of the Christian faith; it explains the gospel with clarity and grace, and then sets it all to music. Glorious.
'A strange way to save the world' by 4Him
This tender carol shares the story of the birth of Jesus from Joseph's perspective. Beautifully written and easy to sing, it ministers much grace to us dads. "Why me?" it says. "I'm just a simple man of trade…But Joseph knew the reason love had to reach so far." I often listen to this song in quiet moments throughout the year.
'In the bleak midwinter' by Trinity College Choir, Cambridge
This is my absolutely favourite carol and I find myself returning to it as an act of worship time and time again. The words – taken from the Christina Rossetti poem – need no further explanation or justification: "What can I give him, poor as I am / If I were a shepherd I would give a lamb / If I were a wise man I would do my part / But what I can I give him…give him my heart."

Born in Scotland and raised in London, Fergus Scarfe is a classical musician who has performed around the world. Now the regional director of GOD TV, he has never lost his childlike passion for sharing the gospel through media
View full Profile