The death toll continues to climb after two major earthquakes devastated areas of Turkey and Syria. Christians in the area are sheltering in churches and asking for prayer for those still trapped in the rubble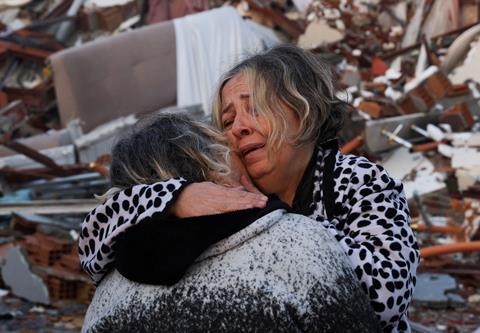 Nineteen-year-old Majd George woke up the moment the earthquake hit: "I switched on the flashlight of my mobile phone and saw everything was shaking. I jumped out of bed and started shouting. I ran into the my sister's room, she was freaking out. We woke up my parents. We held hands and started praying. It was terrible."
The family ran out of their house. "We grabbed passports and money and fled in our pyjamas. The whole building was shaking, we were so scared. Then, all of a sudden, it stopped. I will never forget this moment. This is the worst incident I have ever lived (through)."
Please pray for them, that they will be rescued. But also pray for those people who lost everything, or lost their loved ones
Majd and his family live in Latakia, Syria's major port city, and one of the areas affected by two major earthquakes. The quakes, the first of which took place at 4:17am on Monday 6 February had their epicentre in south-eastern Turkey. They are the strongest in the region for many decades, and, as well as Turkey, have affected thousands of square miles of northern Syria, including Latakia and the capital, Aleppo.
After fleeing their house, Majd and his family took shelter in their car, parked at a safe distance away from any buildings that could fall on it. As rain fell, and low winter temperatures bit, they waited. "Many people were in their cars," says Majd. "Many more were just walking the streets. I saw children crying with blankets around them. It was chaos."
Majd describes how, later on, he saw the parks in Latakia filled with people. "They sit or rest on the benches there, some even built tents, as they wanted to stay the whole night outside." He adds: "Words cannot describe what we went through. We have constantly new earthquakes. We don't feel that our house is safe to return to yet."
Seeking shelter
Seeking sanctuary, his family decided to stay in the local church. "We didn't sleep anymore after the earthquake." But he is more concerned about all the people not yet rescued from the rubble of the collapsed buildings in his neighbourhood, and beyond. "Please pray for them, that they will be rescued. People that are maybe screaming for help. But also pray for those people who lost everything, or lost their loved ones."
We woke up my parents. We held hands and started praying. It was terrible
According to Open Doors' partners, a number of churches in Latakia, Aleppo, and other towns and cities affected by the earthquake, have been welcoming in people seeking sanctuary. Many have headed to church buildings in the region, deeming them more secure than their own homes. Open Doors partners in Syria are assessing the situation to see how they can offer support both to Christians and the wider community.
According to Ibrahim Najjar, who leads Open Doors' partner organisation in Syria, "Almost everyone has left their homes because most of the buildings in the city are too old, and so they're not safe. We're talking about more than 20,000 Christians now are in the streets.
"Right now, we're trying to do a needs assessment, but it will take time. We're still in the shock phase. So what we're doing now is providing shelter at some churches and providing them with some food and warmth."

Ben Cohen is the head of media and PR at Open Doors UK and Ireland, a charity that speaks up for and supports Christians around the world who are persecuted for their faith. When he's not gazing at a screen he is frantically unpacking his life's artefacts or looking at the world slightly askance.
View full Profile