At least 12 million Ukrainians have fled their homes since the start of the war. Six months on from the Russian invasion, churches, schools and organisations across the UK are working together to make a difference. Jennifer Ross gives us a snapshot of the good work happening in the Diocese of Rochester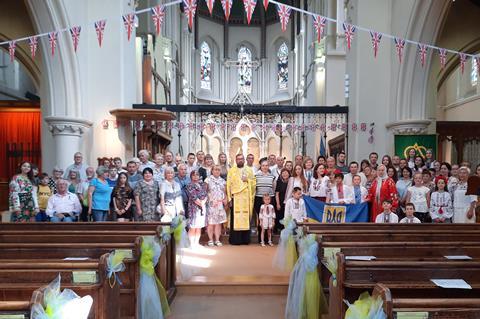 Despite being a small rural school of just 80 children, St Lawrence CE Primary near Tonbridge is offering a big welcome to the five Ukrainian children who have moved into the area.
"Many of the children do not speak any English and are also highly traumatised, so it has been a challenge but also a huge joy and privilege to welcome them," says the school's head teacher, Alison Saunders.
The projects are great examples of putting faith into action
"At the start of the year, we were inspired by the parable of the mustard seed; the idea that something tiny could grow into something large. It made us believe that the children and adults of our small community could have a big impact on the world and bring about positive change."
It soon became clear just where this challenge would take them. "To our surprise, we have become a hub for Ukrainian refugee children and their families. I am so proud of all our children, parents and teachers, who have donated toys, clothes, money and just really embraced them."
Creating a safe space
A crowdfunding campaign quickly raised enough money to pay for Oksana, a Ukrainian refugee and English teacher who had arrived in the area, to provide English language classes for the Ukrainian children in the school. "Thanks to her, school is now becoming their safe space," said Alison. "She is a real gift to us."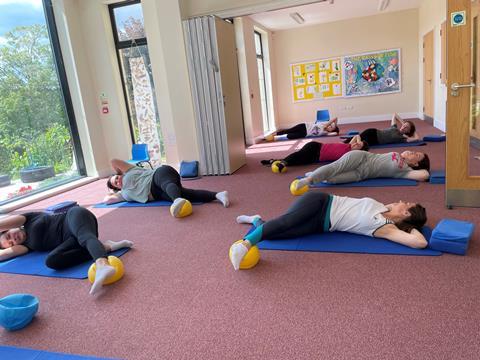 Recognising emotional and wellbeing needs is at the heart of support being offered by Amanda Jagger, a Pilates instructor in nearby Chislehurst. Supported by her local church, Christ Church, through the free use of one of their halls, Amanda is providing weekly Pilates classes for Ukrainian women who have arrived in the area. "We've shared information - and a few tears - but mostly it is an uplifting experience, and a chance for them to take a moment for themselves during what is a very stressful period in their lives."
Amanda says that many of the women are coping with leaving behind their loved ones, including husbands and older sons, as well as trying to settle themselves and their children into a different way of life. "Some do not speak English either, which adds to their stress. They are all coping very well but my concern, and reason behind offering the classes, is that often it's the mums that hold everything together and bear the strain."
The space provided by the St Benedict's Centre at Malling Abbey also allows women - who come to learn English there - time to form a community together, and to find peace. Rev Canon Jane Winter, who oversees the centre, explains that it is important in preventing isolation: "We provide a space for them to learn, and for their children to play. In coming together, they are becoming stronger."
It is clear the mothers and children love the venue, and find it a peaceful, healing space: "We love seeing our children happy and playing together in this beautiful place," one says. Another tells us: "I love coming here to feel the peace and calm surrounding us."
Working together
Meanwhile, in Strood, a community and multi-agency effort is providing much-needed practical and emotional support to new arrivals. Working alongside Medway Help for Ukrainians, St Francis Church is providing space for the Sunflower Café, a community hub offering a clothing bank, toy area, craft activities and light refreshments provided by the local Morrisons, for Ukrainians to access practical support, as well as a space to meet others.
Giovanni Parrales, estates pioneer, says some have begun to attend other church-run activities, such as Messy Church: "With the help of the diocesan Community Engagement Team, we have been able to share materials from the Bookmark reading charity, which include a tablet loaded with Ukrainian and English storybooks, physical books, starting school stationery sets and sensory games." The church has also been able to provide Bibles translated into Ukrainian or Russian for those who require them.
Often it's the mums that hold everything together and bear the strain
With the war showing no sign of abating, Magali van der Merwe, lead community engagement and social action adviser for the diocese, says that the compassion and creativity being show by churches, groups and individuals offers light in this dark time: "The projects are great examples of putting faith into action and of being the hands and feet of Jesus for people who have suffered so much, providing them with a safe oasis where they can start putting pieces of their lives back together.
"At a time when so many are still exhausted from the pandemic and are facing their own uncertainties, given the current economic climate, the ongoing compassion being shown to refugees is a sign of hope and of the grace of God at work."
This article first appeared in the Diocese of Rochester Together magazine.

Jennifer Ross is communications manager for the Diocese of Rochester and editor of Together, the diocesan magazine.
View full Profile