As the scandal of child asylum seekers disappearing from UK hotels continues to unfold, Tim Farron says Jesus doesn't care where the missing children are from. He's more bothered that we don't seem to care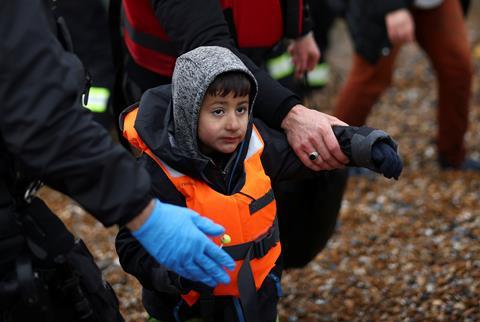 If 200 school children in the UK went missing – a whole year group, suddenly vanishing into a dangerous world, their whereabouts completely unknown – how would we react?
Last week, news broke that 200 children are indeed missing in the UK. These asylum-seeking children have disappeared from hotels managed by the home office. 88 per cent of them are Albanian nationals. 187 are 16-18 years old. 13 are younger than 16.
Government ministers admit they have no idea where they are. Part of the problem is that we have no way of tracing these children. They are, for good reason, not detained in their hotels, so some may have left to join friends or family who are in the UK.
If it was British children who were missing, would we consider it acceptable for an MP to claim they had it coming?
However, a whistle-blower from one home office hotel said she had seen children "being picked up from outside the building…taken from the street by traffickers." Sussex Police arrested two men suspected of trafficking after two children from one of the hotels were found in their car.
It is highly probable that many of these missing minors have been kidnapped, trafficked, put into forced labour or coerced into organised crime. Here. On UK soil.
The least and the lost
It's always true that you can get the measure of a society by seeing how it treats its most vulnerable and marginalised people. Jesus says to us: "Truly I tell you, whatever you did not do for one of the least of these, you did not do for me." (Matthew 25:45)
When we see someone hungry, we should give them something to eat. When we find a stranger, we should invite them in. If someone needs clothes, we should clothe them.
These children are from all over the world – Albania, Afghanistan, Egypt, Pakistan, Vietnam. They are strangers to us, but they are made in the image of God. They are individuals of immense worth.
One of our own
The story made front page news - for 24 hours, at least. 100 charities wrote to the prime minister denouncing the "child protection scandal". MPs were given just one hour in parliament to question the government about the missing children.
But where is the special police operation to find them? Where is the ongoing public outcry for a change in the system, and better working practises to prevent it happening again?
The Minister of State for Immigration, Robert Jenrick, said: "We should take the care of these minors as seriously as we would take that of our own children." These are the right words, but the reaction falls far short of how we would act if they were our own children.
In our own strength, it's nearly impossible for us, as fallen, broken human beings, to match the affection for and emotion we hold towards our own children. But as Christians, we know the value that Jesus places on children, saying: "the kingdom of heaven belongs to such as these" (Matthew 19:14).
We need to see asylum seekers in this light. It is how God sees them.
Worthy
Some people will suggest that Albanians are unworthy of refuge. In Parliament last week, Conservative MP Jonathan Gullis crassly shouted that these missing children "shouldn't have come here illegally".
If it was British children who were missing, would we consider it acceptable for an MP to claim they had it coming? Can a child ever be held responsible for the bad things that happen to them?
In 2022, 51 per cent of asylum claims from Albanian nationals were granted – they were considered genuine refugees. Given the recent number of crossings, we might expect that percentage to be lower this year, but it's still an important reminder: it would be lazy, inaccurate and unfair to write anyone off - let alone vulnerable children - because of where they come from.
Many of these missing minors have been coerced into organised crime. Here. On UK soil
For those in Albania, the rule of law is absent, corruption prospers, and power is embroiled in the economic influence of the illegal drug trade. Albanians are the second most likely nationality to be trafficked into modern slavery in the UK, accounting for 15 per cent of all human trafficking victims.
Even if they were not fleeing mortal danger to begin with, they may well be in mortal danger now.
The Bible doesn't tell us how open our borders should be, or how many asylum seekers to accept, but it does tell us many things.
We are to love our neighbour as ourselves (Mark 12:31) – and in our inter-connected world, everyone counts as our neighbour - and we should care for children, especially those with no one else to care for them (Isaiah 1:17).

Tim Farron is MP for Westmorland and Lonsdale, and former Leader of the Liberal Democrats. He is the author of A Mucky Business: Why Christians should get involved in politics. Tim is also the host of Premier's 'A Mucky Business' podcast, which you can listen to on your chosen podcast provider.
View full Profile