Disabled Christians are not there to be 'cured', cared for or pushed to the margins, argues Naomi Lawson Jacobs, who issues a clarion call for creating an accessible church culture and a community of justice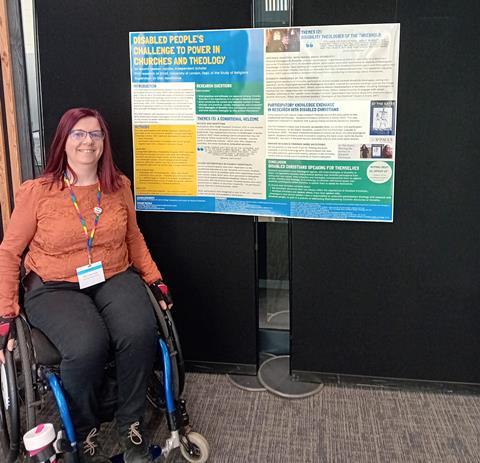 I am a disabled and neurodivergent person. I have Ehlers-Danlos Syndrome (EDS), a genetic condition that affects my joints and results in chronic pain and mobility difficulties, meaning I use a wheelchair out of doors. I was also late-diagnosed autistic in my 30s.
When I was diagnosed autistic it helped me to understand myself; I began to embrace my neurodivergence and differences as a unique gift from God. EDS is a genetic condition, so I was born with it, but it didn't affect me much until my 20s. I became disabled suddenly and have experienced chronic pain and used a wheelchair ever since.
Becoming disabled quite suddenly was a shock. I lost friends who – I think – found it difficult to adjust to my wheelchair use. My flat had stairs, so I could rarely leave the house for about a year. When I did, I discovered that the world is not always kind to disabled people. Wherever I went, I faced barriers to participating in life, work, and church.
Church and disability
My experiences in church were particularly difficult. I was seen as an object of others' care and ministry, but people saw my wheelchair before they saw my gifts. I became invisible, unless I was being prayed over for healing (by which pray-ers usually meant my cure) – but no one ever asked whether I wanted prayer. Quite often, church doors were literally closed to me – there were steps in the way, or leaders refused to help me get past barriers.
Communion became a traumatic experience as I waited at the steps to a raised altar, feeling distanced from the rest of the Body of Christ. When I asked for small improvements to access, my voice was ignored. "It's too expensive," I was often told, while the church community fundraised for thousands of pounds to restore the organ.
When the voices of marginalised people are heard, God moves, and his Church is transformed
I heard more painful stories from disabled friends who had been aggressively prayed for by strangers at railway stations and on the street. They asked me why I would go to church when (from their perspective) Christianity has an obsession with curing – even erasing – disabled people. I almost began to wonder if they were right.
Perhaps most painfully, it was almost impossible for me to talk about disability at church. Social justice was high on the agenda, but disability wasn't seen as a justice issue but a matter of care and charity. I didn't want to be looked after. I wanted the church to change, and listen to disabled people. Yet I wondered if that could ever happen.
Church was also stressful for me as an autistic person. It was overwhelmingly social, and I constantly felt like I was trying and failing to fit in. If the service structure changed without warning, or if I forgot the order in which the congregation went up for communion, I would have meltdowns – which are a little like panic attacks – and would have to leave.
Made in God's image
I began a PhD researching disabled people's experiences in churches. It was traumatic at first. I read books which argued that autistic people would not be neurodivergent in heaven. I remember crying, wondering whether I was made in God's image at all, if a core part of me was destined to be erased in God's kingdom. (I no longer believe this.)
Eventually I stopped going to church for about seven years. Despite my disillusionment, I continued my PhD, which became a wonderful experience. I have now interviewed over 50 disabled Christians, and spent time with many more in communities run by and for disabled Christians. They became like Christ to me during that time. I realised God is far bigger than the institutions that had let me down. Through the faithful witness of disabled Christians, I have found a God of the wilderness, a God of exile, who finds us in the desert.
Today I am part of a growing movement of disabled and neurodivergent Christians calling churches to become places of disability justice, opening the doors that have been closed to us, so we can come home.
In 2022, I co-wrote a book, At the Gates: Disability, justice and the churches (Darton, Longman and Todd) with Emily Richardson, based on my research. It was such a privilege to amplify disabled people's voices and share their experiences, so many of which have gone unheard. I pray it reaches church leaders and inspires change, as well as reaching disabled Christians who might feel alone.
Breaking down barriers
I also work as a disability consultant, providing training to churches and Christian organisations. Churches often want to be more inclusive of disabled people but don't know where to start. We talk about identifying barriers in church buildings, creating an accessible church culture and a community of justice for disabled Christians. Most importantly, we talk about disability. If we are silent, nothing changes. But when the voices of marginalised people are heard, God moves, and his Church is transformed.
I find it hard to think of myself as someone that God can work through. When I started writing my book, I felt utterly unqualified. But I have learned God can use us just as we are. As a researcher, I'm able to tell the stories of those who have been excluded and even traumatised by churches. I don't think I have any special gifts, but the storytellers in my book – those disabled Christians on the edge of the Church – they have powerful stories to tell.
Church was stressful for me as an autistic person. I constantly felt like I was trying and failing to fit in
Laura set up YouBelong, a thriving online Christian group for people with chronic illnesses and disabilities, who can't access churches and are seeking community. Fiona MacMillan has been organising the disabled-led Inclusive Church disability conference for over a decade. We also spoke to leaders of Disability and Jesus, an online church ministering to and with thousands of disabled people.
I long for a church that 'does justly' to and with disabled people, working with us, not for us, to create kingdom communities where disabled people are active members and leaders, with our own ministries. We must no longer be seen as objects of care and charity but recognised as potential leaders, with gifts to offer. Together, we could transform the Church to look a little more like God's kingdom than it did before.

Dr Naomi Lawson Jacobs is an independent researcher and disability equality trainer. Naomi's book At the Gates: Disability, justice and the churches (Darton, Longman and Todd), co-written by Emily Richardson, shares disabled people's stories of marginalisation in churches and their transformative theologies. Naomi has long been involved with the Inclusive Church annual disability conference and sits on the Church of England's Neurodiversity Working Group.
View full Profile