With her dad addicted to drugs and in the middle of a breakdown, Emma Fowle is convinced that the option of a 'no-fault divorce', which has just been introduced in the UK, would have ended her parent's marriage. As it was, time – and the prayers of her church family – both played their part in its miraculous restoration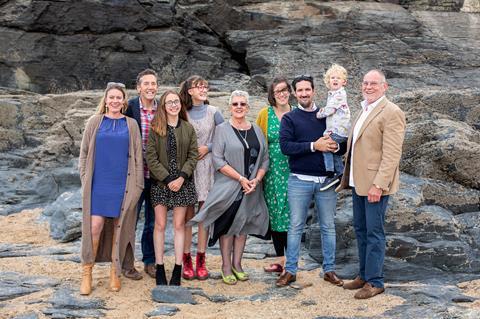 One November back in 1989, I returned home from school to find my mum packing boxes. No real drama there – we were moving house in a few weeks' time – I headed upstairs to do my homework. A few hours later, I came back down.
"Mum… where's Dad?" I asked.
And there began the unravelling of our little family.
It's a long and complicated story, but in short: my dad was a world champion powerlifter. Our life revolved around his sport, which involved evenings in the gym with his training buddies, and then grew into nights on the door of a local nightclub working as a bouncer. Despite holding down a respectable job as a site manager for a large construction company, he had, unbeknown to any of us, become addicted to steroids and cocaine, started an affair and, on that night in November 1989, walked out on us.
A glimmer of hope
Over the next four years, Dad came back and left us all over again more times than any of us can actually remember now. It was unimaginably painful. But throughout it all, there was a small glimmer of hope.
The previous summer, I'd become a Christian at a Youth for Christ camp. The small evangelical church that I attended became my life raft during those years, praying for my parents before I even knew whether I had faith to believe for myself. The church loved my mum, my brother and I while we gasped for air amid my dad's unexpected returns and always heartbreaking departures. He'd turn up on our doorstep unannounced or call my mum from an airport in the middle of the night, begging her to take him back and help him clean up. Then, invariably, he'd leave again a few weeks later, unable to make the promises of fresh starts and clean slates stick.
My parents spent years repairing the damage caused by my dad's horrible decision making during those drug-fuelled years
On more than one occasion, an envelope arrived in his absence, informing Mum that, after 19 years of marriage, he wanted a divorce. If I'm honest, there were times during those years that my teenage heart wanted nothing more than for her to give it to him; to stop the incessant merry-go-round that our life had become and to begin to build some sort of normality again – even if it was without him. When she wrapped her arms around me and told me that he was not himself, not the man she'd met aged 14, or married aged 19, I didn't understand . But I do now.
The gift of time
I have now been married myself for almost the same amount of time that my parents had when their marriage imploded. Twenty years teaches you a lot about a person. My mum says that it was her old family solicitor – who, ironically, at my dad's request had actually sent her the divorce papers – who gave her the most valuable advice she received during those years. When she told him that, despite all my dad had done, she didn't want to sign them, he simply said: "Then don't. If you're not ready, don't do it."
Back then, in the early 90s, there was nothing my dad could do – not immediately, anyway. He was at fault, not my mum, and without her consent they would have to be separated for five years before he could divorce her. A lot can happen in half a decade. Or it did in our case, anyway.
Eventually, tired of driving me to church and entertaining my brother on the green outside every week, my mum came into the village hall where we worshipped one Sunday. Over the months that followed, she felt the love of God through the people there that picked her up, loved and supported her and us through that time. My dad continued to come and go but, eventually, my mum stopped trying to fix him and handed him – and her future – over to God.
Miracles and marriage vows
Then, one night in March 1993, in a car park in Spitalfields fruit and veg market in the East End of London, my dad asked God into his life. To say it was a miracle seems the understatement of the century. He'd hit rock bottom. Living in a bedsit and working as an illegal debt collector, he was fighting for a living and spent his days – and nights – in a drug-fuelled haze. We hadn't seen him in months. In desperation, he'd contacted one of the elders at our church and had begun to visit him weekly for counselling. He quit the drugs and, slowly, things began to turn around.
Six months later, my parents had their wedding vows blessed in our church and he moved home for the last time. That was almost thirty years ago.
Her solicitor simply said: 'If you're not ready, don't do it'
I've no doubt that if the option of a quick, no-fault divorce had been available to my dad back then, he'd have taken it, potentially unleashing a whole world of further complications and pain. As it was, my parents spent years unpicking and repairing the damage caused by my dad's horrible decision-making during those drug-fuelled years – debts he incurred, mortgage documents he forged, a flat he bought on a whim with his girlfriend that eventually got repossessed and almost ruined everything all over again just as they were getting back on their feet. What if he'd also decided to jump into marriage again as quickly as he decided to jump out of it with my mum? I know that God can – and did – work through all things, but surely making it even easier for people who are in a vulnerable place – experiencing mental health breakdowns or in the throes of addictions – to make bad decisions cannot be a good thing. It certainly wouldn't have been for us.
Today, my parents are still together. My dad has travelled the world telling his story, sometimes (very powerfully) accompanied by my mum's own miraculous tale of forgiveness and grace under the most grievous of circumstances. Theirs is, ultimately, a redemption story in which the glory can only go to God. But time also played its part – and if it happened today, they may not have been afforded that luxury.

Emma Fowle is assistant editor of Premier Christianity and editor of Voice of Hope, Premier's quarterly devotional magazine. Emma is a trustee for Christian festival Creation Fest and lives in Cornwall with her husband and two teenage daughters. She loves to read, swim in the sea, play netball and lift weights with her dad.
View full Profile