As the damning report into the sexual exploitation of children in Telford is finally released, 20-year-old Samantha Smith shares her story of grooming and abuse, and how her faith is slowly helping her through it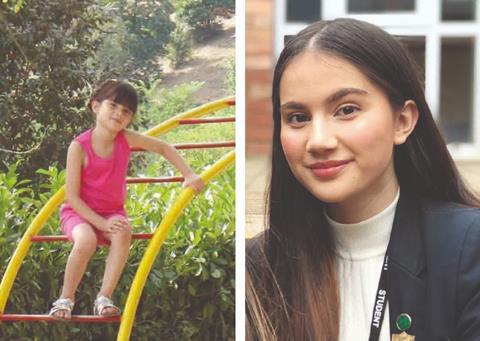 In 2001, a taxi driver named Azhar Ali Mehmood, 26, was convicted of the murders of Lucy Lowe, 16, her sister Sarah, 17, and their mother, Eileen, 49. The Lowes' family home in Telford had been set ablaze by Mehmood, who was jailed for life.
He had sexually abused Lucy when she was just 14. When she died in the house fire he started, she was pregnant with her second child by him.
This summer, the results of a three-year investigation into Child Sexual Exploitation (CSE) in Telford was published.
The independent inquiry revealed that as many as 1,000 young girls were sexually abused over three decades and the Lowe murders were routinely used to threaten other young girls into keeping quiet about the exploitation that had become rampant in the town, often perpetrated by gangs of Asian males.
Following similar inquiries into child sexual abuse rings in Rotherham and Rochdale, the Telford investigation was also deeply critical of the statutory inaction, concluding that "for decades, CSE thrived in Telford unchecked" amid concerns that allegations could "start a race riot".
Summing up, Tom Crowther QC noted that it was impossible not to wonder how different the lives of those early victims of CSE may have been, "had West Mercia Police done its most basic job and acted upon these reports of crime". In response, assistant chief constable Richard Cooper apologised to survivors.
"Our actions fell far short of the help and protection you should have had from us. It was unacceptable, we let you down," he said.
Seeking justice
Samantha Smith was just five years old when the grooming and sexual abuse that she would endure for almost a decade first began. Smith's first abuser was not a relative, but someone who was "very much trusted" by her family.
"One of my earliest memories is sitting on his lap in the garden," she says, "and his hand going into my underwear. I was five. I knew that it didn't feel nice and I wanted it to stop. But I also had no frame of reference for what was normal and what wasn't."
In her mid-teens Smith confided in a social worker and filed a police report detailing the ten years of abuse that she had experienced at the hands of multiple men. But, as many other girls systematically groomed in Telford have also testified, Smith was made to feel "as though we were somehow to blame".
She argues the system "criminalised the victims, rather than going after the perpetrators".
"I remember being asked whether I consented at any point to sexual activity," she says, before pointing out that the Sexual Offences Act clearly states that no child can consent to sex. "The girls in Telford were branded child prostitutes," she continues, "swept aside, as if they chose this lifestyle.
The attitudes that social workers, local services, authorities had towards children was so skewed, and so deeply unprofessional."
Smith's case, like 96.5 per cent of all sex crime cases in the UK, never resulted in prosecution.
A community of faith
Smith grew up Roman Catholic in a "very religious family". She "absolutely loved" church, which she attended several times a week with her nan. "I relied very heavily on the community," she says. "I would see the church as a way to feel as though I had some sort of place and meaning in my life."
As she reached her teenage years and the abuse continued, she struggled with faith. "I felt as though no kind God could allow such atrocities," she confides. "If he's all-seeing, all-powerful and all-loving, he would be able to put a stop to things.
Especially when my case had no further action taken, it felt like all my years of faithful practice had been ignored."
She only started going back to church after lockdown "because of my nan" but during this time she "rediscovered the community that comes with religion". She still lives with questions, but is "coming to terms with the fact that I probably won't ever understand God's rationale".
Making peace
She is also blunt in the admission that she has not yet reached a point of forgiveness. "I know it's the Christian thing to turn the other cheek," she says, "but I don't think it should ever fall on the child to have to forgive." Instead, her way of finding peace comes through telling her story and "trying to help other little girls like me".
"I first spoke out during the Ghislane Maxwell case. [The media] were doing double page spreads about Maxwell's court outfit while ignoring a grooming crisis in their own backyard. Kids being groomed – in council estates up and down the UK – isn't glamorous or newsworthy, but it's far more important.
"The news cycle moved on far too quickly. This isn't a 60-second-and-then-done issue for the survivors of CSE. For change to occur, there needs to be constant attention brought to this issue because, otherwise, silence and ignorance only serves to support the predators and the paedophiles.
This is a crime that thrives on misinformation, a lack of awareness and being swept under the rug. They rely on girls not being taken seriously, the media not caring and the police not taking any action to investigate."
While the Telford report was "absolutely damning", Smith says there has not yet been "a complete acceptance" of personal and organisational failings, nor a commitment to implement the report's 47 recommendations. "These are not crimes of the past," she says. "Kids are still being exploited, groomed, raped and even murdered in council estates like mine. It isn't enough to have empty words and hollow promises.
"A lot of the children were young, white, working-class girls. A lot of them were already on social services' radars as vulnerable."
And for the Church, her message is clear. "The Christian faith is always about standing up for those less fortunate," she says. "That couldn't be the case more than for abused children. So my message would be: speak up. No one else is going to be their voice."

Emma Fowle is assistant editor of Premier Christianity and editor of Voice of Hope, Premier's quarterly devotional magazine. Emma is a trustee for Christian festival Creation Fest and lives in Cornwall with her husband and two teenage daughters. She loves to read, swim in the sea, play netball and lift weights with her dad.
View full Profile