Daud Irfan was six years old when his family fled persecution in Pakistan for a new life in Wales. Since then, he and his father have followed in the footsteps of their Methodist heroes, the Wesley brothers, by walking 170 miles to encourage diversity within the Church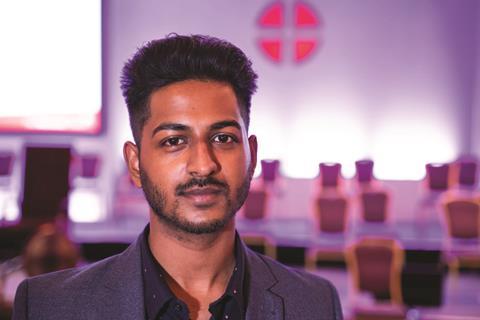 When the Irfan family first arrived in the UK in 2006, with just "six suitcases and each other", they were excited to be living in a country where they could freely practise their faith. "My parents were in ministry," says Daud, "and things got to a point where [Pakistan] wasn't a safe place for us anymore. We just had to leave." Settling in Cardiff, the Irfans enjoyed their newfound religious freedom. "The chance to celebrate without fear of persecution, that was something that was totally new for us," says Daud. They settled in quickly and found a warm welcome in their local church. "We felt like we'd joined a new family," he says.
In many ways, life continued much as it had in Pakistan. Daud's father, Rev Irfan John, became the synod enabler for culturally diverse congregations in Wales, so weekends were spent travelling together as a family. Daud credits his parents' inclusion of their children in their ministry life as key to his own faith. "Ever since I opened my eyes, I've been in the Church," he says.
BREAKING GROUND
When lockdown started in March 2020, Daud and his father began walking together. Initially, it was just a way of easing boredom, but they soon found they enjoyed the exercise, and the opportunity to talk and pray. When restrictions eased, they carried on…and God birthed an idea.
After graduating from university last year, Daud was elected Methodist Youth President, the first person of Asian descent to hold the role. It's a "pretty cool" achievement, he says, but "it's taken us quite a long time to have someone from Asia in this place. I don't want to wait another ten or 20 years for someone like me to come into this post. Why can't it be after two or three years?"
WE DON'T OFTEN SEE ETHNIC DIVERSITY REPRESENTED IN CHURCH LIFE
It was a question that he and his dad spent much time discussing on their walks. While Daud speaks fondly of the welcome that his family received from their local church, and the leadership opportunities that he and his father have been given, he is aware that "you don't see that many people from different cultural backgrounds" in their position. "Some people would argue that culturally diverse people aren't able to attain those positions," he says. "But at the same time, I also say that it's a matter of whether we want to put ourselves forward."
A ROAD LESS TRAVELLED
To encourage and inspire other young people – especially those from minority ethnic backgrounds – to serve within the Church, Daud and his father decided to follow in the footsteps of their Methodist heroes, Charles and John Wesley. "If we look at the gospel being spread throughout the world, two names often come up," says Daud. "They were two brothers who went out and changed the world for Christ.
"If two brothers could bring a revival into this country…that's what we're trying to do. We're just doing a walk, but it's the people who hear about it and take the initiative – they're going to bring change after us." Covering 170 miles over seven days, the pair walked from Rumney Methodist Church in Cardiff to Wesley's Chapel in London. The site is also home to the Museum of Methodism, where an exhibition showcasing "the influence of Black British, Asian and British global diaspora leaders on Methodism" has recently finished. The conclusion of the Leadership on a Journey exhibition was one of the major catalysts for their walk. "We just thought, we'll carry on that journey. And we'll do it on foot," says Daud.
Both Daud and Rev John were invited to contribute to the exhibition, with Daud donating a toy drum that he used to play in church, and his father, Irfan, donating a certificate commemorating a world record that the family set in 2013 for the most nationalities – 55 – to take part in a nativity play.
CELEBRATING FREEDOM
When the family first arrived in the UK with their Urdu Bibles, the Irfans headed to their local library to find an English language Bible – and were perplexed when they didn't have one. "We thought, we're coming to a Christian country. Religious freedom is something that's really big here, so people will be able to access a Bible easily," says Daud. The family later raised enough money to buy Bibles in 20 different languages to put into all of the libraries in the Cardiff, Swansea and Newport areas. It's another example of the heritage in which Daud has been raised and his desire to strengthen the Church that warmly embraced and provided for his family.
"Welsh missionaries went out to Asia and brought people to Christ. Now, there is a need for missionaries from those countries to come back in the UK and carry out that same work," he says. He sees the opportunity to "be an inspiration for someone" as one of the main drivers for cultural diversity in the Church.
"The UK is one of the most ethnically diverse countries in the world, but we don't often see that representation within Church life. In the book of Revelation, we read that there was a great multitude from every nation, tribe, people and language; that's what our Church can look like. That's what our Church should look like – right now, not just in heaven."

Emma Fowle is assistant editor of Premier Christianity and editor of Voice of Hope, Premier's quarterly devotional magazine. Emma is a trustee for Christian festival Creation Fest and lives in Cornwall with her husband and two teenage daughters. She loves to read, swim in the sea, play netball and lift weights with her dad.
View full Profile