Loneliness, severely exacerbated by the Covid-19 pandemic, is the theme of this year's Mental Health Awareness Week. Sharon Hastings, who suffers from schizoaffective disorder, suggests how the Church can reach out to those affected by psychosis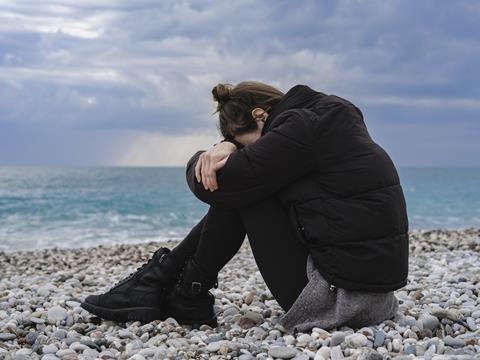 "Stop it. Stop it. Stop it!"
A curly-headed nurse hears me from the corridor and opens the door to my room.
"Sharon, are you OK?"
I cower on my bed, hugging my knees to my chin. Ignoring the nurse, I swipe at the air with my left hand. "Get away from me!"
"Who are you talking to, Sharon?"
"Them! The tormentors – tell them to leave me alone!"
"Sharon," her voice is gentle but firm. "Remember what Dr White* said to you this morning. You're hearing these tormentors because you're not very well. No one else can hear or see them. And there is medication that can help you."
"Dr White is part of the conspiracy. He doesn't know he is, but he is, and I know it and I'm the only one who is getting the messages from the fourth dimension."
I turn to look over my left shoulder, then look quickly back again, rocking forward and covering my face with my hands.
Loneliness can trigger mental illness, and mental illness often makes sufferers lonelier
Psychotic illnesses like mine are characterised by the presence of hallucinations and delusions.
If the definition of a hallucination is something you perceive – for example, a voice that you hear – that no one else can perceive, and the definition of a delusion is a firm belief that no one else shares, then people with psychosis must be among the loneliest on earth.
As I sat in that hospital room, believing Dr White was about to unwittingly kill me, I felt that I had nobody to turn to; I could not trust even my closest friends with the information I possessed. Thankfully, in a moment of doubt and desperation, I took the medication prescribed to quieten the dopamine surging in my brain.
Once calmer, I began to question my own view of 'the facts', and connection with others re-emerged as a possibility. In the three years since, an antipsychotic drug has kept me well.
Circular connections
The acute loneliness of psychosis may not persist between episodes, but the experience has devastating effects on confidence. And the medications used to treat it have their own impact: sedation and weight gain can reduce people's capacity for work and other social activities.
In the wake of Covid-19, loneliness is the chosen theme of this year's Mental Health Awareness Week. Its connections with mental health are circular: loneliness can trigger mental illness, and mental illness often makes sufferers lonelier. Depression or anxiety may cause them to withdraw; they may feel misunderstood or isolated by the experience of psychosis.
Throughout the pandemic, I have been encouraged by many initiatives aimed at tackling the rise in mental health problems; I have also been saddened by stories of loneliness that I have heard from those with psychotic illness, as overloaded mental health teams have cut the frequency of review appointments and replaced face-to-face contact with telephone calls.
Reaching the forgotten few
The Church must be mindful of this 'forgotten three per cent': a small but significant group whose mental illness is severe and lifelong, and who may well remain lonely long after social distancing has been forgotten.
For psychotic illness, professional healthcare will always be needed, but there are things that the Church can do to help. Here are three antidotes to the loneliness sufferers experience that I believe any church can offer:
Gain understanding. This is the basis for connection and relationship. The loneliness people with psychosis experience is often compounded by stigma, and education can overcome this. Read about my journey in Wrestling With My Thoughts (IVP) or explore the excellent online resources offered by the Royal College of Psychiatrists, or charities such as Rethink or Mind. Perhaps consider asking a local mental health professional to speak at a church event.
Reach out. People with psychosis are often on the lonely margins of churches – exactly where Jesus would have ministered. Try inviting them to a church event, asking them to join you for a coffee date, or offering practical help to their families (who are often lonely too). Be aware of the work of local mental health charities: Is there a befriending scheme you could take part in, or could you volunteer to share a hobby at a day centre?
Offer community. A church can be an ideal context to foster belonging and combat isolation. You can offer community in an informal way, inviting people who may have psychosis to a church drop-in or a home group. There are also more structured ways of including those with mental illness, such as running a wellbeing group through Christian charity, Kintsugi Hope, or a walking group to promote good mental health.
People with psychosis have a lot to offer. Let's respond to the challenge of this year's Mental Health Awareness Week by building connections which will benefit both sufferers and the Church today.
*Named has been changed

Sharon Hastings qualified as a doctor in 2007 but was diagnosed with schizoaffective disorder four years later. She became a writer and published a memoir, Wrestling With My Thoughts (IVP) in 2020. Sharon lives in County Down with her husband, son and two golden retrievers. She loves music, books and walking by the sea.
View full Profile