The former British skeleton pro Adam Pengilly says his biggest lessons about God were learned not when he was winning, but when everything was going wrong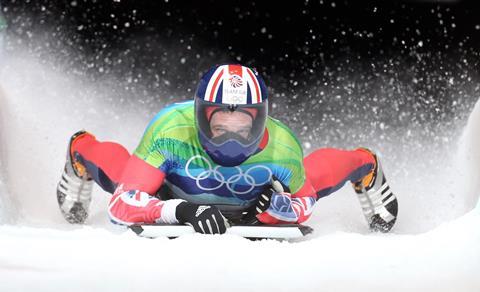 The 2022 Winter Olympics are in full swing. It's the second Olympics in less than twelve months, something that hasn't happened since 1992, as the effects of the pandemic continue to shape the global sporting calendar.
The Winter games are unique, a quirky sibling to their older, summer, brother. Many Winter sports are dangerous, exciting, and speedy, often set among stunning mountainous backdrops. What is it like to step into this environment, with the additional pressure of expectation to execute world class performance on behalf of your country? Moreover, what does it look like to be a Christian involved in such a spectacle, to represent Christ in the most extreme playground God created?
Adam Pengilly is a British skeleton athlete and a massively experienced Olympian. His story is unconventional. Having competed in the bobsleigh for five years he turned his hand to coaching - he was assistant coach to the Women's bobsleigh team at the 2002 Salt Lake City Olympics. He then came back to competing, racing in the skeleton discipline at Turin in 2006 and Vancouver in 2010 (pictured, above) after which he was elected to the International Olympic Committee Athlete's Commission by his peers.
Adam is also a Christian and has been a follower of Jesus all the way through his Olympic experience, through exhilarating high points and crushing disappointment. His experience as a Winter Olympian is fascinating and a valuable insight into the pressure athletes are under to perform in competition at the highest level.
Crushing disappointment
A British Winter Olympic medal is rare. Team GB have only won 32 Winter medals in the history of the games, in contrast to the 65 won at just one Summer games in Tokyo 2020.
As Adam Pengilly lined up for his second run in Turin in 2006, he was sitting in fourth place, just a blink of an eye away from the podium. One good performance away from an Olympic medal.
Messing up just one corner on that second run cost him a medal.
"Was it totally gut-wrenching?" I asked him. "Yeah," he replied.
Finishing in eighth that day was actually a huge result for a relative newcomer. But for Adam it was bitterly disappointing.
"It took me about three months to get over the pain," he remembers. "My head was in the wrong place, I'd been worshiping sport too much. My performance was too important to me."
"An Olympics only comes round every four years. You only get one or maybe two opportunities - to win a medal, and I was unable to take my chance. Too much of my identity was wrapped up in succeeding in that race."
Renewed perspective
As Adam spent time with other Christians, reflecting on his disappointment and wrestling with it, he was reminded that first and foremost he was saved by grace alone and God had given him the gift to be an athlete. Adam's crushing disappointment hadn't removed his desire to compete, but God had used it to shift his perspective. He was reminded that God was calling him to be the best athlete he could be, not to gain success for himself, but as worship to God – to honour God's gift to him.
Adam set his sights on a second Olympics in 2010, with four years to get into the best shape of his life. He won the bronze medal at the 2008 European Championships, following this up with Silver at the 2009 World Championships, a huge step towards that coveted Olympic medal, just one year away.
Adam trained well through the off season in the build up to Vancouver, getting stronger and faster, setting personal bests in training. Just days before the first Olympic qualifying event he was doing some plyometric training, when suddenly he felt his knee pop. He'd sustained a serious injury just months before the Games, even qualification was now in doubt. Adam made the Olympic start line, albeit not in the shape he'd hoped for after four years of hard work and success. He finished a disappointing eighteenth.
Four years of progression only to finish ten places further down the results sheet.
But Adam sees it differently.
"I was in a really different place. Success at the World Championships had helped me realise something. I felt amazing to be a World Championship medallist for maybe two or three hours, and then it was just like, life again – normal. It was a recognition in my head that even if I'd won, I'd just want to win again. Achievement and success don't provide lasting satisfaction."
He was satisfied that God's love for him was just as guaranteed when he won silver in 2009 as it was crossing the line in eighteenth a year later.
"I was disappointed for sure with my result at the Olympics, but I knew the Lord had a different plan, and his love for me doesn't depend on how I perform."
Sport is a gift
Adam retired from Skeleton racing in 2012, continuing to coach up and coming athletes. Reflecting on his career, he wishes he'd realised sooner that winning isn't enough. Being an athlete, even at the highest level in sport, is about using the gifts that God has given you to worship him, it's where God will shape you into who he wants you to be. There's immense pressure to see your worth as dependent on performance, especially as coaches and governing bodies depend on winning to sustain them.
Building your identity on success will not satisfy. God's work through Adam's career has made that abundantly clear. Instead, offering your ability and passion first to God, using it to serve those around you, means you can enjoy your sport with a secure identity. This doesn't mean you have to become less competitive, to sacrifice your will to succeed. Rather it gives security to be able to try your best, work as hard as anyone else, to honour God's gift to you, knowing your worth doesn't depend on the outcome of your efforts.

Brian Glynn works for Christians in Sport and is part of Team Bath Athletic Club. He attends St. Bart's Riverside in Bath.
View full Profile