A tiny percentage of young people go to church. But nearly all go to school. So if we are going to impact the children and young people of our nation with the gospel, says Pete Baker, we need to serve our schools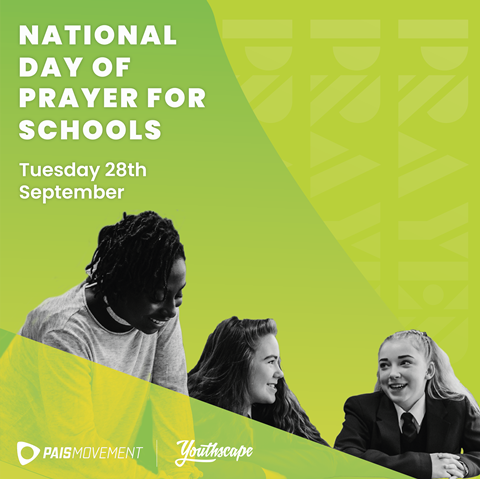 One of my dreams is that one day, every school in the UK would have a church that is praying for it and actively seeking to serve it.
A few years ago, Scripture Union released the challenging research that indicated that over 95 per cent of young people in the UK were not connected to a local church. We also know that 99 per cent of young people in the UK do engage in mainstream education. I believe that if we truly want to shape the nation, we need to learn how to serve our schools.
In 2020, Paul Gibbs, founder of the Pais Movement, planned to set off on a two week prayer-walk, travelling the width of England, starting in St Bees Head in Cumbria and walking to Robin Hood's Bay on the opposite coast. On the walk, he would pray for schools around the world and inspire others to pray for their own local schools.
Let's pray God's best for the schools of our nation
25 years earlier, in the late 90s, Paul had done the exact same walk, and it was during that time that God stirred Paul's heart for the schools of Manchester and the UK. The Pais Movement was the result: a way of bridging the gap between schools and the local church. The word pais means 'servant' in biblical Greek and our strategy has always been to impact young people by serving their schools.
Due to Covid-19, this prayer-walk was postponed until May 2021. Across the UK, churches prayer-walked their communities, praying God's best over their local schools and seeking God for breakthrough.
As a result of the momentum gathered, and the hugely challenging situation that the pandemic had created for children, young people, schools, staff and families, we decided to initiate a national day of prayer for schools on 28th September 2021.
Why prayer?
We believe in the power of prayer, the incredible dynamic of prayer-walking and the transformative impact of serving our world in the way of Christ. And we know that, now more than ever, schools need our prayers. As Jane Newey, Pray for Schools England co-ordinator says: "There is so much pressure in schools at the moment, it's important to pray for all those working in our schools as well as the children and young people."
The Pais Movement and Youthscape are working together - alongside many other churches, organisations and groups across the UK - to bang the drum for schools ministry and lead the call to pray for the schools of our nation.
Get involved
We're inviting as many people as possible to join us in praying for their local schools, and schools across the UK, on 28 September. There will be an online prayer gathering in the morning, and prayer videos released on social media every hour throughout the day, culminating in people gathering to pray in locations across the UK in the evening.
During the day, you can also prayer-walk your community, praying God's best for your local schools, using the 24-7 Prayer prayer walk guide:
W – Worship: As you set off on your walk, begin with your eyes on Jesus.
A – Ask: Begin to get specific and pray for people and situations, the 'people of peace' you know God has brought you into contact with who are opening up doors of opportunity for the gospel within your community.
L – Listen: As you worship and pray, leave space to listen to what God might want to say to you.
K – Know your land: Get (and keep) yourself informed about the area you are prayer-walking; research some of its history and know its ongoing problems so that you can pray for breakthrough.
So let's get involved. Let's come together and allow this moment to start a movement. Let's pray God's best for the schools of our nation and allow God to stir our hearts so we might shape culture by learning how to serve schools better.
To find out more visit paismovement.com/events/prayforschools
Pete Baker is national director of Pais Movement UK, and associate leader of Life Church Lancashire
View full Profile