Baptist minister Rev Peter Laws explains why he believes Christians should embrace Halloween and the opportunities it provides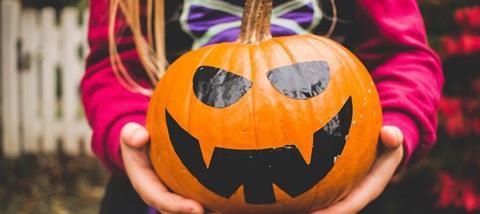 I used to go trick or treating as a kid, but I was a pretty nervous vampire, to be honest. I'd say 'Trick or Treat' as politely as I could, and I can't remember anybody ever answering "trick". Later, we'd all perch on a wall and compare treasures, then I'd race back home and spend the night munching through my 'kets' (that's North East speak for sweets). It was a great night of spooky fun.
Years later, I moved down south and started going to church, where I was given the news: Halloween is Satan's Christmas...tis the pagan night of evil! To enjoy such things was to risk a mild case of demonism. So I let Halloween vanish into the shadows for a while, and avoided the Dracula masks in Tesco. Yet during those fang-free days, I noticed the Halloween aisle of the supermarket was growing...
Halloween is now the third largest sales 'event' for retailers on the calendar. So how has the Church responded to this tsunami of pound-shop fuelled devil worship? Rather than engage in what culture is already clearly interested in, many churches are now hosting alternative Halloween events, like the Scripture Union 'Light Parties', where the only ghost you'll find is the Holy one. They're pretty popular too. SU told me that in 2018 they distributed 8,589 packs to churches who wanted to run such events – a rise of 6% on the previous year
At a Light Party you won't get gothic chills, you'll get positive games and wholesome Bible stories that celebrate light. Now let me be clear – there's nothing wrong with that. Some kids hate Halloween and are scared rigid. Light Parties are perfect for those children. I've been to a few of them myself and had loads of fun.
I just have one question.
Where do you find most kids and families on Halloween? Cracking out their Moses fancy dress and lining up at the local chapel? Nope. They're roaming the streets in their millions, dressed as monsters, trick or treating. Are these families lost in the dark and marching to the beat of hell? I doubt it. In fact, I wonder if they might be onto something.
First, we should remember that Halloween acknowledges and makes time for talk of death. Its origins lie in the Christian celebration of All Hallows, the day we recall dead saints. But secondly, Halloween does something ingenious…it turns that darkness into a party. People say Halloween glorifies death, but when I see families trick or treating its all laughs and squeals. I see kids dressed in skull masks literally laughing into the face of mortality. It's like when Paul said, "Oh Death, where is thy sting?", but only on a town-wide scale.
If you believe the myths about Halloween (that it's the night when the local witches sacrifice kids or when Pagans lace trick or treat chocolate with razor blades) then you'll struggle to see the light in October 31st. But for most UK families, the actual Halloween experience is rather more benign.
Yes, there are negatives, like teenagers egging pensioners houses. That's not good – but then we don't cancel Christmas when a few folks get drunk at the Christmas party, do we? Most of the family trick or treating I've seen is uber-polite and considerate. Parents hover, keeping an eye on their kids, "Hey, Archie…make sure you say thank you!" There's even a local code too - if you want pint-sized skeletons to knock on your door, light a pumpkin outside. If you don't want them, then don't. It's all rather civilized and really quite fun.
Halloween is becoming one of the most community-based celebrations of the entire year. Christmas, is a very insular holiday. It focuses on family. Halloween however, is so much wider. It's a party that invites an entire jumble of ordinary people, out on the street. It's an annual time of community connection....so isn't it a little sad that all this happening without a Christian in sight?
The resource packs for alternative Halloween events often say that the real goal is to share Jesus with the community. That's an admirable aim, and I'm convinced Light Parties do achieve that for some, so let's support them. Yet most families are not in church that night. They want to be out in the cold, dark, carrying little lights with them at their party. So why can't some Christians do the alternative to the alternative Halloween and get out there with their friends and neighbours?

Rev Peter Laws is the creator of the acclaimed Matt Hunter crime fiction novels, Purged, Unleashed and Severed (Allison and Busby). He's also the author of the non-fiction book The Frighteners: Why We Love Monsters, Ghosts, Death and Gore (Icon Books) where he treks across Transylvania, Rome and Britain, trying to understand - and defend - the human morbid streak. Find out more at peterlaws.co.uk or follow him on Twitter @revpeterlaws.
View full Profile