What does it means to commemorate a life of someone who is still alive – and is it healthy for those who are dying, or those left behind? As Dawn French reprises her Vicar of Dibley character as part of a 'living funeral' at Truro Cathedral, and some speak of putting the "fun" back in "funerals", Yvonne Tulloch explores the ethical questions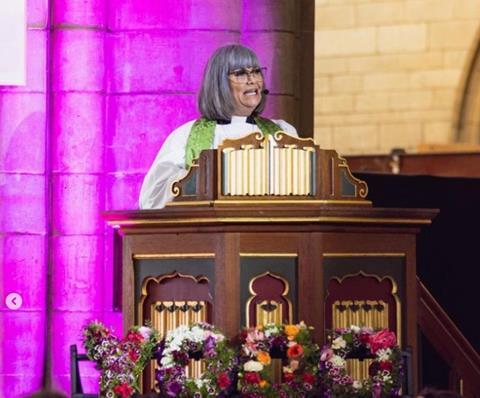 A living funeral (or pre-funeral as they are sometimes called) is a religious or non-religious celebration focussed on someone who is still alive. Particularly in the case of someone facing a terminal illness, the event can give the individual and their loved ones a chance to say goodbye. They have been popular in other parts of the world for some time, especially South Korea and Japan, but are now becoming increasingly accepted in the UK, too.
The rise in living funerals marks a continuing shift away from Victorian-era customs and the 'traditional funerals' that many of us will be familiar with, and adds to the range of choices now available to people in marking the end of their life. In countries where assisted dying has been legalised, they are also fuelling conversations about making plans for end of life.
A celebration of life
Kristin Hallenga, 37, was diagnosed with incurable breast cancer in 2009, aged 23, and given a life expectancy of just two years. Last month, the co-founder of CoppaFeel!, a breast-cancer-awareness charity for young people, held her living funeral at Truro Cathedral. Actress Dawn French reprised her role as The Vicar of Dibley's Rev Geraldine Granger for the occasion. Hallenga described the event as "a FUNeral", an occasion "where my people have a thing or two to say about me, where I have the opportunity to show how much they mean to me". French described it as "her own festival, celebrating an extraordinary life."
A funeral is actually more for the bereaved than the deceased
There are benefits in such events. People are drawn together, and space can be made for conversations that might not otherwise take place. They allow a person to tell others, while they are living, about their memories and the things that have impacted them. A living funeral may help friends and relatives to come to terms with a terminal diagnosis, and address issues that need to be faced before a person dies.
A good death
However, I'm concerned about this trend. I am a firm believer in preparing for a good death, and I advocate this strongly in our bereavement-friendly church webinars. If someone dies without having had the right conversations, made amends or conveyed important information, it can leave those left behind with unnecessary guilt, stress and an extra administrative burden, which only adds to the sadness of their loss.
But there's a difference between taking the opportunity to put things in order and holding an event to replace a funeral – which is actually more for the bereaved than the deceased. While it is a moment to be thankful for the life that was lived, it is also important for acknowledging the loss. For many people, this is the point when the reality of the death sets in and the grief journey begins. Living funerals, if they replace what traditionally comes after, only furthers what I believe to be a worrying emphasis in recent years, of celebration in death rather than the facilitation of people's mourning.
Grieving well
Grief is processing loss and adjusting to life without the person who has died. It is natural and necessary for our wellbeing. Unfacilitated, it can lead to a range of negative outcomes further down the line. Much of the mental health crisis we are seeing today is rooted in unprocessed loss – grief that has been suppressed because of our denial of the need to mourn.
The Bible endorses this need. God is a "God of all comfort" (2 Corinthians 1:3-5) and Jesus "a man of sorrows and acquainted with grief" (Isaiah 53:3). "Blessed are those who mourn" he said in Matthew 5:4. Later, he wept at the tomb of Lazarus (see John 11:35).
There is also the tricky issue of what happens when a diagnosis is wrong. Hallenga herself was given a terminal diagnosis 14 years ago. As medical science continues to develop apace, many people are fortunate to respond more positively to treatment than expected.
Grief is natural and necessary. Unfacilitated, it can lead to a range of negative outcomes
Perhaps this trend highlights the need for us all to stay well connected to friends and relations; to keep short accounts and look for opportunities to celebrate life wherever we can. Wouldn't it be great if we celebrated our lives regularly - on birthdays and anniversaries for example - sharing our stories, passing on memories and saying what we would want to say if today was our last day?
If every one of us did this, as well as giving our loved ones the gift of putting our financial and administrative affairs in order, we would benefit from celebrating our lives while we are still living - and leave our loved ones to process their grief healthily through the funeral they arrange after we die.

Rev Canon Yvonne Richmond Tulloch is CEO of AtaLoss, a charity helping bereaved people find support and well being, and director of Loss and HOPE, equipping churches in bereavement support
View full Profile