Clyde Thomas was part of the leadership team at Victory Church, Cwmbran, Wales, when a seven-month refreshing took place. 100,000 people visited from around the world, 1,600 came to Christ and hundreds were healed. Here's what he learned, and what he's praying for the team at Asbury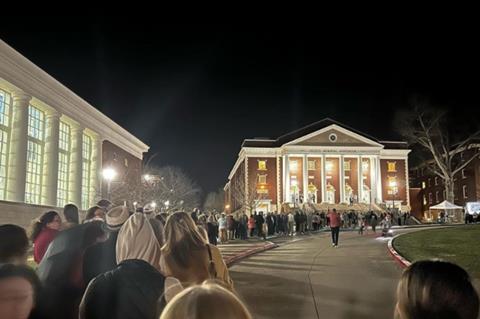 Source: @nickhallpulse Instagram
People queue to attend the worship meeting at Asbury University that has been taking place non-stop since 8 February 2023
We are living in seriously challenging times.
From the cost of living crisis to natural disasters, pernicious news can contagiously spread like wildfire around us, filling our homes, schools, communities and, sadly, in some cases, the Church. But friends, that should not be the case!
In the midst of such a challenging landscape, the light of the gospel is all the brighter, the sound of gospel hope is all the louder and the fervent actions of Jesus' followers are all the more essential. All around us, we know that something is shifting. We don't deny the reality of the challenges we are facing, but we also know that we cannot foodbank or social service our way out of these challenges; we need a move of God.
And that is why I am full of expectation and faith for this season. I believe that we, the Church, have a different vantage point, but only when we refuse to rely on the naked eye!
Revival is the work of God in the Church, but evangelism is the work of the Church in the world
Many of us are witnessing the finger-print of God in our localities through acts of service and kindness. The pandemic reminded us all that God's kingdom is 24-7, covers the whole of life and is definitely not restricted to certain moments or days. But we must now move past just 'doing good things' and lean into 'God things'. There is increasing spiritual appetite for a break-out across the nation. All the statistics tell us that people are more spiritually open now than they have been in generations.
Leaning in
With this in mind, the news of a revival in Asbury immediately grabbed my attention. A group of students lean into 'God things' on 8 February, and the prayer meeting doesn't stop.
Prayer is central, sung worship is authentic, and the priesthood of all believers is visible. Celebrity leadership is being intentionally bypassed in favour of ordinary believers facilitating the move. From what I've observed, there seems to be a genuine humility about the whole thing. Whatever people's views, I am genuinely excited that young people are getting emboldened by the presence of God. If anyone wants to criticise a prayer meeting that hasn't stopped for more than twelve days, they probably need to critique themselves!
Back in 2013, a time of refreshing broke out at Victory Church, Cwmbran. Over 100,000 visitors came, more than 1600 found Christ for the first time, and hundreds of people testified to being miraculously healed. As a speaker and evangelist myself during this outpouring, I am very aware of some of the challenges of such a moment.
There is one story I have never forgotten. It was about midday, around July 2013 and meetings were taking place every night from 7pm. Throughout the day, we would be in the building offering prayer and ministry. I wandered into our main hall and heard sobbing. I noticed an elderly lady, kneeling between rows of chairs. Not wanting to disturb her moment, I tried to move past quietly and, as I did, she looked up. With tears streaming down her face, she said: "He's here!"
Never before, or since, have I heard that level of conviction and excitement in a voice. She had travelled from Texas, USA to Cwmbran in Wales. An elderly woman got on a plane on her own, passed through security, carried luggage, found somewhere to stay and located our building, all because she was so hungry for God. And she found him there!
For almost seven months, we ministered to people like that woman, from all over the world. It was seriously powerful, but also exhausting. Eventually, we moved the meetings to twice weekly and the pace slowed. Today, the church is thriving, people still find Christ and get healed all the time, but that time of refreshing was unique.
Learning God's lessons
Navigating that time was not easy. Key teams got tired, congregation members sometimes felt overlooked and the presence of God exposed the good, the bad and the difficult parts of our community. Things had to be dealt with, church life had to change and we were always aware that, in the midst of what God was doing, people were present - and people bring all kinds of views and challenges with them.
God is not looking for superstars, he is looking for humble and hungry people who will give him the glory and courageously do what he asks
In facilitating a move of God, we must remain humble and hungry. We must lift up Jesus in everything we do and we must go with God!
God's plan is for a pure, undefiled Church body and, as his presence increases, we realise more and more healing and sanctification is needed in us all.
Renewal is a great exposer of the human heart, preparing us for our work in the world. Revival is the work of God in the Church, but evangelism is the work of the Church in the world! These seasons are just that and, like the disciples who observed the transfiguration, we sometimes want to build tents there and camp in the blessing. But, truthfully, that is not the purpose. We must move towards a hurting world.
Being transformed
When we were in the midst of that tidal wave of God's presence, we were being transformed ourselves. When it comes to Asbury, let us give those involved grace and encouragement. Like us, they will have to deal with the expectations of the religious community and the pressure of the media while also running the day to day operations.
I was on the leadership team at Victory in 2013 and can remember appealing to the Lord for grace and strength to keep going. Knowing it was a God moment, we didn't want to waste it. We knew these are often once-in-a-lifetime moments but, at the same time, we felt incredible expectation and pressure all around us. It was easy to neglect our own wellbeing while being fearlessly full of faith. It was a strange dynamic.
Please Church, let us remember this for those facilitating this moment at Asbury, knowing that, beyond this temporal time, the eternal God is at work, purifying, changing, ministering and loving.
God is not looking for superstars, he is looking for the humble and hungry, people who will let him get the glory and who will courageously do what he asks. As for me, my prayer is simple: "Let the fire spread, and let me be someone who celebrates what God is doing instead of being skeptical about what he may not be doing."

Clyde has served as Lead Pastor of Victory Church since 2014. He was saved in a prison cell before training for ministry at Mattersey Hall Bible College where he met his wife Rebekah. They married in 2008 and together they are sold out for the cause of Christ, through the local church.