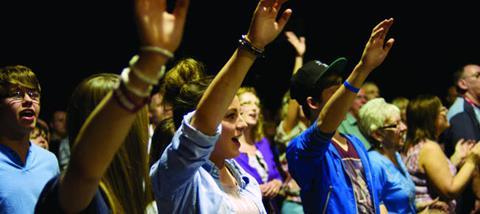 At the time of going to press, 16,000 people had passed through the doors of Victory Church since 10th April, when a member of the congregation was reportedly healed of a long-standing injury.
Rumours of revival, healings and life-changing encounters with God have spread through social media and drawn believers from all over the world. Pastors from the US have already visited, and churchgoers in New Zealand are planning a journey specifically to experience what has become known as the Welsh Outpouring.
The church at the centre of the claims was started three years ago by pastor Richard Taylor, an ex-convict and former drug user. The initial congregation consisted of his family and a group of former criminals and addicts. Now he has planted six more churches around Wales.
Christianity magazine visited Victory Church on 25th May. Revival meetings are being held every evening at 7pm except Fridays and Sundays when services run as normal.
At 6pm, 200 people were already queuing at the converted industrial building in Cwmbran. It's a deprived area, and there's a huge problem with drugs in the community.
A Victory Church pastor, Clyde Thomas, explained that most of the church volunteers, from the ushers and car park attendants to the people serving in the small café on site, had been through the Victory Outreach rehab programme which provides homes and support to addicts and prisoners on release.
'This is a church that is built on brokenness,' said Thomas, who has himself been through the Victory rehab process. 'It doesn't matter what state you're in when you come through the door. We've ministered to a huge number of people with addictions. Right from the start this has been all about glorifying God.'
Leaders were at pains to point to Jesus and keep him at the centre of all that was going on. One pastor confided that the church had turned down a request from God TV to film: 'We know they're good people but we don't want this to turn into a circus. We don't want this to be about any particular pastor; that's why you'll see different people each night.' (The founding pastor was preaching elsewhere when Christianity magazine visited.)
By 6.45pm, hundreds had joined the queue to enter the building. Those waiting were a mixture of locals and visitors from across the country who spoke of a hunger for God's presence.
Church planters Nick and Judy Reynolds came from Workington in Cumbria. 'We heard about it on Facebook. We want to take the fire back to our church,' they said.
Twelve young people had travelled from the Taunton Vineyard after a member of their congregation had visited and believed she'd been cured of cancer.
Since April nearly 500 people have committed their lives to Christ. More than 100 have reported physical healings and freedom from addictions, but the leaders are treading carefully.
Pastor Clyde said: 'We have to be cautious. People are really geared up for healing when they come here. We have to be careful that it's not just the emotional effect, and also that if people are not healed they don't feel it's because God doesn't love them. When people tell us they've been healed we say great, but go to your doctor; don't stop taking your medication, get it verified.'
An extraordinary healing reportedly sparked the outpouring back in April.
'There were 70 people at a Wednesday night meeting and Pastor Richard was preaching from the book of Esther,' Clyde explained. 'He said we need to take our burdens ? be they sickness, debt or marriage problems ? and bring them into the presence of the King.
'Then a man called Paul who had been in a wheelchair for ten years after a car accident jumped out of it and lifted it above his head. His doctor has verified his healing.'
Paul was not at the meeting when Christianity magazine visited, but his wheelchair is proudly positioned near the door.
One local said: 'Paul is still fine now. His wife told me the night it happened he didn't sleep ? he kept running up and down the stairs all night, just because he could.'
More reports of miracles followed as the church held meetings each night. A healing from leukaemia; a girl who had been sexually abused as a child was saved; 'John' from France, who threw his walking sticks away, and an addict on methadone was instantly delivered with no withdrawal. Jules Middleton,a pastoral assistant from Sussex, drove to Cwmbran a week after the outpouring began.
'It seemed that people were just so hungry. There was a real thirst and at that stage most of the people were from the local area,' she said. 'There was a real sense of God's presence. I saw people who appeared to be off their head on drugs go straight to the front to receive Jesus in their lives.'
Right from the start this has been all about glorifying God
But is it a revival? Theologian Dyfed Roberts has written a book about the 1906 Welsh Revival. 'I've read some exciting reports from Cwmbran,' he said. 'From an historical perspective it seems the events there have started off in similar ways to past revivals in Wales.'
But he warned it may be too early to call what is happening an 'outpouring', adding, 'Experience from other parts of the world tells us that sometimes these events are not sustained over a long period.'
On the night Christianity magazine visited, at least 30 men in their teens and 20s had been bussed in from the Victory rehab homes. Inside, the young men could be seen worshipping their hearts out. At one point the chorus from Matt Redman's 10,000Reasons sounded like a particularly melodic football chant.
On stage, Pastor Kenny Brandie talked about his own heroin addiction and time in jail, and referenced prison and crime culture frequently during his talk.
Brandie's preaching was fiery and rooted in scripture. He quoted Salvation Army founder William Booth, urging visitors to 'go for the worst'. The congregation cheered as he shouted, 'People that we write off God is writing in.'
Hundreds responded to Brandie's message, and plastic bucket chairs were moved back for people to receive prayer, both for healing and to take the 'fire' back to their own communities.
A real thirst for revival was evident in Cwmbran, and thousands will continue to pray for whatever is happening there to spread ever wider.