Holly-Anna Petersen, a member of Christian Climate Action, says this week's record heatwaves and wildfires underline why disruptive climate protests are more than justified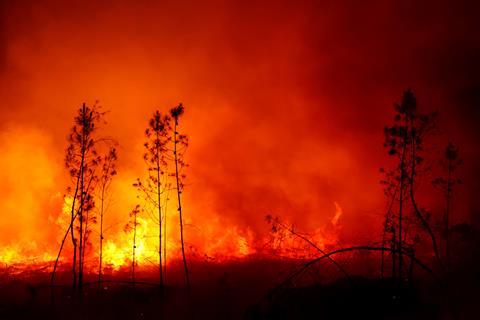 In 2019, 83 year-old ex-parole-officer Phil Kingston climbed on top of a Canary Wharf DLR train and delivered a speech about the funding of fossil fuel companies by our financial district. In 2021, Caroline Harmon, a mother from Loughborough, sat alone in the middle of the road, wearing a sign saying: I am terrified for my child's future because of the climate crisis. In 2022, Rev Mark Coleman, an Anglican vicar with multiple sclerosis celebrated Easter Sunday by blocking an oil depot in Thurrock. These are just three of the many Christians who have risked arrest in recent years, trying to prevent climate collapse.
On the news Boris Johnson described people who attend climate protests as "uncooperative crusties". And Home Secretary Priti Patel went one step further, branding us as "extremists". Outside of the news, members of Christian Climate Action (a group known as the Christians of Extinction Rebellion) have faced negative impacts on their reputation and the ending of friendships and relationships due to protesting.
At some point a day of reckoning will come
It can seem ludicrous to some, that people would risk so much for a crisis which does not affect their own day-to-day existence (yet!). But this week gives us in the UK a small snapshot of what climate breakdown looks like. Downing Street has branded this heatwave a national emergency, with the UK's first-ever red warning covering a large part of England from London and Cornwall to Manchester and York. Railway tracks are buckling in the heat, offices have closed and people have been advised not to go outside in the middle of the day.
The Chief Executive of the NHS Confederation, Matthew Taylor, has said the "crumbling" NHS estate is full of buildings that cannot adapt to the challenges of the heatwave, and the UK Health Security Agency has warned illness and death could occur "among the fit and healthy" through heart attacks or strokes. Unions have expressed concerns for workers' conditions in sweltering temperatures.
Wildfires
In the wider world, deadly wildfires have broken out across Europe with parts of Portugal, France and Spain already ablaze. There is also a heatwave across Asia with Indian cities recently becoming unbearable. There is flooding in Bangladesh. In the Horn of Africa there's a drought which has left millions on the brink of famine.
This is why we obstruct roads, this is why we disrupt AGMs, this is why we blockade oil depots. Because the climate changes we're seeing now are only the beginning and these actions are our last resort to raise awareness about the lack of climate policy to protect us. We know this disruption is annoying, but the inconvenience is just 1 per cent of the disruption that we will experience from the climate crisis if it continues on its current path.
All of the people involved in Christian Climate Action have been law abiding citizens for the majority of their lives, but have been pulled into civil disobedience due to fear and desperation in the face of climate breakdown. Just keeping on top of the recycling, just giving up meat, just turning off light switches – these are helpful steps, but lifestyle changes alone are not enough to stop climate collapse.
At some point a day of reckoning will come. It might be looking into the eyes of our maker, or it might be looking into the eyes of our children. But when we are asked what we did to prevent this suffering, we can say that boy did we at least try.

Holly-Anna Petersen is a founding member of Christian Climate Action - a non-violent protest group seeking to take meaningful action in the climate emergency
View full Profile