Are you yearning to make your Bible a priority this year but are not sure where to begin? Perhaps you've already missed days in your Bible-in-one-year plan? Don't worry, Minister Robin Ham is here to offer some helpful tips and resources to make 2023 the year you draw closer to God through his word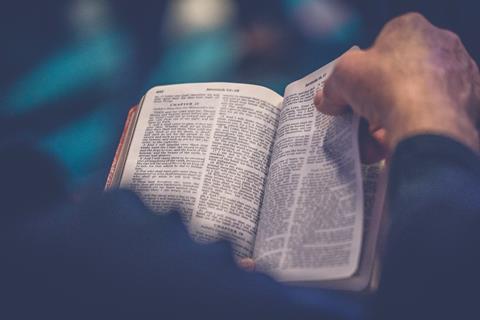 Christians who believe they are growing in their faith are statistically more likely to be those who are also reading the Bible regularly. Likewise, young adults who transition from their teenage years with their Christian faith intact will often have some rhythm of personal Bible reading.
So at the start of January as many of us will be considering how to draw closer to God in 2023, here's eleven tips to help you sustain a healthy habit of Bible reading in 2023 and beyond:
1. Make a plan for what you'll read
As with any new habit, half the battle is won in the planning. So when it comes to reading the Bible regularly, decide in advance what you'll read. For starters, don't be a Random Bible Flipper. Sure, God can give you a special 'verse for the day' via 'spiritual roulette', but God has provided his word to be so much more than that!
If you download the best-selling Bible app by YouVersion, you'll find a whole range of curated 'plans'. Many of these cover the whole Bible over 365 days. For example, a bunch of us at our church have just started the 'Read Through The Bible' plan, which is three or four chapters a day split between the Old and New Testament. There's also a whole range of thematic plans and guides to particular books of the Bible.
Or make it simple and just start with a gospel. Mark's one of my top four! Alternatively, you could use a published devotional. I like Explore from The Good Book Company, because it's big on questions – to get you digging into the text – and light on sermonette.
As the saying goes, if you fail to plan, then you're planning to fail…
2. You will miss a day and that's ok. Remember grace and just dive back in
In one sense it's really important to plan to 'fail', because ultimately, with any Bible reading plan, you will. Be ready for the day when you miss a day. Chances are it has already happened.
So here's a revolutionary thought: don't stress. Just dive back in and read the Bible today.
The big mistake people make with Bible reading plans is feeling like they've got to 'catch-up' if they miss a few days. Well, let me officially release you from that burden!
Think about it like this: if you missed breakfast and lunch one day, and it got to tea-time without eating, would you feel the need to catch-up and have three meals at once? You'd be in for some serious indigestion if you did.
Just pull up a chair and eat today's meal. If you end up having spare time later in the week/month and fancy reading what you missed, fine, go for it. But as one wise Christian said: "You can never be behind if you are reading today."
3. Reject the myth of 'finding the perfect time'
Perfect is often the enemy of the good, and especially so when we're trying to make something a daily rhythm.
On 1 January 2023 we might have a fresh resolve to read the Bible each day, but we're not in the heat of the battle. It's the holidays; the relatives have gone home; the kids are preoccupied watching a Christmas movie. If ever there was a day for a seemingly 'perfect' time in the scriptures, then it's New Year's Day! The problem is that it gives us a false impression of what daily Bible reading will look like when normal life has kicked in.
But reading the Bible does not require perfect conditions, whether it's carefully brewed coffee, an Instagrammable table arrangement, or a clear hour of peace and quiet. And thank goodness, because most of life isn't like that. Reject the myth of the idyllic devotional set-up, otherwise you're doomed before you begin.
4. Instead find a way to read the Bible that works with real life
Think about how much else we read each day: the cereal box, our emails, that article someone linked to on Facebook. A newspaper. The leaflet that came through the door. The BBC sport page. An Instagram post. You get the picture.
Author Rachel Jankovic argues that we need to approach the Bible the same way and it starts with being realistic about when and where we will read it – not to mention intentional about how.
It may be that you can carve out fifteen minutes outside your normal everyday daily routine, but perhaps more realistic is finding time in your day when other stuff is happening.
Here I think an audio Bible is a game-changer. YouVersion's Bible app provides the dulcet tones of Poirot's David Suchet reading the NIV. What could be better?
Making tea? On your commute? Washing up? Just press play.
5. Don't do it alone
If you're seeking to read the Bible every day, then you're trying to break the habit of not reading the Bible every day, so just assume you'll need some encouragement! This could be a mate, who is also giving it a go, or your spouse, with whom you can pencil in some time to chat over what you've been reading. Consider creating a WhatsApp or Facebook group to allow you and others to chew over what you're reading.
6. If you're starting from scratch, start small
Here's a seemingly counter-intuitive tip: don't be afraid of keeping your devotional time short.
Ok, that might even sound an unholy thing to say, but when you're taking your first driving lesson, nobody goes on the motorway!
If you're starting from a disciplined habit of zero minutes of Bible reading and prayer, then it's bonkers to try and suddenly go to half an hour of devotional time. Instead start with five minutes. Do it for a week. Try a fortnight. Go for all of January. And if that soon feels insufficient, then brilliant: aim for fifteen.
That said, don't be conned into thinking longer means better. Quality, not quantity.
7. As well as reading, look for ways to reflect on what you've read
If you're an external processor, you'll need some way of 'digesting' what you read. Sometimes I'll buy a cheap Bible to start the year, just so I feel more able to underline, highlight and scribble all over it – it allows me to process as I go.
Many people find some form of journalling helpful, but it's a word that can put others off, conjuring up unhelpful connotations of people with too much time on their hands.
I love Sophie Killingley's Draw Near journal (The Good Book Company), which helps you reflect creatively on God's word. Or try having a little notebook next to your Bible or a folder on your phone – and just jot down one thought or question about what you've read. Writing a prayer at the end can also help reinforce learning.
8. Pray, pray, pray
The apostle Paul calls the word of God the "sword of the Spirit" (Ephesians 6:17). It's meant to be a spiritual activity. We want God to be changing us! That means prayer will be integral.
Try a simple prayer before you read your Bible, asking God to show you more of himself in his word. Pray for the desire to hunger for God's word. Psalm 119 is full of juicy phrases about our relationship with scripture – so why not print it out and use a different verse as an opening prayer before your main Bible reading each day?
Writer David Mathis suggests a simple three-stage process: "Begin with Bible; Move to Meditation; Polish with Prayer". In other words, we can sometimes do the 'reading' bit and then feel a little bit stuck: now what?!
But rather than emptying our minds, Christian meditation is simply filling our minds with God's word – and then mulling it over. Imagine yourself as a piece of meat marinating in the sauce of God's word. Allow it to go from your head to heart.
I find it a helpful to pray in response to what I've just read or heard from God's word, letting God set the agenda for my day and for what's on my heart.
9. Try not to lose the wood for the trees: One story, one hero
Reading the Bible will bring up all sorts of questions. We'll walk through passages that raise our eyebrows and bend our minds. Take time to note these questions - discuss them, ponder them, look into them.
But it's also important to not lose the wood for the trees. Keep the big picture in mind. And this means seeing that the Bible is one big story with one hero - and it's not you!
Jesus rebuked the Pharisees for being well-versed in the scriptures but failing to see that it was all about him (John 5:39-40). And that goes for the Old Testament too! In fact, when Jesus walked along the road to Emmaus, he gave two of his followers an in-depth Bible study showing how Genesis to Malachi is all about him (Luke 24:27,44-45).
So appreciate the detail, but don't get so bogged down you miss the big picture of how God's purposes are coming together in Jesus Christ.
10. Ask good questions
Dave Miers, a youth pastor in Australia, recommends four simple but effective questions to ask yourself after you've read any passage:
a) What does this tell us about God and his character?
b) What does this tell us about people?
c) What do we learn about God's plan to save people through Jesus?
d) What should our response be to God?
In addition, it can be useful to consider what purpose the original Holy Spirit-inspired author had when they wrote those verses. What response were they looking for from their original readers?
11. Trust the process
Lastly, just do it - but don't stress about whether or not you're seeing immediate results! After all, most of us don't try and trace the impact of each specific meal on our health and wellbeing.
So don't give up on reading the Bible regularly just because you don't suddenly feel super-spiritual or your relationship with God hasn't gone up a level. We're all being formed by the world around us in more ways than we can ever measure. As the phrase goes, we are what we eat. So trust that as you consume God's word, his Spirit will be shaping you.

Rev Robin Ham is the minister at St Paul's Barrow and joint leader of Barrow Mission Community in Cumbria. He blogs at That Happy Certainty, where he writes and collates on Christianity, culture, and ministry.
View full Profile