Naomi Long MLA recalls the late Queen's visit to the Game of Thrones set in Belfast, and reflects on the Monarch's legacy in Northern Ireland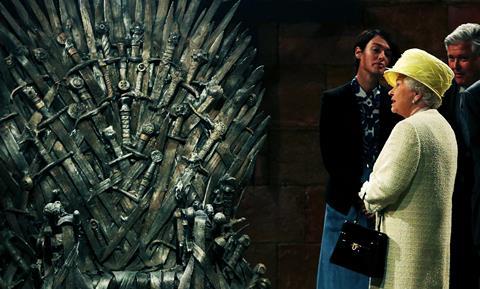 My enduring memory of the Queen is as someone who had a keen interest in the events that she attended.
I remember when she travelled to Belfast and visited the studios that produce Game of Thrones her sense of humour shone through.
In the production area, there was a giant throne and someone asked her if she would like to try it out. She said, "Oh, it would not be protocol for one to sit on someone else's throne." She gave everyone a good laugh.
I'll also remember her keen interest in people. She was always extraordinarily well briefed about what was happening, and was able to put people at ease.
When she went to Dublin on the first official state visit to Ireland of any monarch since partition, it was a hugely momentous occasion. She was gracious in acknowledging the pain of the relationship between Britain and Ireland over many years, but she also said our lives are interwoven and interconnected. That chimed with people's own experience. That kind of generosity, even down to her use of the Irish language, was very touching, but also very endearing, and it means that despite all of the complex and often difficult history between these islands, people here still hold the Queen in admiration and in affection. That's been shown even this week as flags are flying at half mast across the Republic
When she met Martin McGuinness and gave that outstretched hand of friendship to him, I think she gave permission to others in Northern Ireland to be able to hold out that hand of friendship and pursue reconciliation. It was a remarkable moment, especially considering her personal loss during the Troubles.
There's been a warmth in the tributes that have been paid to her right across the political spectrum, whether people are Monarchists or not, whether they're fans of the royal family generally or not - she transcended all of that.
The events we're seeing today in Northern Ireland will be tinged with sadness. We're still very much feeling the absence of the late Queen. Many people will still be grieving that loss, not least of all, the family, and that's always at the forefront of my mind. I watched last night as the family stood vigil, and having lost my own father just a number of months ago, I can't comprehend how difficult it must be to have to undertake your grief in public, and with such duties to fulfil.
People will be pleased that the new King will be coming with the Queen Consort to Northern Ireland. I've previously met with him when he was Prince Charles. I was fortunate enough as Lord Mayor of Belfast, to host him in the city. He is someone who showed huge interest in the regeneration of Belfast. One of the refurbished buildings that we highlighted to him was St Malachy's Catholic Church in the city centre. He was invited by the priest to attend the reopening when the refurbishment was completed and he did so, which was another mark of trying to reach out to communities that perhaps, are not traditionally royalist or see themselves as British.
With respect to monarchy and the constitutional future of Northern Ireland, people will have strongly held views. But I think King Charles has an opportunity to continue the work of his late mother in trying to model reconciliation and generosity.
The entire country is now in a state of uncertainty. We have a new government in Westminster, we have uncertainty in Northern Ireland. We have massive financial challenges facing ordinary families. And we now have this transition within the monarchy. My hope and prayer would be that those of us who have been given responsibility, will take it seriously and further reconciliation and improve stability here in Northern Ireland. We also need to give the public some hope. I think it's incumbent on us to try to find ways to meet those needs, because that is ultimately the job of government.
Naomi Long was speaking to Esther Higham on Premier Christian Radio's Inspirational Breakfast programme

Naomi Long is the party leader of Alliance and the Northern Ireland Justice Minister
View full Profile