Earlier this week, thousands of Brazilians lined the streets for the funeral of footballing legend, Pelé. His traditional Catholic send-off reflected a life of faith in God, if not a life lived perfectly, says Emma Fowle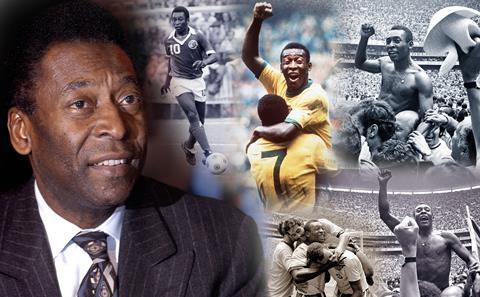 Born Edson Arantes do Nascimento in Três Corações, Brazil, in 1940, Pelé grew up playing football on the streets with shoes for goalposts and a ball made from a sock stuffed with rags. But from a lowly start he ascended into the ranks of stardom quickly, winning his first World Cup title in 1958, aged just 17.
Coining the phrase: "the beautiful game", Pelé was truly the world's first footballing superstar. Alongside the likes of Muhammed Ali, Bob Marley and Martin Luther King, he was one of the first black men to achieve global fame, and was regularly referred to using the kinds of superlatives usually reserved for the religious.
We have billions of people in the world, and we have one Pelé. That is the gift of God
Was he as famous as Jesus, a reporter once asked him? "There are parts of the world where Jesus Christ is not so well known," was his tongue-in-cheek reply. But for all the claims that Pelé was a footballing deity personified, what of his own personal faith?
Raised on God
Like many Brazilian footballers, Pelé was raised a devout Catholic and was regularly seen crossing himself as he ran onto the pitch or kissing the crucifix that was ever-present around his neck. In a 2003 interview with The Guardian, he told reporters that his family "was very religious." Was God important to him personally though? Yes, he replied emphatically: "All my life I thank God."
During his lifetime, he met Popes Paul VI, John Paul II and Benedict XVI, declaring himself "a very blessed man" to have received their blessing and saying that he "treasured" the meetings. "With those three Pontiffs, I was able to talk about my life and about God. They were very important moments for me, which have remained in my heart," he said.
At Pelé's first World Cup in 1970, the young player reportedly helped to set up a daily meeting at which almost the entire squad prayed together. According to The Guardian, this was, unusually, "not to win the tournament but for others, such as the sick or those enduring the war in Vietnam."
Just 17 years old at the time, the footballing legend would go on to win three world cups with Brazil and become (arguably) the highest-scoring footballer of all time, netting more than 1,000 goals throughout his career.
Good gifts from above
Widely revered and almost universally liked, journalists regularly described him using religiously-inspired language and praising aspects of his character that would be commonly understood to be Christ-like in origin. One said that he "radiated joy", was "gracious and modest" in victory and "always profoundly aware of the good fortune that had been bestowed upon him."
He was also clear on where that good fortune had come from. In 2009, he told the Vatican newspaper, L'Osservatore Romano: "God gave me the gift of knowing how to play football, because it really is just a gift from God."
He knew he was special, but he also knew he could not take credit for that specialness – or at least not all of it. "I think of Pelé as a gift of God,'" he told The Guardian. "We have billions of billions of people in the world, and we have one Beethoven, one Bach, one Michelangelo, one Pelé. That is the gift of God." All he could do, he told the reporter, was to try to be a good person, to repay God, and repay the people for their love.
Off-pitch antics
But despite his long-standing faith in God, his personal life was not without its complexities or scandals. He was married three times, most recently in 2006, aged 75, and fathered at least seven children, several of which were the result of infidelity.
He was not, of course, a perfect human being. "But I'm a Catholic and I believe that God always forgives," he said.
After retiring from professional football, Pelé served three years as Brazil's Extraordinary Minister for Sport – the county's first black minister. He campaigned for clubs to be run in a more ethical way and attempted to introduce 'Olympic villages' across Brazil that would give children living in poverty access to organised sport. But his attempts to confront corruption soon drew attack.
God gave me the gift of knowing how to play football
When his own company, Pelé Sport was accused of stealing $700,000 (£425,000) from Unicef in 2001, he claimed the business was being mismanaged by his partner, Helio Viana, and wound it up. While there was never any accusation that Pelé profited from the Unicef money personally, the scandal was hugely embarrassing for the star, and left him fighting a lawsuit for libel against Viana for several years after.
In 2021, Pelé was diagnosed with colon cancer. Complications resulting from Covid-19 followed and, on 29 November 2022, he was admitted to hospital in São Paulo. He died a month later.
But it seems that his faith remained intact until the end. In a statement posted on Instagram, Pelé said: "I have a lot of faith in God and every message of love I receive from you all over the world keeps me full of energy. And watch Brazil in the World Cup, too."
Pelé may have been hailed as a deity by soccer fans around the world, but it seems he knew who the one, true God really was.

Emma Fowle is assistant editor of Premier Christianity and editor of Voice of Hope, Premier's quarterly devotional magazine. Emma is a trustee for Christian festival Creation Fest and lives in Cornwall with her husband and two teenage daughters. She loves to read, swim in the sea, play netball and lift weights with her dad.
View full Profile