Pastor Colin Urquhart, a Christian speaker and author who was especially influential within the UK charismatic movement, has died from cancer. Jarrod Cooper pays tribute to him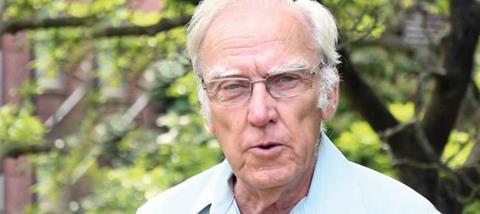 On Monday one of the United Kingdom's premier contemporary Christian authors, teachers and passionate revivalists "peacefully passed away and went to be with the Lord" according to a statement from Kingdom Faith, the church he founded.
Colin was born in 1940 in Twickenham, England and became a leading figure in the charismatic renewal movement in the 1960s and 1970s, as the vicar of St. Hugh's in Luton. It was here that he first experienced a powerful season that many would call a "revival" or "renewal". The visitation led to many reports of supernatural healing and the outpouring of the Holy Spirit, the story of that period becoming a best-selling and highly influential book, When the Spirit Comes.
By the 1980s Colin became widely known as an author and speaker at charismatic conferences across the world, writing more than 45 books in over five decades of ministry, including many best-sellers and even a new translation of the New Testament, called The Truth.
It was in the late 1980s that Colin's story and my own entwined.
One day in 1989 the phone in my parents' home rang, and I was flabbergasted to find it was Colin Urquhart, already a renowned figure in British Christendom, asking me to join him as a worship leader at his Kingdom Faith Bible School, based in Horsham.
The invitation turned into a life-changing five years travelling, experiencing God's glory, learning from this great father and growing up in God. I learned of revival and healing, I encountered God's great love in ways I had not previously known, and discovered the world of God's power and presence, available to all who truly seek God's face for who he is.
There were moments when God's very glory seemed to invade services, to the point where no song list could be played, nor preacher preach. All were face down, in awe, fear and trembling as the presence of Jesus invaded the Bible school.
There were moments when God's very glory seemed to invade services
There were times where it seemed you only needed to lay hands on the sick and pray a simple prayer, to see many healings released among the congregation. Colin not only pioneered in faith for miracles in his own life, but released thousands of others who walked alongside him over five decades, to walk in a measure of all he contended for in God. This was his passion.
Even into his later years, as he handed leadership of the church he founded to his son Clive, Colin remained an international conference speaker and principal of Kingdom Faith Training College, teaching students who attended from around the world. Even through his latter years, his passion for revival and love for Jesus never faltered.
Entering God's eternal presence, Colin leaves behind his wife Caroline, one of the most gentle and kind souls you could meet, and children Clive, Andrea and Claire, along with their spouses, children and grandchildren. Together they are a remarkable family who have blessed our nation and the world with such wisdom, leadership and love, a blessed legacy in our land indeed.
Ever humble and self-effacing, Colin would hate for us to make too much of him at a moment like this. He would much prefer we glorified Jesus with every breath, and so I will end this tribute as he would wish. Thank you, Jesus, for giving us a life in Colin that filled us with faith, grace and hope for the future. Thank you, Jesus, for healing so many through Colin's life. Thank you, Lord God, for sending us this unassuming man, who enabled us to expect harvest, miracles and revival in our own lifetimes. We are ever grateful for your work of grace among us through his life. May we pick up the mantle he leaves behind, and see our nation transformed for the glory of God!

Jarrod Cooper is a singer/songwriter and senior leader at Revive Church, Hull