The series editor of Songs of Praise remembers the life and faith of veteran broadcaster Bill Turnbull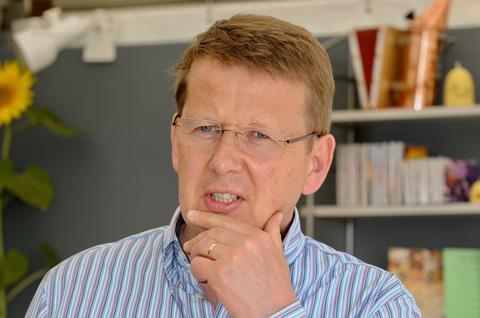 Bill Turnbull's broadcasting career spanned several decades. He fronted many popular BBC shows before spending his latter years as a presenter on Classic FM.
His family have paid tribute not just to a "remarkable broadcaster" but a man who "brought warmth and humour into people's homes".
I knew him as a presenter on Songs of Praise, which he worked on from November 2012-2015. By that time he was already a household name as co-host on BBC Breakfast.
Born in Guildford, Bill studied at Cardiff University before joining the BBC as a reporter on the Today programme in 1986. By the time he joined the Songs of Praise team, Bill was living in the north west, as a result of BBC Breakfast's move out of London to shiny new offices at Media City in Salford Quays.
A Christian from childhood, Bill was a great fit for Songs of Praise. He would occasionally lead Evensong at his local church, and clearly enjoyed hosting the show. He was excellent at whatever you threw at him. He remarked that it was good to be out and about again filming on location rather than being in a television studio the whole time. Perhaps he missed his early roving reporter days.
Bill presented a number of programmes for us, including an episode from Holy Island in Lindisfarne. He hosted a Songs of Praise Big Sing concert at the Royal Albert Hall in front of an audience of 5,000 and presented a live Songs of Praise Remembrance programme from Aldershot. He was completely at ease in whatever situation he was in and he put the contributors he was interviewing in the same mood as well.
Bill was as witty and charming off camera as you might expect. On one occasion I had the pleasure of going to his house in the Buckinghamshire countryside to record some voice overs for Songs of Praise. Bill met me at the front door wearing sunglasses, despite the fact it was winter! Apparently they helped with a condition he had, completely unrelated to his later cancer diagnosis, whereby he couldn't read his lines in print or on auto cue. So, well before the invention of Zoom I had to speak the lines to him and then record him saying them back to me. I remember he and his wife Sesi were excellent hosts and we shared some delicious home made soup around the kitchen table, surrounded by honey pots and honey making equipment - Bill was a very keen bee keeper! They appeared very much in love with Sesi teasing Bill about how it was a shame she couldn't see his dazzling blue eyes behind his sunglasses!
One year after his time at Songs of Praise came to an end, Bill also stepped back from fronting BBC Breakfast. In an interview with the Radio Times, he mentioned his faith and strong beliefs, expressing his disappointment that many Britons are "embarrassed" by their beliefs.
"When we lived in America it was the exception not to go to church. Church was absolutely packed and it was wonderful. But here there's something about our culture that makes people feel as if they have to apologise for having faith," he said.
"Sometimes here if you express a belief in God, people will say: 'Oh I'm sorry, I just swore.' They treat you as if you're lily white. That's just ridiculous. I'm as human as the next person – my friends certainly know that."
He added: "I prefer the fact that [in the US] you don't have to apologise for being religious. I don't know why people want to make you feel so awkward about having belief. I don't understand it".
No doubt his successor on BBC Breakfast, Dan Walker, would agree with Turnbull's perspective. In a later interview, Walker told Premier Christianity, his Christian faith is what makes him tick.
Four years ago, Turnbull revealed he had been diagnosed with prostate cancer. He died at his home in Suffolk last week. He was 66.