Through teaching Cliff Richard's younger sister, Bill Latham would help lead the popstar to Christ and become part of his trusted inner circle. But he was also a phenomenal Christian communicator who brought many into God's kingdom says Gill Snow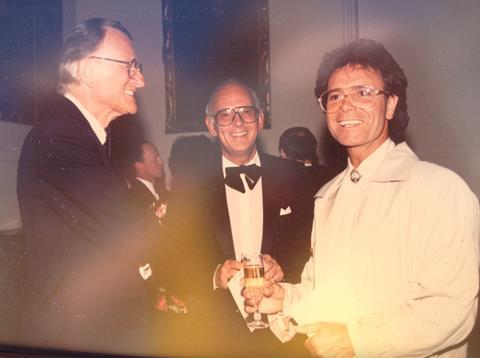 Bill Latham was the Jonathan to Cliff Richard's David, the Jeeves to Cliff's Wooster, the Watson to Cliff's Holmes. He was never a Machiavellian power behind the throne, but rather the discreet courtier, there to advise, guide and protect.
Latham was born in 1938 in North London and, after leaving school, worked as a junior reporter with the local Barnet Press before later becoming an English teacher. During his teenage years he came to faith in Christ through involvement with Crusaders (now Urban Saints). There are still those in active Christian ministry today who found God through Latham's role as leader and speaker at Crusader holidays.
Divine appointment
One of Latham's pupils at Riversmead School in Cheshunt was the youngest sister of Cliff Richard, who was in the early years of his singing career. Following the death of their father in 1961, Richard began a spiritual search, initially through two members of The Shadows who were Jehovah's Witnesses. This, along with interest in contacting his father through a medium, led a fellow teacher at Riversmead to introduce him to Latham who, she felt, could offer some Christian help and insight.
The rest, as they say, is history. Through Latham and others in his circle, Richard engaged with Crusaders himself and committed his own life to Christ in 1965, announcing it publicly at a Billy Graham crusade meeting at Earl's Court the following year.
New horizons
Latham left teaching in 1970 to join the recently-established charity, Tearfund, as its education officer, later becoming deputy director. Alongside this role, he also acted as Richard's 'Christian manager', arranging church and evangelistic visits where the singer would perform, give testimony and be interviewed by Latham.
There are still those in active Christian ministry today who found God through Latham
With Tearfund, Latham would travel extensively, visiting projects in Africa, India, Asia and South America. On many of these trips, he was accompanied by Richard. He also masterminded an annual series of gospel concerts in the UK between 1972 and 1997, which raised hundreds of thousands of pounds for Tearfund's work.
In 1978, Latham left Tearfund become part of Richard's professional management team, with specific responsibility for the singer's Christian schedule and administration of his charitable trust. He also managed other gospel artists, including Garth Hewitt, Sheila Walsh and Network 3, and was instrumental in establishing the gospel music programme Pop Gospel on Southern Television (now ITV).
Richard's right hand man
The development of Richard's tennis foundation in the 1980s saw Latham become something of a star himself, as he emceed the annual Christmas pro-celebrity tennis tournament, where thousands of fans attended to watch celebrity and professional players compete. He also put his journalistic talents to use in ghost-writing Richard's autobiography Which One's Cliff?, a Christmas anthology and several Christian books with the singer.
Without doubt, there are many people who came to faith as a result of the gospel call that Latham gave at the end of each 'An Evening with Cliff' evangelistic concerts. His ability to succinctly communicate the Christian message and conclude with a cogent challenge to commitment was remarkably effective.
A life well lived
At the end of 2010, now into his 70s and with Richard spending less time in the UK, Latham retired. He was later diagnosed with Parkinson's disease and, in December 2022, passed peacefully into the presence of his Lord. He was ready to go.
As someone who worked closely with Bill for 51 years and considered him a dear friend, I can testify to his integrity and deep Christian commitment. He was always willing to serve unselfishly, be the back-up person, unsung hero, wise counsellor and supportive friend.
His ability to succinctly communicate the Christian message was remarkably effective
Bill had a tremendous sense of humour and continued to tease visitors even while in hospital in those final weeks. To his wide circle of friends, the concept of life without Bill Latham in it is hard to grasp. He is already hugely missed.
Stuart Townend's beautiful song 'There is a hope' sums up all we would wish for him: "When sufferings cease and sorrows die / and every longing satisfied / then joy unspeakable will flood my soul / for I am truly home".