It's harder than ever to sustain a business selling Christian books. But that doesn't mean the vision of having a Christian presence on the high street is over. Tim Wyatt reports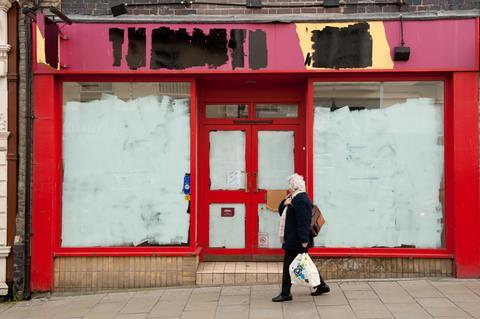 In many ways, the story of Eastbourne's Christian Resource Centre mirrors the story of many towns' Christian bookshops. Founded in 1949 when a Jewish colporteur began selling Bibles out of the back of his shop, the store grew and thrived during the 1960s, 70s and 80s. A steady stream of Bibles, hymnbooks, Sunday school resources, and tapes and CDs of worship music flew off the shelves six days a week. But then, slow but steady decline set in. Staff and volunteers began to retire with no-one to replace them. Customers drifted online to buy their resources. And two years of on-off Covid lockdowns struck the final death blow. In January, the town centre, just a short walk from Eastbourne's historic Victorian pier, closed its doors for good.
A similar tale could be told in dozens of towns across Britain. What was once a small but thriving industry has been dwindling and stagnating for years. Some fear that not only is the heyday for Christian bookshops long gone, but their existence in any form is under threat. They have struggled with competition from the internet just as the entire bookselling trade has, with most consumers finding it easier and cheaper to order their books, calendars, music and resources online. "Even though we are a specialist market, we found that less and less people were coming into the shop," recounted Bob Clark, a past manager of Eastbourne's shop. "They were choosing to shop online or getting it direct from the publishers, their Bibles or their Christian books or their music." What were once fantastic high street locations have become millstones round some shops' necks, as footfall diminishes while rates and rents climb. Even the shops still ostensibly doing well feel a chill wind at their backs. "I feel quite concerned," said Aude Pasquier, manager of the Church House Bookshop in central London. "I think it's obvious the last two years have made it even more precarious, when it wasn't going that strong before."
This isn't just a job selling over a counter. There's something much deeper about it.
And it is not just the independent stores which are struggling to stay afloat. There are hardly any chains of Christian bookshops left too. SPCK and Wesley Owen each once had a large network of shops, but by the early 2000s both were finding conditions tough. After a proposed merger fell through, SPCK's stores were sold off to a new company, which itself collapsed in bitter acrimony a few years later amid allegations of shady business practices and contractual shenanigans. Most of the chain eventually closed. Wesley Owen limped on until it fell into administration in 2009. Eight of its remaining stores were bought by an Australian firm but by 2012 they too decided to pivot to the internet and shut down the bricks and mortar business.
Perhaps the final nail in the coffin of an already precarious industry was the pandemic. Three separate lockdowns saw high streets deserted and shops shuttered for months through 2020 and 2021. And when normality eventually returned, many bookshop owners found their customers did not. Bradley Smith, the manager of St Olav's in Chichester, said the most significant impact of Covid was how those with no previous experience or interest in online shopping had become very confident. Clark said precisely the same: "The silver surfers, the over-50s, during Covid had discovered the internet. They were using it for church and chatting to their relatives in Australia or buying online. So our demographic of the over-50s who still enjoyed shopping and choosing their Christian books and material were not coming in."
The decline of reading
Many in the trade believe there has been a generational downturn in the amount of Christian books the average believer consumes. Unless congregations are being regularly encouraged to read – and told what to read in particular – how can bookshops thrive, asked Steve Barnett, the manager of St Andrew's bookshop in Great Missenden, Buckinghamshire. It was not only that churches which once bought hundreds of hymnbooks now simply projected song lyrics onto a screen, but they have also "stopped promoting books and reading," he bemoaned. This was short-sighted, he argued. A Christian who reads widely and deeply is a Christian who also prays, serves and gives financially, Barnett said, citing SPCK research from years ago which found a correlation between churches with book-reading cultures and spiritual maturity.
But the decline of the Christian bookshop is not simply about money and falling sales, some argue. The shops which were truly uneconomic have mostly already gone by the wayside, and so those which are closing today owe their demise more to personnel than finances. In many cases a long-serving manager or owner comes to retirement age or wants to move on, and simply cannot find anyone to take the shop on, even though it may still be profitable, Barnett said. Pasquier said most booksellers tended to be in their 50s or older, and many ran shops as a passion project. She knew of several proprietors, including a couple in Preston who closed their shop down last year, who simply could not find anyone to sell their money-making businesses to. Both managers, while aware of the challenges, strongly believed there remained a market for Christian bookshops provided those running them were able to act as nimble and creative entrepreneurs, working hard to maximise opportunities.
repurposing soon-to-be redundant bookshops as outposts for social action could be a net win for the gospel
But others now question if the slow death of the Christian bookshop offers a different kind of opportunity. Might the high street location of these stores be put to better use for the Kingdom? Given there is no lack of online businesses dedicated to providing a never-broader range of Christian books, music and other resources, perhaps the bricks and mortar infrastructure dotted across the UK could serve those beyond the church rather than just believers? This is the future Eastbourne has chosen. Clark explained that just three days after the trustees decided to close their shop for good, they discovered a local charity, the Kingdom Way Trust (KWT), needed new premises for its homeless drop-in centre. Quickly an agreement was reached and when the bookshop closed for good in January it was gifted to KWT as their new base of operations. "When we looked at their website, their mission statement was virtually the same as ours – being Jesus on the street," Clark recalled. "So they're having an open door for the gospel, seven days a week. We're very excited." Clark said he knew anecdotally of similar stories across the country, in places as far afield as Aberdeen and Blackpool. A similar switch happened in Oxford, where a Christian bookshop which closed during the pandemic has now reopened as the location of the town's Christian homeless shelter. Some suggest repurposing soon-to-be redundant bookshops as outposts for social action would be a net win for the gospel, by pivoting the church's footprint from inward-facing ministry to those already-saved back towards outreach to the least, the last and the lost.
But not everyone is convinced. While it is true there are copious amounts of Christian resources online, physical bookshops offer something cyberspace never will. "What we can offer that the internet can't is the personal contact, building a relationship with people, remembering them, recognising them, being able to advise them," Smith said. Barnett agreed, pointing to the vital curating role bookshop staff play in selecting and promoting which books of the thousands published each year are actually worth reading. "You wouldn't want to base your whole growth in discipleship in your life on podcasts or TED talks," he added, in a swipe at millennials' lack of interest in reading at all. Pasquier agreed, and noted that bookshops served already as a form of ministry. When she ran the SPCK bookshop in York in the 1990s many of her customers saw the space as a kind of church, where they could meet with other Christians, ask questions about faith, and find community. Smith said much the same. "This isn't just a job selling over a counter. There's something much deeper about it." Many of his customers come because they are seeking something spiritually but do not want to walk into an actual church. "They pour their hearts out because they feel vulnerable or scared, alone, bereaved," he said.
It seems many Christian booksellers are not ready to throw in the towel just yet, despite their industry's many woes. But for those whose bookshops have reached the end of the road, it is exciting another gospel-focused future may await. "A lot of our customers said 'Oh, isn't it sad, the bookshop's closing'," Mr Clark said. "And we we'd say to them 'Well, this is not the end of the book, it's just another chapter'."

Tim Wyatt is a freelance journalist and the host of the 'Premier Christian Newscast'. The podcast features weekly analysis on the latest Christian news.
View full Profile