The Scottish pastor Alan Scott is facing widespread allegations of spiritual abuse and narcissistic behaviour. Following an independent review, Causeway Coast Vineyard in Northern Ireland admitted they "failed to spot some of the warning signs" relating to their former pastor, which included "repeated patterns of…manipulation." Meanwhile, Scott is also being sued by another former Vineyard megachurch he led in California. Tim Wyatt reports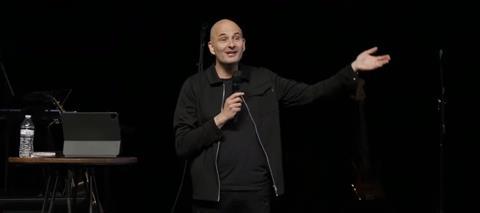 Who is Alan Scott?
Scott was born and raised in Glasgow, and joined a Vineyard church in Glasgow in the 1990s. His brother John was pastor of South West Glasgow Vineyard until he had to step down following a relationship with a married woman in the congregation.
In the late 1990s Alan and his wife Kathryn – a worship leader – moved to her home country of Northern Ireland to found Causeway Coast Vineyard in Coleraine. From a tiny handful of worshippers it grew under their leadership to become a megachurch with over a thousand members.
Kathryn Scott, well known for writing the worship song 'Hungry', often travelled with Alan to speak at other churches and conferences, and the couple heavily promoted their 'Scattered Servants' model of church planting and book.
How did they end up in California?
In 2017 the Scotts stepped down from leading Causeway Coast Vineyard and moved to Los Angeles. They insist they had no grand plan and indeed did not attend any Vineyard churches locally at first. But in 2018 they applied for and were appointed as lead pastors for Anaheim Vineyard.
Anaheim Vineyard was originally founded by John and Carol Wimber in the 1970s and was the mother church for the entire Vineyard movement. It held an enormously significant place for those in the Vineyard and its buildings were donated to the church by Vineyard Ministries International as it grew.
However, last year Scott announced suddenly he would leave the Vineyard and take the church (and its buildings) independent. This caused huge shock and hurt across the Vineyard movement. Scott and his board of trustees insisted they were simply trying to follow God's leading and it did not represent a rejection of Vineyard theology or values, but the decision was condemned by many across the Vineyard movement as a "betrayal" and "deeply grievous and unfortunate".
Pete Grieg, the leader of 24/7 Prayer and a member of the Anaheim Vineyard board, said later that he too had been blindsided by the sudden decision and lamented the lack of "due process". "I acknowledge the sense of bereavement within Vineyard and of bewilderment within the wider church triggered by this sudden separation, and deeply regret my inability to get both sides talking."
Despite several efforts by Vineyard senior leadership to discuss the plans and slow down, Scott did go ahead and renamed Anaheim Vineyard as Dwelling Place shortly afterwards.
How did this lead to a lawsuit?
In November last year, approximately six months after the Scotts took their church out of the Vineyard, a lawsuit was filed against both them and the church's board by nine former members of the board and congregation. Among them was Carol Wimber, who co-founded the Vineyard with her late husband John Wimber, as well as four of the board members who appointed the Scotts in 2018.
The lawsuit accuses the Scotts of seeking the posts of senior pastors of Vineyard Anaheim with the intention of gaining control of the money and assets of the church before then splitting from the Vineyard USA network.
"Defendant Scotts sought the position as Senior Pastors of Vineyard Anaheim with the deceitful motive of controlling tens of millions of dollars of assets and disassociating with Vineyard USA," the documents state. Allegedly, the Vineyard Anaheim buildings were worth $55m and in addition the church had about $7m in its bank accounts.
The lawsuit also targets the church's board, accusing them of failing in their fiduciary duty by not preventing the Scotts from taking the church out of the Vineyard and going independent.
At the time, the Scotts released a video denying they had any "evil or sinister" intent when they took on the job leading Vineyard Anaheim and expressing their sadness that the painful separation of the church from the Vineyard would now be litigated in court. Vineyard USA has also made clear it has no connection to the legal action, although Jay Pathak, a Vineyard pastor who leads the movement in the US, said their grievances seemed "pretty reasonable".
In March, Dwelling Place and the Scotts filed a motion to dismiss the lawsuit, rejecting its suggestions that Scott had already expressed his antagonism towards the Vineyard before duplicitously taking on the job at Vineyard Anaheim. The church also argued the secular courts had no jurisdiction to adjudicate on internal church disputes and that the lawsuit sought to unlawfully transfer control of the church and its assets to a new board.
What is the new controversy about?
While the lawsuit remains ongoing, in May there were fresh criticisms published about Scott and his leadership of Dwelling Place. A lengthy report by Julie Roys, an investigative journalist who focuses on church abuse, detailed allegations of spiritual abuse and a toxic culture under Scott from eleven former staff and volunteers at the three churches he has led throughout his ministry.
In California, some pastors accused him of instituting "salvation quotas" and demanding staff spend up to half their working hours on evangelism and to bring at least three people to Jesus every hour. Others accused Scott of claiming to have special prophetic knowledge of "hidden sin", judging staff according to their body types and sidelining people who refused to bow to his whims.
Roys has also uncovered testimony from former members of Scott's old church in Glasgow, who told Vineyard UK leaders at the time of their worries about the manipulative, dishonest and bullying culture he allegedly created at the church. Others from Causeway Coast Vineyard said Scott set himself up as a God-like apostle who could hear what people said about him in private and that he would represent the voice of God if he appeared in their dreams.
In staff meetings in Northern Ireland Scott would sometimes call out team members who he thought were not giving financially enough to the church, as well as force staffers to deliver harsh criticisms to each other, Roys also reported.
Vineyard in the UK and Ireland were made aware of concerns in December 2022 and commissioned an independent review process in February 2023, run by Trusted HR Ltd.
In a statement released on 2 July 2023, Causeway Coast Vineyard said: "Following an initial round of interviews, Trusted HR have identified themes and repeated patterns of behaviour including examples of manipulation, inappropriate comments, narcissistic behaviour, and certain occurrences of public shaming and spiritual abuse.
"The allegations primarily relate to Alan Scott and have been put to him, but he did not respond.
"In light of the initial findings, the National Directors and trustees of VCUKI, and the trustees, Senior Pastors and the senior leadership team of CCV acknowledge that wrong and hurtful conduct has occurred at CCV, and apologise to all those who were hurt, harmed, mistreated or in any way negatively impacted by their time at Causeway Coast Vineyard.
"The trustees of CCV acknowledge that they are responsible for the governance and oversight of CCV. They accept that they failed to spot some of the warning signs and did not have sufficient structures in place to ensure complaints came to the attention of trustees, and they apologise to those who have been hurt."
Vineyard USA has also received more than a dozen testimonials about the conduct of the Scotts, including allegations of "spiritual abuse, manipulation, purposeful exaggeration, deception, and humiliation". Attempts to raise concerns with the Dwelling Place leadership were mostly met with dismissal or over-spiritualised controlling language, the movement said in a statement last month.
Neither Dwelling Place nor Scott have directly responded to the allegations, except to deny the specific accusations in the lawsuit. A member of the Dwelling Place board did tell Roys that Scott was a "wonderful man" who had revitalised a dying church in Anaheim.
This article was first published on 23 June and has been updated as more information has become available

Tim Wyatt is a freelance journalist and the host of the 'Premier Christian Newscast'. The podcast features weekly analysis on the latest Christian news.
View full Profile