Advertisement feature
Multiply Conference 2023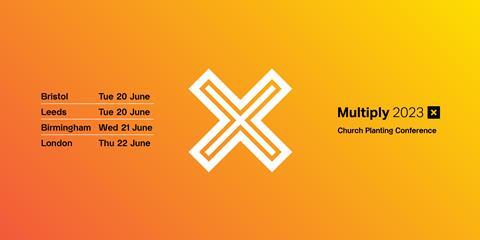 We are in the midst of a movement. Throughout the Church we are seeing a multiplicity of creativity spring up. Jesus is calling people from across his Kingdom to step out to reach new people in new and renewed ways with his gospel.
His Church is taking root in new places and multiplying; new plants are bringing an energy and hope to parishes and communities; old things are being renewed, blossoming with life once again. Everyday people and ordained leaders working together, reaching new people with the love of Jesus. This is the nature of Christ's church; a thriving mixed ecology of new, abundant life, blossoming in every corner of the country.
Multiply 2023, the sixth annual church planting conference of the Gregory Centre for Church Multiplication, is a celebration of all Christ is doing - and a call to join in. For practitioners to dream bigger, and look closer. For church leaders to sow into opportunities emerging around them. For strategists to tend and care for this landscape, to bless and nurture this rich, blended ecology. If you feel a call to start something new or restore a ministry, to work with others to form an enriching and compelling community of faith where all are welcome, this is for you.
This year we will be gathering in person at:
St Nicholas, Bristol, on Tuesday 20 June
St George's, Leeds, on Tuesday 20 June
St Martin in the Bull Ring, Birmingham, on Wednesday 21 June
St Paul's Hammersmith, London, on Thursday 22 June
All of our events will provide an opportunity to 'Begin with Prayer' – we want to start our day together in prayer, giving thanks and bearing witness to all God is doing in our churches and ministries, asking for his Spirit to move in even greater measure.
We will be joined by a rich variety of speakers from across the Church, with each of our locations providing a mix of local and international speakers, including:
Justin Duckworth, Bishop of Wellington, New Zealand
Hannah Steele, Director of St Mellitus College, London
Bishop Oscar Muriu, Senior Pastor of Nairobi Chapel, Kenya
Rachel Gardener, Director of Partnerships at Youthscape
Christian Selvaratnam, Dean of the St Hild Centre for Church Planting
Rhiannon King, Archdeacon of Ipswich
Grace Bally, Lecturer and Course Lead at St Mellitus College
Ric Thorpe, Bishop of Islington & Director of CCX
Tickets are available for £20 for each of our locations, with a 20% discount on groups of 10 or more.
It takes all kinds of Church to reach all kinds of people. Jesus is building his Church, inviting us to play our part. Come and find out more at Multiply 2023.