The actor and activist on growing up in the Cotswolds, coming home to the Church and what it means to take every opportunity God gives you
As she strides onto stage to deliver the opening monologue, it is easy to see why Adjoa Andoh was drawn to the character of Richard III. Choosing to surround herself with an all-white cast, Andoh is making a statement: like Richard, she knows what it is to be 'othered'; stereotyped for bodily characteristics over which you have no control.
Shakespeare may have written his tragedy more than 400 years ago, but it has a striking relevance for our modern day. Many historians now dispute the physical deformities ascribed to Richard in the play, or that he was a murderous villain who ruthlessly dispatched anyone who stood in the way of his ambition to be king. Nonetheless, Shakespeare's typecast has stuck for centuries.
When we speak, just hours before I watch her perform the titular role in the play which she also directs, Andoh explains that Richard's treatment was a form of body pathology. It can be as easily applied to race, class, differently abled bodies, the place of our birth or anything else that draws judgement based on our outward frame rather than the person God created us to be.
Born in 1963 to a Ghanaian father and white English mother, Andoh's was the only family of colour in a quintessential Cotswolds village. Alongside rolling fields and hawthorn blossoms, she experienced the "brutal" ritual of daily, racist bullying at school. It was "a real mix of things," she recalls, and a constant fight to be seen for who she was, not just for the colour of her skin.
It was acting that eventually proved to be her escape, and faith that gave her the grounding – and grace – to use her platform for good. Alongside an illustrious career that has seen her tread the boards with the Royal Shakespeare Company, play the formidable and feisty Lady Danbury in hit Netflix series Bridgerton, and be appointed a Booker prize judge, she is also a reader in the Church of England and a passionate social activist, among many other accolades and accomplishments.
As a teenager, she was temporarily distracted from God by the call of punk rock (although "the two are not always mutually exclusive", she tells me) but eventually "came home" to the Church when applying to get her eldest daughter into their local CofE school.
The peace, acceptance and freedom to bring her whole "hot mess" into God's presence is the most precious gift, she says, and something that she is passionate about making space for others to experience – whether in church or on a film set.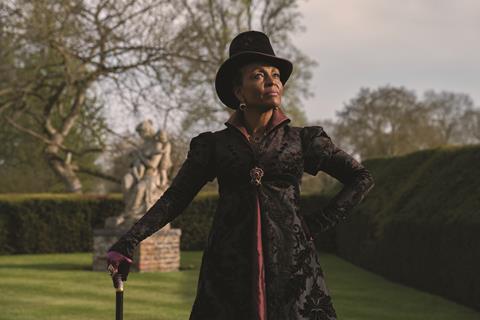 Neither of your parents were from the Cotswolds – was there a specific reason they chose to raise their family in a small, rural village?
My father arrived in Bristol in the 1950s and, at that time, there was a huge predominance of children of African heritage in what they called 'educationally subnormal schools'. My father is a well-educated African man – he went to the same boarding school as Kofi Annan [former secretary general of the United Nations] – so he could see no earthly reason why any children should be assumed to be children who could not be educated. So he moved us somewhere where there was only one school, and all the children went there.
He understood about racism in this country; he'd experienced it. But his formative years were spent in a country where everyone looked like him, from the street sweeper to the president. For him, the possibilities for you as a human being were maybe around your wealth or your poverty, or your location, but they certainly weren't about your race. It baffled him, I think, and he was not having any truck with it. The Cotswolds was somewhere my parents could be assured that their children would get a decent education, which we did.
Tell me about the role that faith played in your life.
Faith was big in my mother's family; Nana was a churchgoer all her life. They lived next door to a Nigerian vicar, and my mother would help out with the after-school club that he ran. As a thank you, he took her to a dance hosted by the Bristol African Students Association, of which my father was the president. That's where she met my dad.
My grandfather in Ghana was [involved with The] Gideons, and he also preached. Faith is still huge in my Ghanaian family. My dad and stepmother are the best kind of Quakers. They're super-active; they [go on a] demo and then pray in silence. They're very fervent in their faith, and it's a really beautiful thing.
In our village, there was 'church' and 'chapel' (congregational church). If you were left wing or working class, you went to chapel. If you were landed, or worked on the land of the local landowners, you went to church. So I went to chapel – until I developed a fascination with bell ringing when I was about eight. Also, if you joined the church choir, you got 18p a month!
I loved bell ringing, but I loved the services at church much less. They were dreary. It was cold. I was bored. I lasted six months, and then decided I was going back to chapel, where Rev Billy Baker would tell us stories and everybody went to the crusade meetings when they came to town.
I stayed at chapel until my parents divorced and we left the village. I was the kid that went three times on a Sunday, did the flower arranging and went to Bible class in the week. Then I hit my late teens. I became a punk rocker – the two weren't mutually exclusive but, at a certain point, I just drifted away from church.
I did the same when I went to university. What drew you back?
I would always go to church on high days and holidays, wherever I was, because it's a place of peace, and I think a late teenager / early 20s person needs peace. It would always be my go-to space; that never changed.
If you stand out from the crowd because of what you look like, you are constantly second guessing yourself
But as a regular churchgoer, that didn't really happen until my eldest daughter started primary school. It was a church school so I had to start going regularly to get her in. I know some people are a bit sniffy about families that just come along [to get into a school] but I'm like: Whatever gets you through the door! We'll just let God give the increase on that one. I was just coming home, really. I just needed the shove. And that's been my church ever since. I got married there. My daughter got married there. I became a reader in 2009.
A lot of people will recognise you as Lady Danbury in Bridgerton. Coming through the ranks as a Black, female actor in the 1980s, what was your driving force? Looking at your résumé, it doesn't appear that you take the easy options when it comes to career.
Options are a luxury that freelancers don't get. You just take the work and, if you get to make a choice about the work you take, it's a lucky day. I was fortunate that my first experience of theatre was working with five Black actresses in a show written by a Black, female director. Then I went to a socialist feminist theatre company committed to schools and young people.
I was offered a job with them and found out I was pregnant in the same week. I was 22, and I toured until a couple of weeks before Jessie was born. Then, when she was a week old, we went into rehearsals. She was a theatre baby; she came on tour with me. I learned early on to juggle the responsibilities of motherhood and working. I've worked solidly through having another couple of kids, with my husband's support and an amazing childcare team. I suppose what I've always done, as an actor, is said "Yes" first, and then worked out the logistics [afterwards].
You have a keen interest in social justice. How does your faith influence the projects you take on creatively and the things you get involved with on an activism level?
I feel like I have the opportunity to work in the gift that I've been blessed with. Anything that comes through that is not mine, it comes from God, so I have to pass the blessing on. Whether it's being in a public position to advocate for things like Fairtrade, tree aid, water aid, the International Red Cross or refugee action, I do all those things because of my faith, and the human being that I have been created to be. It takes me in a feminist direction, it takes me in a socialist direction, it takes me in a direction where I say: "No one soul is any more valuable than another. God doesn't see it that way, so who am I to see it that way?"
All these earthly trappings – be it our race, income bracket, gender, sexuality or differently abled bodies – whatever it is, they are just the housings of the soul. The situation that we've been born into – we haven't created it – and so to take the value, or detriment, of it is madness.
We're all prey to worldly judgements, but I try really hard to get to know a person before making any judgements about them. Whether people will publicly admit it or not, there is a sense of judgement if you stand out from the crowd because of what you look like. It means you are constantly second guessing yourself. Did I get that job because…or didn't I get that job because…? Is that person sitting with me – or are they not sitting with me – because…? All that stuff has real-world consequences.
Because that's my lived experience, I do not want to regurgitate that experience onto anyone else. That's a horror to my faith. Kindness, decency and thoughtfulness…it doesn't seem to me an effort to lean in that direction – but sometimes it's a countercultural thing. You know, if it bleeds, it leads – that's the news agenda. We live in a world of 24-hour news now and there's a lot of misery porn around. People lean into that stuff and forget that everybody longs to be loved and seen and heard.
Our job is to make space for God to do God's work
That really plays into the themes of your new play, Richard III, and how he was perhaps judged because of his physical disablement. It's also a really important question for us as Christians – how do we ensure we are valuing everybody equally, and not passing judgement on people?
I think it's really important. You know that thing that happens, where you go to church and it's all: "How are you?" "Oh, I'm fine". For me, church is the place where we come in all our difference and in all our difficulties. It's the place where you can be a hot mess; you don't have to be fine. It's you and God. As a community, we need to open those spaces, so people always feel welcome.
My vicar would say: "Always think about the person who has walked through the door for the first time, who may have taken years to get up the courage, who may think they're not worthy, who may have had a terrible relationship with Christianity in the past." Whatever it is, you have to create a space where that person can walk through the door and not run straight back out. Make space for God to do God's work, and allow people to encounter God, however you do it. That's what the gig has to be.
In Marilynne Robinson's Gilead (Virago) the preacher prays, every Sunday: "Dear God, get me out of the way of what you want to do today." I really feel like that. Our job is to make the space so people can be in conversation, in relationship, in the peace, the solitude, the comfort – whatever they need – with God. And it doesn't have to just be in a church building. It might be when I'm doing my job. I don't go around [proclaiming]: "Hello, I'm a Christian! How are you?" But it will come up at some point in conversation.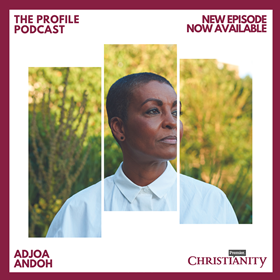 You'd be amazed at the people who will sidle up to you and say: "Yeah, so, this God thing…?" or, if a couple of us are praying before a show, suddenly, you'll find more and more people are joining. You can make yourself available for the conversation that might lead to further conversations or encounters. And it can be at church, or it can be outside of church.
To hear the full interview listen to Premier Christian Radio at 8pm on Saturday 27 May or download 'The Profile' podcast


Emma Fowle is assistant editor of Premier Christianity and editor of Voice of Hope, Premier's quarterly devotional magazine. Emma is a trustee for Christian festival Creation Fest and lives in Cornwall with her husband and two teenage daughters. She loves to read, swim in the sea, play netball and lift weights with her dad.
View full Profile