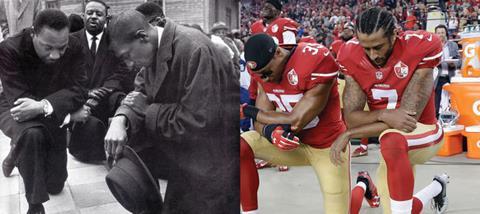 Back in 2016, just before the San Francisco 49ers were due to play the then San Diego Chargers, American Football player Colin Kaepernick knelt on one knee during the US national anthem, which is played at the start of every NFL game. This wasn't a symbolic gesture of patriotism, but rather a protest against racism and police brutality.
Kaepernick was responding to the deaths of African Americans at the hands of the authorities. He was vilified at the time by fans who took to burning his replica jerseys and by the then-Republican presidential candidate Donald Trump, who called for players who take the knee to be fired by their teams. Critics argued that failing to stand for the national anthem was "anti-American" and a slight to the military personnel who had given their lives for their country. Despite a promising career and a Super Bowl appearance, Kaepernick hasn't played in the NFL since the 2016 season, with many pointing to his protests and not his skill level as the reason.
But a lot has happened in the intervening four years, including an increased number of conversations taking place about racism. The brutal killing of George Floyd by a Minneapolis police officer earlier this year shocked the world and became a catalyst for protests calling for police accountability and an end to racism. The posture of 'taking a knee' became even more significant as videos of Floyd's final moments showed officer Derek Chauvin kneeling on his neck for almost nine minutes.
Since that day in May, the act of 'taking a knee' has increased in popularity, with many international sportsmen and women choosing to show their support for racial justice in this way on the pitch. Here in the UK, the recent men's and women's football association Community Shield games both began with all players taking a knee, something that continued into both league's seasons. British Formula One driver Lewis Hamilton has also been at the forefront of protests within his sport, taking a knee before the start of each Grand Prix.
Bowing before God alone
In the Bible, we find numerous examples of the posture of kneeling. Many of the Psalms, such as Psalm 22, 72 and 95, use the word '????'('kará') meaning 'to kneel'.
Kneeling as an act of submission is reserved only for YHWH, which is emphasised in 1 Samuel 5 when a statue of the false god Dagon falls prostrate in front of the ark of the covenant. In Daniel 3, Shadrach, Meshach and Abednego refuse to bow down to the image of gold made by King Nebuchadnezzar and God saves them from the fiery furnace. Modern hymns such as 'All heaven declares' and 'He is Lord' take lines from Philippians 2:10, which declares that "at the name of Jesus every knee should bow".
When we choose to submit ourselves to something, we are giving it permission to form us and guide us throughout our lives. In the 21st Century we may not be kneeling or bowing down to different kings, queens or lords. But, figuratively speaking, we may end up kneeling before a political party, a social media star or a sports team. The Bible warns us to not get entangled in the desires of worldly individuals and agendas. Choosing to submit to God is choosing to desire the outworking of his kingdom of love and compassion for all.
The case against kneeling
In a recent interview on The Good, The Bad & The Rugby podcast, England rugby player Billy Vunipola referenced his faith as the reason why he felt he couldn't kneel during the Premiership's pre-match anti-racism demonstrations. "What I saw in terms of the Black Lives Matter movement was not aligned with what I believe in. They were burning churches and Bibles. I can't support that," Vunipola said. "Even though I am a person of colour, I'm still more a person of, I guess, Jesus." His comments came during a discussion about former Australian rugby star Israel Folau who also refused to take a knee on religious grounds, with a team insider allegedly saying: "He will only kneel for one being – his god."
For others, the decision not to kneel isn't so much an ethical one driven by faith, but instead borne of personal principles. Les Ferdinand, Queens Park Rangers' director of football, for example, released a statement defending the club's decision not to kneel before their Championship match against Coventry in September. He explained that the racial justice message "has been lost" and equated taking a knee to "a fancy hashtag or a nice pin badge". He said it would "not bring about change in the game. Action will".
Non-violent action
Other Christian athletes, however, have pointed to their faith as the very reason for taking a knee on the pitch. Kaepernick's former teammate in San Francisco, Eric Reid, told The New York Times that his faith "moved me to take action" and that he was reminded of James 2:17: "In the same way, faith by itself, if it is not accompanied by action, is dead." Reid joined Kaepernick's protest after lengthy discussions that included a meeting with former NFL player Nate Boyer. The gesture of kneeling was chosen to be "respectful" and "to speak for those who are voiceless", he said, a duty that has echoes from Proverbs 31:8: "Speak up for those who cannot speak for themselves." Reid also told the newspaper that he took inspiration from Martin Luther King Jr, whose words, "a time comes when silence is betrayal", encouraged Reid's decision to "not betray those who are being oppressed", he said.
In the wake of Kaepernick's protests, a photo from 1963 of civil rights protesters taking a knee went viral. The daughter of Martin Luther King Jr, Bernice King, shared the image on Twitter beside a photo of Kaepernick and Reid with the message: "The real shame & disrespect is that, decades after the 1st photo, racism STILL kills people & corrupts systems." Similar images of King kneeling and leading African American protesters in prayer have since been shared widely.
Though Kaepernick's decision to kneel was not directly connected to King, his act of peaceful protest radiates King's non-violent methods. Just as King sought to use non-violent direct action to overturn systematic segregation and racism across America, perhaps Kaepernick hoped that his protest would do likewise, becoming a catalyst for change, similar to that of Rosa Parks in the 1950s.
Just as Kaepernick's actions have been criticised by sections of the Christian community, King endured his share of opprobrium. In his famous Letter from the Birmingham Jail (HarperSanFrancisco), King writes: "My Dear Fellow Clergymen, while confined here in the Birmingham city jail, I came across your recent statement calling my present activities 'unwise and untimely'." He later described non-violent protest as an action that "seeks to create such a crisis and foster such a tension that a community which has constantly refused to negotiate is forced to confront the issue. It seeks so to dramatise the issue that it can no longer be ignored".
Kaepernick's protest certainly has forced the issue of racial injustice and police brutality to be taken seriously. It begs the question, as recently depicted on a cover of The New Yorker: Would King kneel with Kaepernick?
Prophetic gestures
American Old Testament scholar Walter Brueggemann speaks about the role of a prophet as one who speaks truth to power. This requires calling out injustice and inequality to those who are in power and part of the empire at the time. We see this throughout the Old Testament where the prophets bring to attention the impending consequences of a current leader's decisions and the state of the nation. This is often done through spoken words, but we also see examples through actions.
By taking the knee, both Martin Luther King Jr and Colin Kaepernick have dramatised injustice, which is not too dissimilar to some of the prophetic acts we encounter in the Old Testament. In Jeremiah 19, the prophet buys an earthenware jar and shatters it in front of the elders and senior priests to represent the destruction they would bring on themselves if they continued to fill their nation "with the blood of the innocent" and continue "to burn their children in the fire as offerings to Baal". In response to this prophetic act, the rulers of the time "had Jeremiah the prophet beaten and put in the stocks at the Upper Gate" (Jeremiah 20:2).
Similarly, Ezekiel smashes a hole in the wall of his house (Ezekiel 12:5) to act out the exile that the house of Israel will experience. The prophet Isaiah strips naked for three years to represent the people of Cush and Egypt being taken as captives by the Assyrians and led away naked. This was to highlight the foolishness of Judah for putting their trust in Cush and Egypt, and not YHWH, to protect them from the Assyrians (Isaiah 20:1-6).
The empires and powers of the time had ignored the mandate God had given them to care for the poor, the downtrodden and the stranger, and the job of the prophet was to confront them with the error of their ways and to warn them of the impending consequences of their injustice. The shocking nature of these prophetic acts were designed to amplify the message and reach those who perhaps would rather not listen.
Just as prophets are often the first ones to read the signs of the times (and the first to be vilified as a result), I believe that Kaepernick's initial protest four years ago was a prophetic act that intended to shock society into seeing the true reality of racism and police brutality. Sadly, it was not until the death of George Floyd that the significance of his message dawned on all of us.
Speaking truth to power and calling out injustice is a facet of prophetic ministry that has sadly remained dormant in our churches, with more emphasis put on prophecy being about encouraging and edifying fellow Christians. While this is an important aspect of the prophetic gift, it cannot be at the expense of engaging with the wider world. If we are to better adopt the role of the prophet, we need to take the example set by Kaepernick and be prepared to intercede – often at great personal cost – for those who are marginalised and oppressed by the empires of today, just as Jeremiah, Isaiah and Ezekiel did.
Get more articles covering news, culture, faith and apologetics in every print issue of Premier Christianity magazine. Subscribe now for just £4.95/month