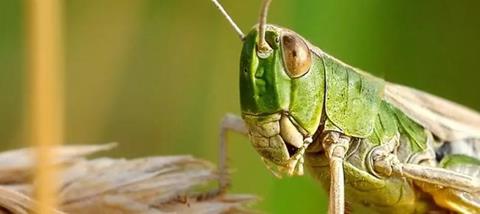 It sounds like something from a horror movie: billions of locusts have invaded parts of eastern Africa, destroying tens of thousands of hectares of farmland across Kenya, Somalia, Sudan, Eritrea and Ethiopia. But for vulnerable communities, it's a terrible reality.
The world has rightly trained its spotlight on Coronavirus, the outbreak of which began in China's Wuhan and has now tragically killed more than 560 people. World Vision teams are responding in Asia to help protect children and families vulnerable to the virus. But meanwhile, the crisis in East Africa is slipping under the global radar.
The region is experiencing the worst desert locust invasion in 70 years. Heavy rains over the past few months coupled with warm temperatures have led to an increase in swarms – which can vary from less than one square kilometre to several hundred kilometres in size. The desert locust is among the most dangerous migratory pests in the world; even a small swarm can decimate the equivalent of enough food for 35,000 people in a single day. Left unchecked, experts have warned that the number of insects could increase 500 times by June.
In a region which is already suffering a hunger crisis, this is a life-threatening catastrophe.
Across eight countries, nearly 25.5 million people are already facing severe food insecurity. In Sudan, Kenya and Ethiopia alone, almost eight million children are malnourished or require food assistance.
These communities primarily rely on agriculture for income. If their crops are destroyed, not only does it mean they don't have anything to eat, it also decimates their livelihood, condemning them to a cycle of even deeper poverty. These families are still recovering from prolonged, climate change-induced, back to back droughts, followed by a cyclone on the Somalian coast and floods across East Africa in December. They can't take another disaster; they're already on their knees.
And tragically, the infestation is growing, rather than slowing down. South Sudan and northeast Uganda are now also at risk – meaning potentially thousands more lives are, too.
World Vision is working alongside governments to protect communities affected by this crisis, though more funding is needed immediately to scale up our interventions. But we can't only focus on emergency recovery: the root causes of the climate emergency, which is provoking crises like this, must also be tackled.
Climate and weather patterns are changing, becoming more unpredictable, severe and 'un-natural'.? Recurrent droughts and floods are not only resulting in crises like the locust infestation, they're also worsening poverty and, in some cases, energising conflict.
From the Solomon Islands to Somalia, farmers are learning how to cope with the risk – and consequences – of these changing weather patterns. But unless urgent action is taken, we are fighting a losing battle.?
We must all work together to address the terrible impact of climate change. The world is waking up to the threat, but time is running out.?For many families in East Africa, it's already too late.
Joseph Kamara is World Vision's Director for Humanitarian and Emergency Affairs in East Africa
Premier Christianity is committed to publishing a variety of opinion pieces from across the UK Church. The views expressed on our blog do not necessarily represent those of the publisher.